Back in 2006, I reasoned (in The Curse of the Voynich) that if the nine-rosette page's circular city with a castle at the top…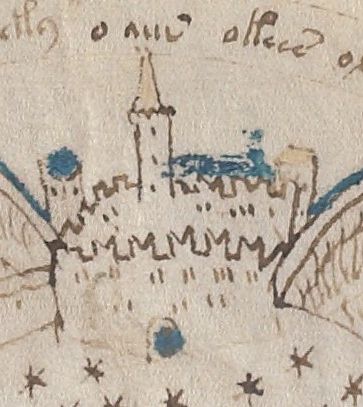 …represented Milan (one of only three cities renowned for their circular shape), then the presence of swallowtail merlons on the drawing implied it must have been drawn after 1450, when the rebuilding of the old Porta Giovia castle (that was wrecked during the Ambrosian Republic) by Francesco Sforza as [what is now known as] the Castello Sforzesco began.
Ten Years Later, A Challenge
However, Mark Knowles recently challenged me on this: how was I so sure that the older castle on the site didn't also have swallowtail merlons?
While writing Curse, for the history of Milan I mainly relied on the collection of essays and drawings in Vergilio Vercelloni's excellent "Atlante Storico di Milano, Città di Lombardia", such as these two pictures from Milano fantastica, in "Historia Evangelica et actos apostolorum cum alijs illorum temporum eventibus cum figuris crebioribus delineatis", circa 1380: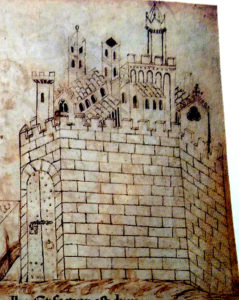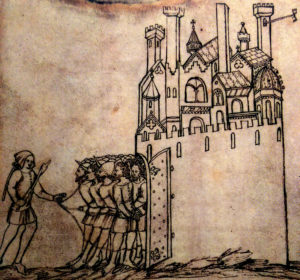 …and this old favourite (which Boucheron notes [p.199] is a copy probably made between 1456 and 1472 of an original made in the 1420s)…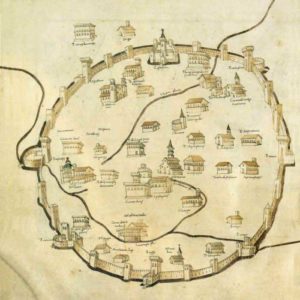 On the surface, it seemed from these as though I had done enough. But coming back to it, might I have been too hasty? I decided to fetch down my copies of Evelyn Welch's "Art and Authority in Renaissance Milan" and Patrick Boucheron's "Le Pouvoir de Bâtir" from the book overflow in the attic and have another look…
Revisiting Milan's Merlons
What did I find? Well: firstly, tucked away in a corner of a drawing by Galvano Fiamma (in the 1330s) of a view of Milan (reproduced as Plate IIa at the back of Boucheron's book), the city walls appear to have some swallowtail merlons (look just inside the two outermost towers and you should see them):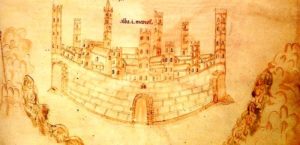 And in a corner of a drawing by Anovelo da Imbonate depicting and celebrating the 1395 investiture of Gian Galeazzo Visconti (reproduced in Welch p.24), I noticed a tiny detail that I hadn't picked up on before… yet more swallowtail merlons: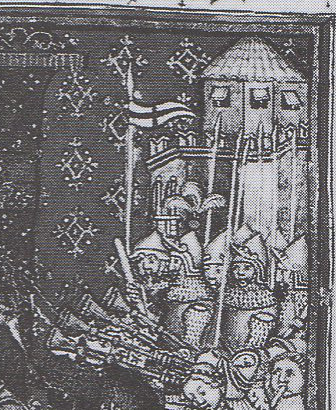 Then, when I looked at other miniatures by the same Anovelo da Imbonate, I found two other (admittedly stylized) depictions of Milan by him that also unmistakeably have swallowtail merlons: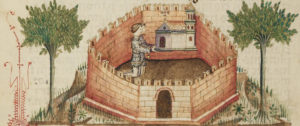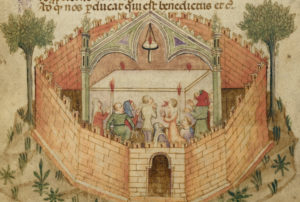 So it would seem that Milan's city walls may well have had swallowtail merlons prior to 1450. The problem is that the city walls aren't the same as the Porta Giovia castle walls (built from 1358, according to Corio): and I don't think we know enough to say whether or not the castle itself had swallowtail merlons. It's debatable whether the drawing of the 1395 investiture (which took place in the Porta Giovia castle) depicts the castle itself having swallowtail merlons: I just don't know.
But the short version of the long answer is that because the Porta Giovia castle was only built from 1358-1372 (or thereabouts), we can't rely on texts written before then (such as Galvano Fiamma's). And there seems quite good reason to suspect (the Massajo drawing notwithstanding) that the Porta Giovia castle may well have had swallowtail merlons when it was used for the Visconti investiture in 1395. But I don't know for certain, sorry. 🙁
There are texts that might give us an answer: for example, the (1437) "De Laudibus Mediolanensium urbis panegyricus" by Pier Candido Decembrio (mentioned in Boucheron p.74), or Bernardino Corio's "Storia di Milano". There are plenty of documents Boucheron cites in footnotes (pp.202-205), including "Lavori ai castelli di Bellinzona nel periodo visconteo", Bolletino della Svizzera italiana, XXV, 1903, pp.101-104 (which I'll leave for another day). But it's obviously quite a lot of work. 🙁
Finally, I should perhaps add that a few details by Anovelo da Imbonate have an intriguingly Voynichian feel: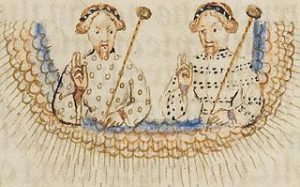 Though there were plenty of other miniature artists active in the Visconti court in Milan in the decades up to 1447, parallels between their art and the Voynich Manuscript's drawings haven't been explored much to date. Perhaps this is a deficiency in our collective Art Historical view that should be rectified. 🙂