Here's my collection of modern, errm, 'multimedia' versions of Leonardo da Vinci's Mona Lisa. They range from astounding to gross, and from high-minded to utterly puerile. Enjoy them all!
(1) Meatsa Lisa. Made by some Russian artists to celebrate the centenary of a southern Russian meat processing factory. Yes, really.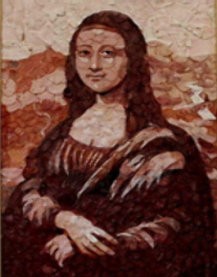 (2) Mona Bacon, as artfully arranged in rashers by meat-loving Philadelphia artist Mike Geno. What would avowed vegetarian Leonardo da V have thought?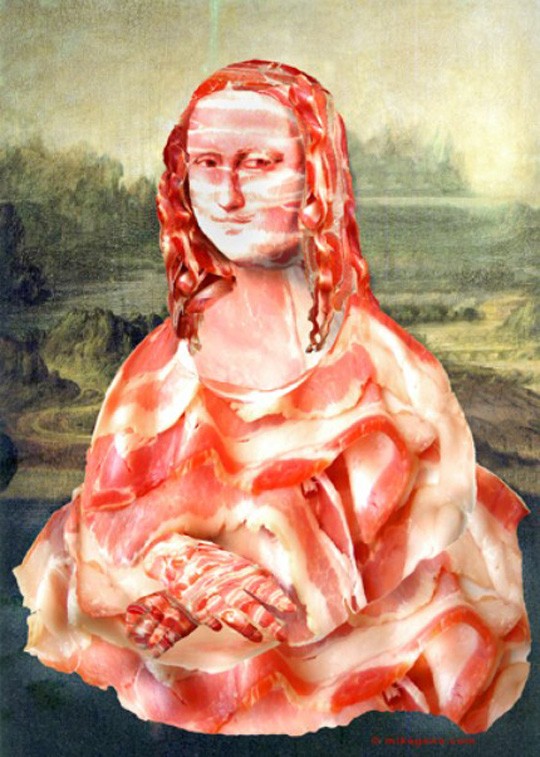 (3) Mona Lego. Former Italian bank worker Marco Pece posts his LEGO recreations on Flickr under the name 'Udronotto', plenty more to see there if you like this.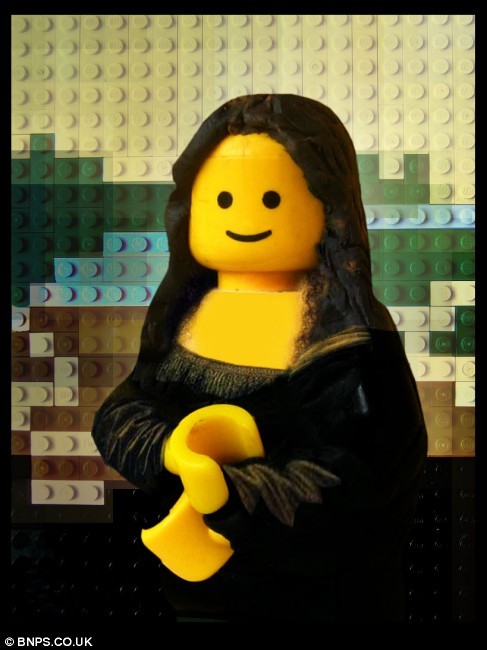 (4) Mona Tofu. Made by Chinese artist Ju Duoqi out of "Chinese cabbage, kelp, celery, tofu, pepper and potatoes". Is she really "the Queen of Vegetable Art"? Disagree at your peril!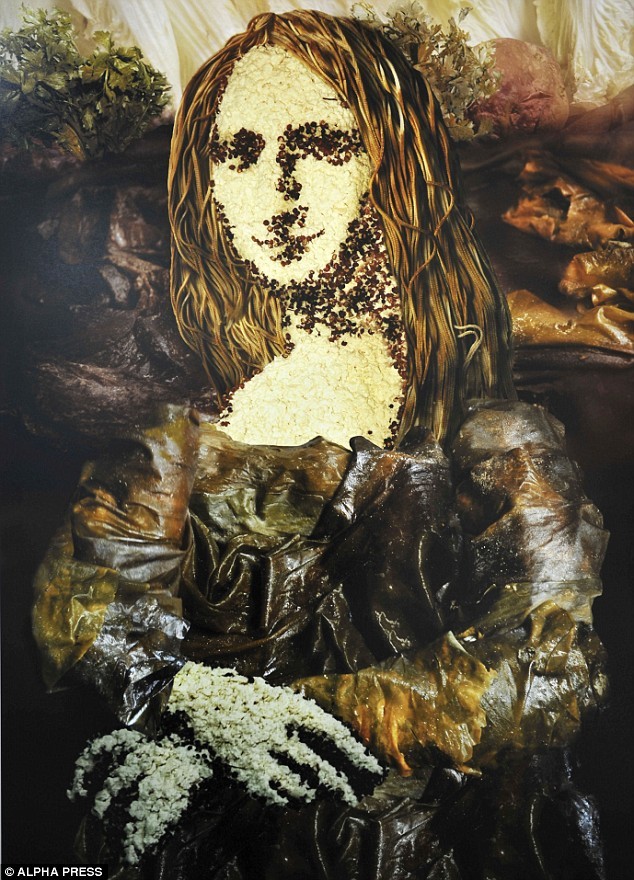 (5) Mocha Lisa. Made in Sydney by 8 volunteers using 3604 cups of coffee. There's also a making-of video at the bottom of the linked page, if you like that kind of thing.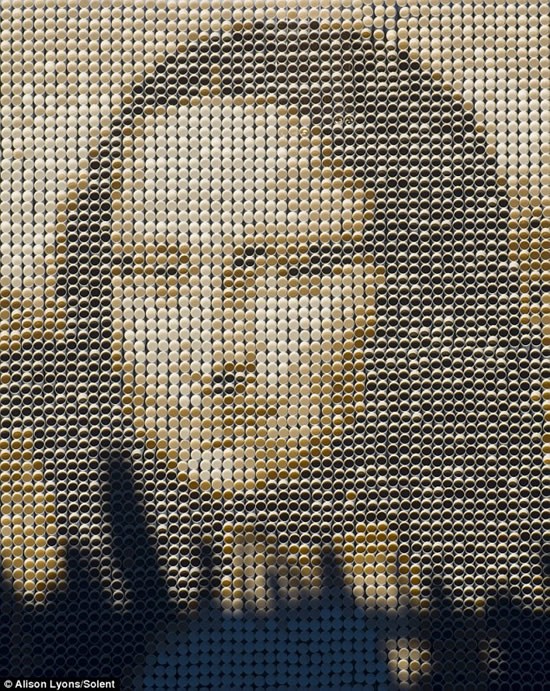 (6) Mona Greasea. Formed from the grease given off by 14 of its competitor's burger, "Mona Greasea" (as The Sun's legendary sub-editors dubbed it) is surely negative advertising at its most, ummm, visceral.
(7) Jamma Lisa. Courtesy of artist Vik Muniz (1999), these two are made from peanut butter and jelly (ok, 'jam').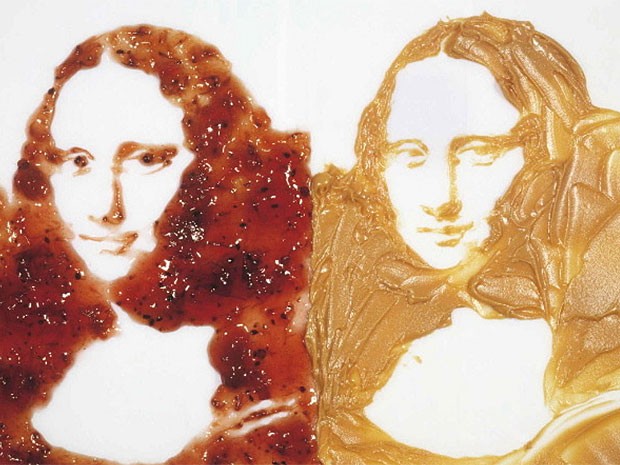 (8) Ticket Lisa. Formed from 320,000 tickets stubs (it says here) over three months by the staff of the Takashimaya department store in Japan. I guess it was that or work in the lift.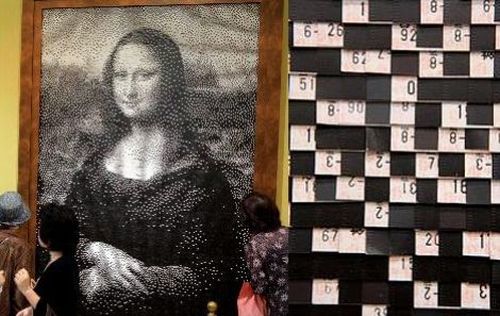 (9) Toasta Lisa. Tadahiko Ogawa's (1983) bread-based reproduction used 1426 pieces of toast and was bought by Ripley's Believe-It-Or-Not in Orlando. And you'd better believe it!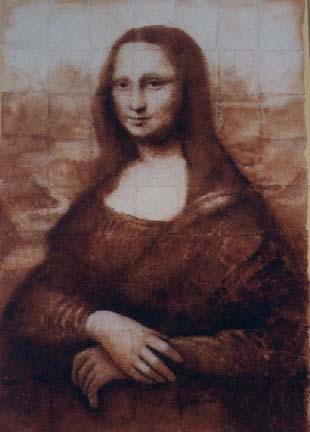 (10) Toastier Lisa. Maurice "Toastman" Bennet takes Ogawa's work to a whole new level, with 6000 pieces of toast for the K-11 Hong Kong shopping mall, coloured and toned using his trusty blowtorch. Toasters are so old-school, don't you think?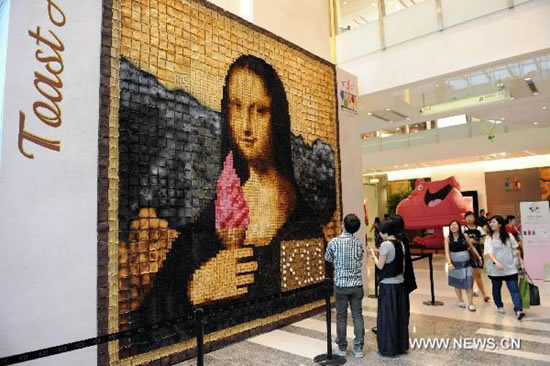 (11) Chipa Lisa. A version made using computer chips, courtesy of Asus. I think this is the same "Technology Smiling" work that was shown in Beijing in 2006 (but I might be wrong).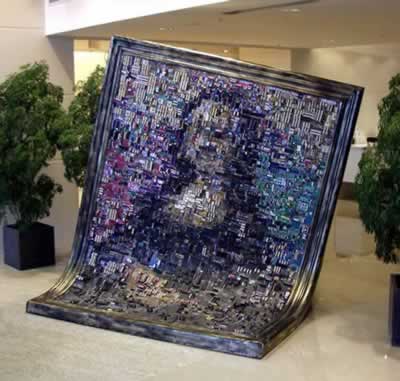 (12) Ascii Lisa Though there are hundreds of ASCII Art Mona Lisas out there, this one from Matt McLellan is my favourite, because it doesn't mess around with proportional fonts or colours:-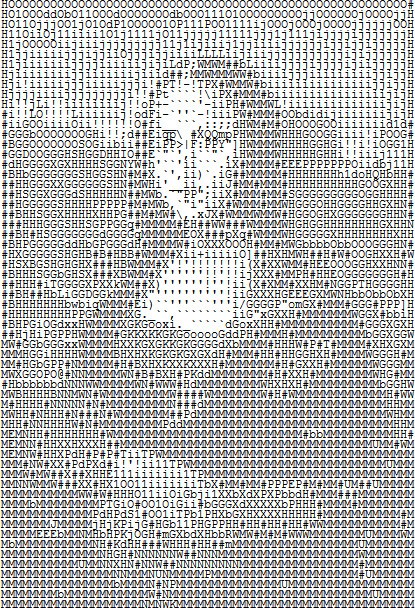 (13) Mower Lisa Tania Ledger from Croydon wanted a grass version of the Mona Lisa on her lawn. And, thanks to artist Chris Naylor, what she wants is what she gets:-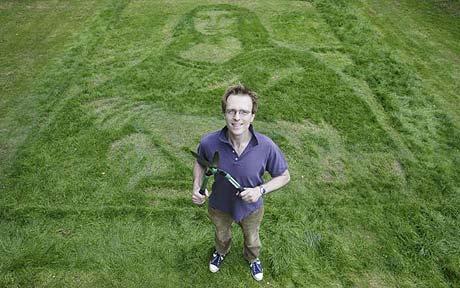 (14) Mona Pumpkin Even master pumpkin carver Scott Cummins of Perryton, Texas couldn't give a pumpkin that smile. Trick or treat? You decide!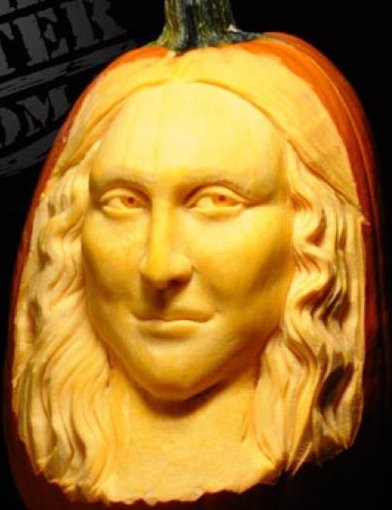 (15) Choco Lisa – Jean Zaun's Mona Lisa is made out of "chocolate, food color, edible gold sugars and confectionery glaze". Frankly, he had me at 'chocolate'. 🙂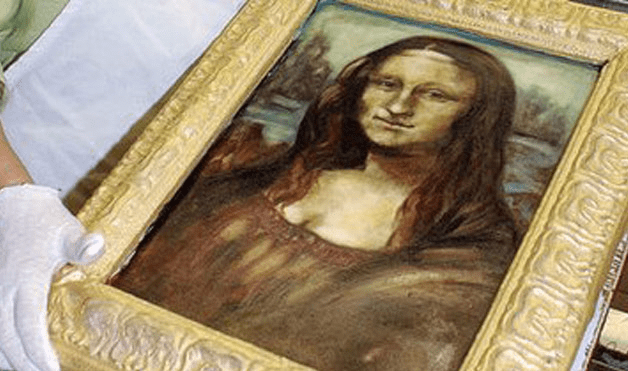 (16) Eclaira Lisa Even though this is (strictly speaking) more "made with" than "made of", I'm including it out of pure patisserial whimsy on my part. So there.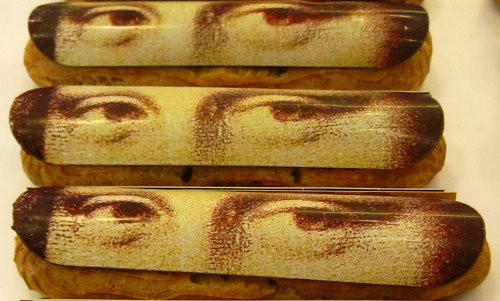 (17) Mona Lisagne Food artist Prudence Emma Staite took a fortnight to shape 10,000 pieces of fusilli, macaroni and lasagne into her own Leonardoesque meisterwerk. It's well pasta joke!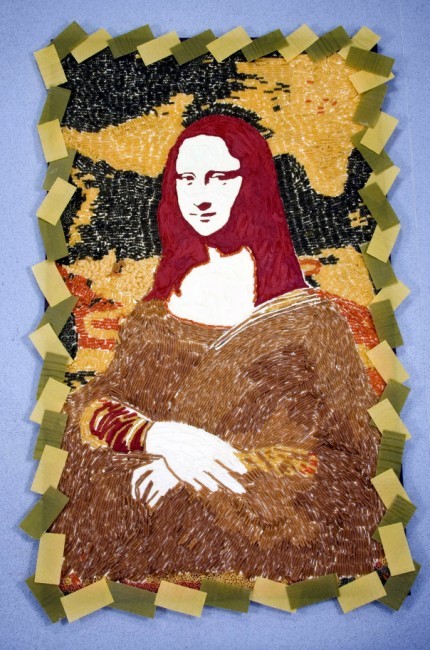 (18) Splatta Lisa The Mythbusters team had fun putting together a monster machine made of 1100 paintball firing tubes, enabling them to draw a (pixellated) Lisa in 80 nanoseconds. Cool video, too. 🙂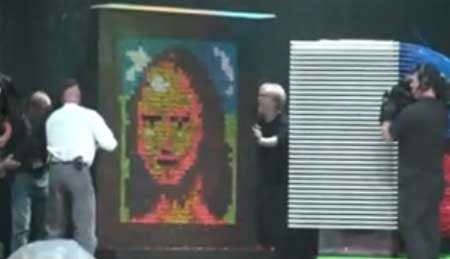 (19) Posta Lisa This guy used 12,000 sticky notes for his Mona Lisa re-creation. Note to self: find better creative medium than this.
(20) Mona CSSa If you know (or even care about) what Cascading Style Sheets do for web pages, you'll be amazed (and possibly a little unnerved) that "artist and hacker" Jay Salvat coded his version in 7,500 lines of CSS code. Scary nonsense tech.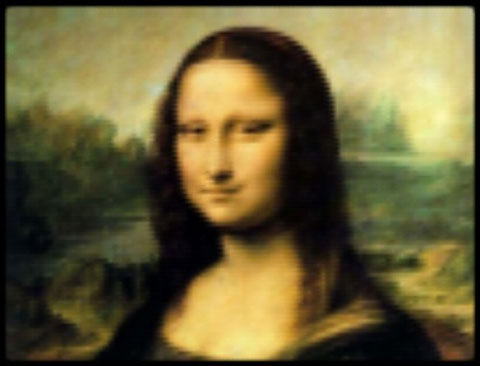 (21) Spoola Lisa If you really, really want to see an upside-down Mona Lisa face made of spools of thread, I'd advise hurrying over to the North Carolina Art Museum to see "Mona Lisa, Thread Count". If you don't… this picture of it will probably do just fine.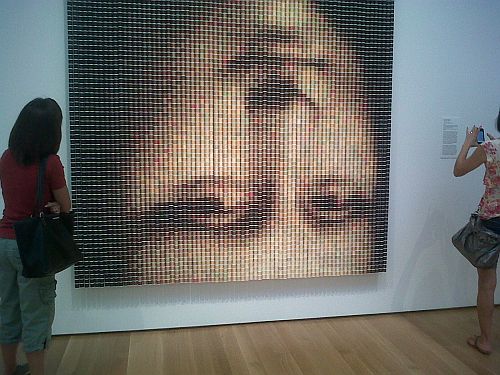 (22) Mona Gema This version is made of 100,000 carats of gemstones: you can see it in a shopping mall in the Chinese town of Shenyang in Liaoning province. Classy.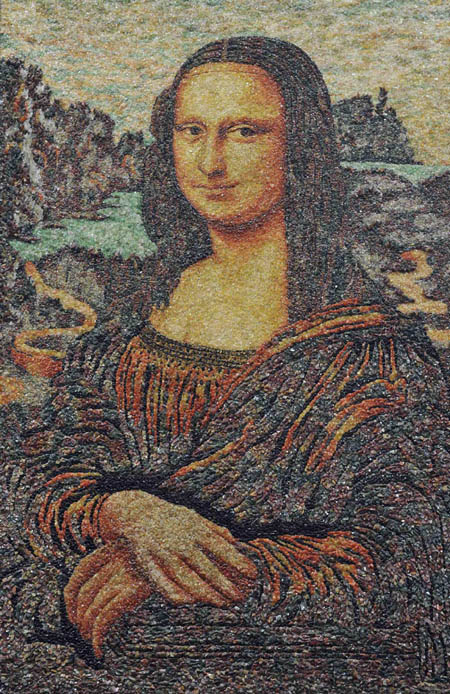 (23) Buttona Lisa A 3d rendition covered (somewhat unexpectedly) in buttons. As with the Mona Gema, this one is on display in the Hankyu Shopping Centre in Kobe, Japan.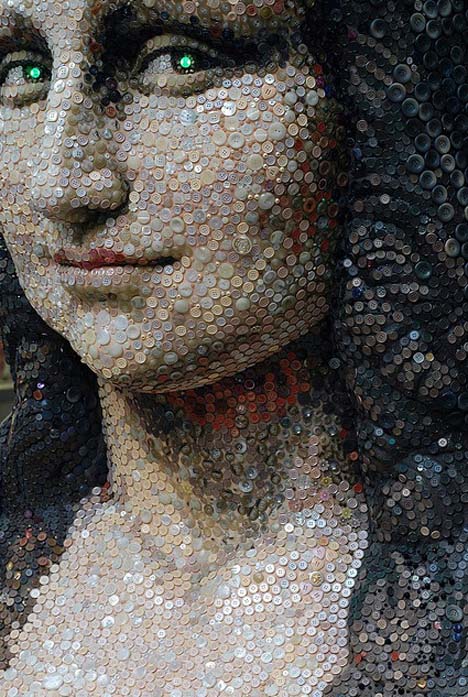 (24) Breada Lisa Artist Laura Hadland used 10,080 pieces of bread to make this 29 feet x 35 feet mosaic. Some was plain, some was toasted, some had "dark and milk chocolate poured on top of it". Cue Homer Simpson drooling: "mmmm, pouring chocolate"…
(25) Cinnamona Lisa Part of a year-long project called "Suspect and Fugitive", where the artist "made an item a day out of suspect (questionable) and fugitive (non archival) materials", using groanworthy puns as inspiration (e.g. "Dill Bert", a picture of Muppet Bert made out of Dill), hence "Cinnamona". I guess you had to be there.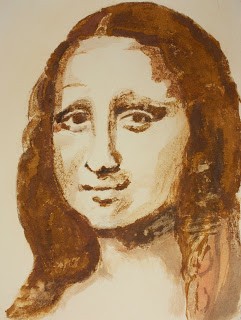 (26) Mona Lamina Ignoring everything you've seen above, if you somehow thought nobody could re-version the Mona Lisa using linoleum tiles, then you'd be really surprised by this. And apparently it was "2005 Yard Art Award Winner Pro Division". It's in Ermilio's restaurant in Eureka Springs, in the parking lot. You can't miss it.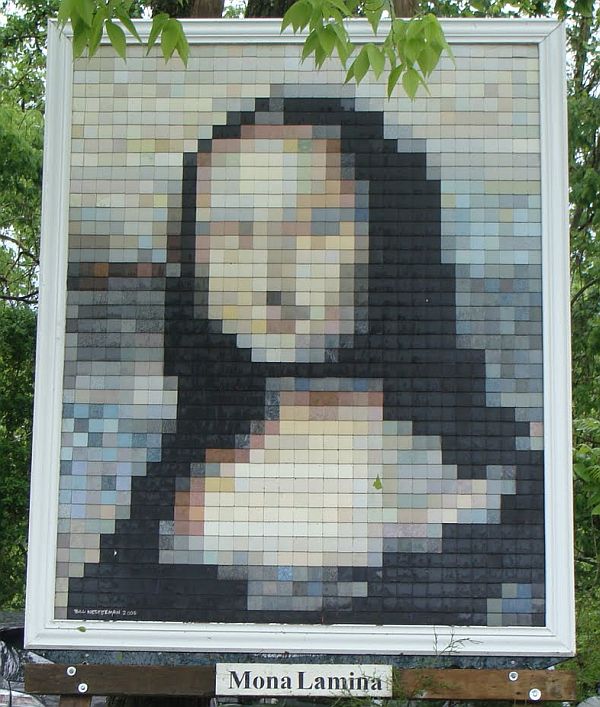 (27) Beana Lisa For a while, The Jelly Belly Jelly Bean Company had Californian artist Kristen Cumings in residence – and guess what she used for her Mona Lisa? No, you'll never guess! Oh… you did? Bah!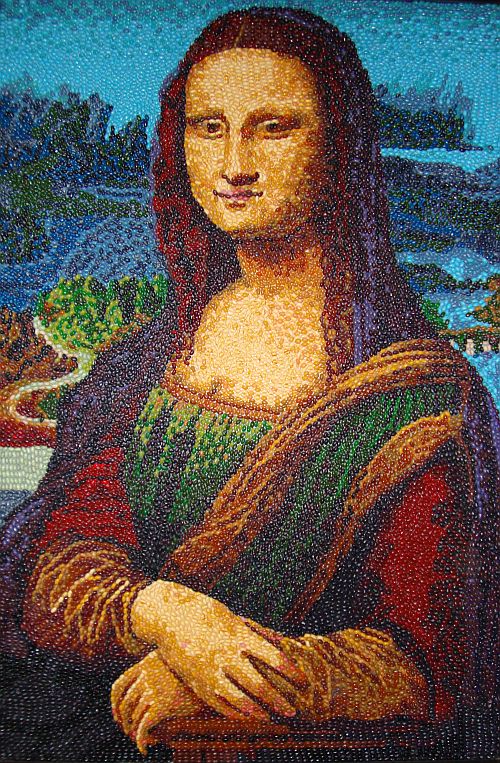 (28) Balloona Lisa Nina Hagen may have sung about neun und neunzig luftballons, but here are eight hundred helium balloons, skillfully arranged to resemble a certain famous Leonardo sitter. Sort of. If you squint a bit.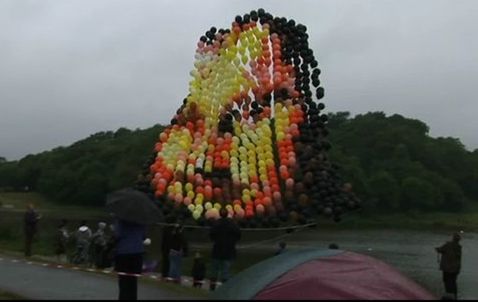 (29) Shrooma Lisa Here's a version copiously adorned with dried mushrooms, all the way from the Sinshe Sea of Flowers Festival in Taichung, Taiwan.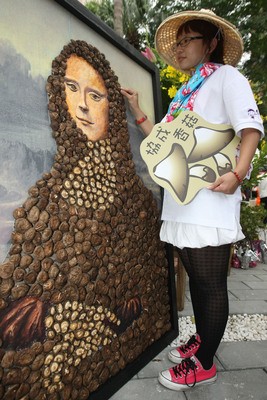 (30) Cubea Lisa – David Griebeling took two days and 800 Rubik's Cubes to make his six-colour rendition. And then a kid from the next street sorted them out in 20 seconds apiece.
(31) Mona Line-a Ever wondered if the Mona Lisa could be drawn using a single spiral line? Wonder no more, for painstaking artist Chan Hwee Chong managed to do it. And it looks like this:-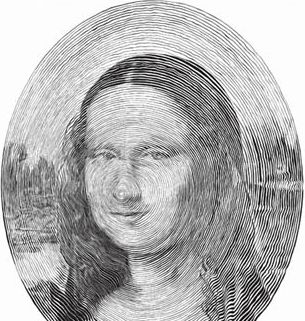 (32) Domona Lisa Domino artist FlippyCat's Mona Lisa domin[h]omage has had over 2 million views on YouTube. OK, not quite Gangnam Style ¨bervirality, but most excellent none the less. Incidentally, I particularly like the way that the mistakes FlippyCat made (and corrected) along the way are all included in the video. Cool!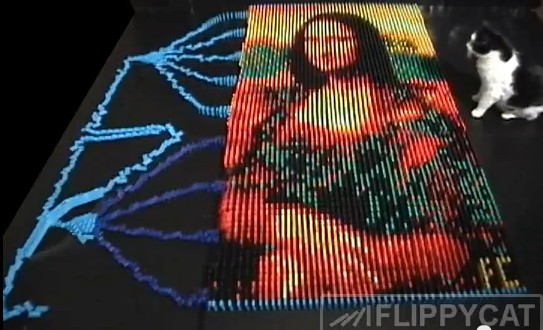 (33) Naila Lisa Nail artist Sharon Csiszer's addition to the Mona Lisa hall of fame, from way back in 1989. The Mona Lisa nail painting bit runs from about 2:00 to 4:00, but be warned that anyone with an allergy to 1980's sound tracks should probably turn the audio off. 🙂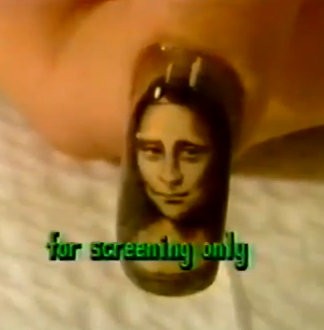 (34) Nailgunna Lisa OK, it's an outrageous fake (you can even see some of the matting at 0:57 into the video), but even so it's still a lot of fun.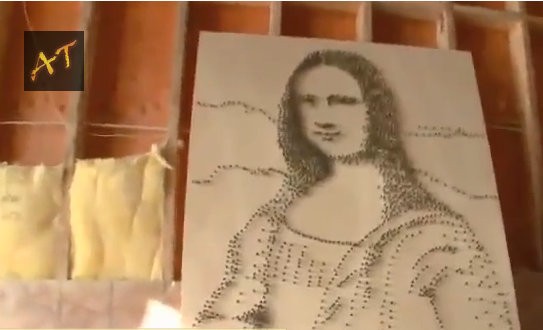 (35) Tack-a Lisa You were so wrong – Blu-Tack isn't just for putting up kid's posters and mending broken webcam bases, it's also an artistic medium. As used by the greats. Particularly Dave the NinjaArtMonster. On YouTube.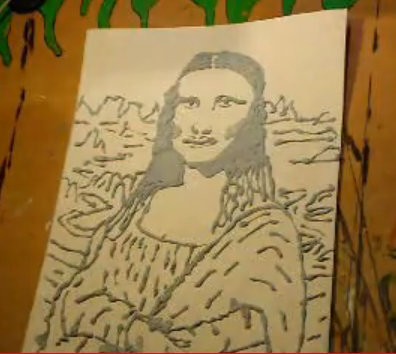 (36) Hugea Lisa Artist Katy Webster's team of 245 people took 987 [wo]man hours and 86 litres of acrylic paint to produce this huge Mona Lisa for Eagles Meadow shopping centre in Wrexham. Epic!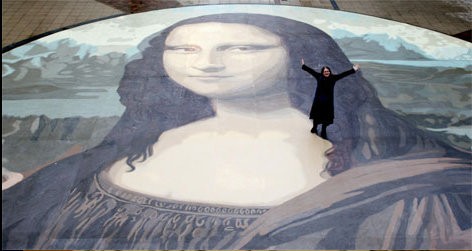 (37) Choco Lisa (Part 2) OK, I'm such a sucker for chocolate Giocondas that here's another one, this time from artist Prudence Staite to launch Chocolate Week 2009. Cue Homer Simpson drooling: "Chocolate week…"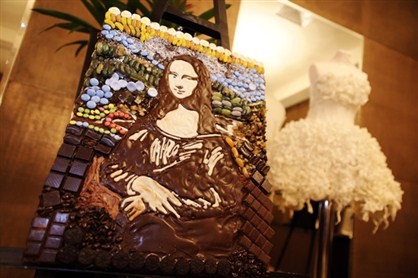 (38) Mona Leafa Victor Liu of Longal Crafts painstakingly makes year-old leaves into art. Obviously there was a Post-It note shortage or something… 🙂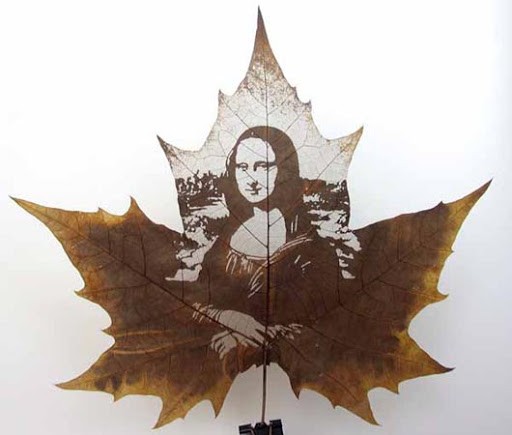 (39) Mascara Lisa What, you want to see Mona Lisa made out of makeup? Well, look no further, courtesy of artist Duncan Cargill and online makeup retailer feelunique.com.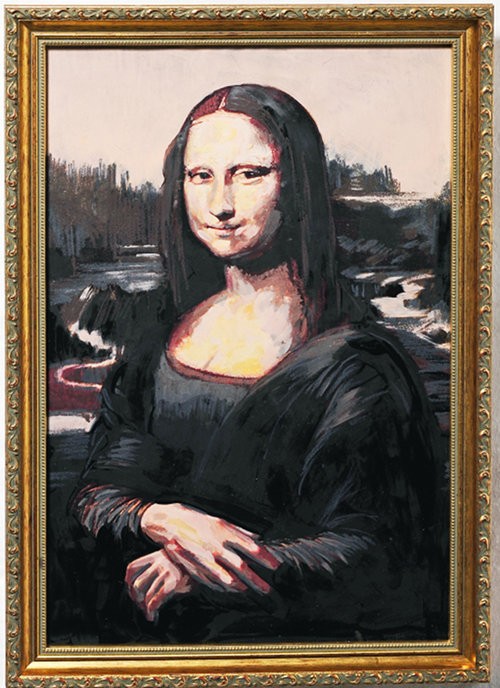 (40) Micro Lisa Here's Andrew Nicholls' teeny weeny Mona Lisa (2008).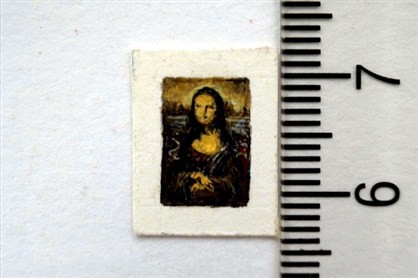 (41) Mona Ketchup To be precise, two gallons of ketchup and an order of fries. Click to see the (very messy) making-of video on YouTube:-