The "Z32" cipher (i.e. the Zodiac Killer's 32-character-long cipher, also known as the "map code" cipher, or the "Phillips roadmap cipher") was sent to the San Francisco Chronicle on 26th Jun 1970. It was part of a letter that ended in this way:-

This cipher was accompanied by a section of a map: made by the Phillips 66 company, this was a roadmap of California that at that time was widely available at service stations. (There's a huge version here.) The Zodiac Killer had placed his signature symbol on top of Mount Diablo, together with what seem to be instructions as to how to link the map with the contents of the cipher.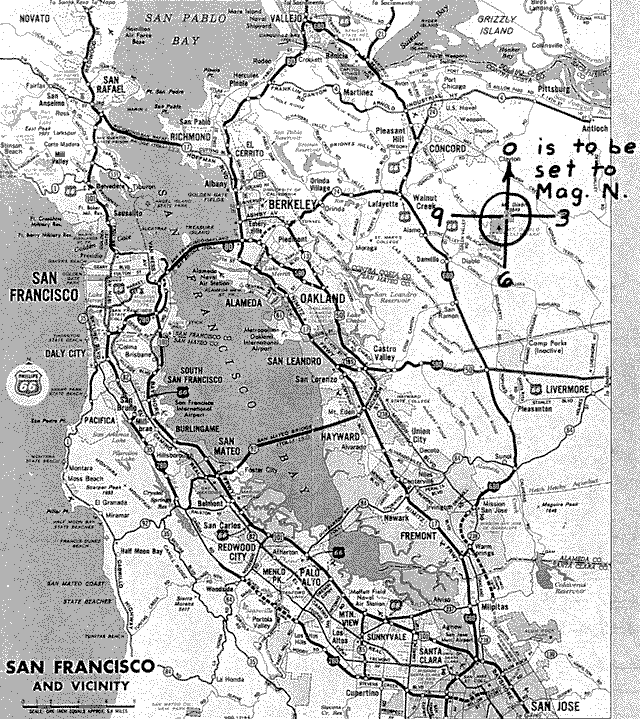 A follow-up note from the Zodiac Killer (on page 5 of the "little list" letter, postmarked 26th July 1970) added: "PS. The Mt. Diablo code concerns Radians &#inches along the radians".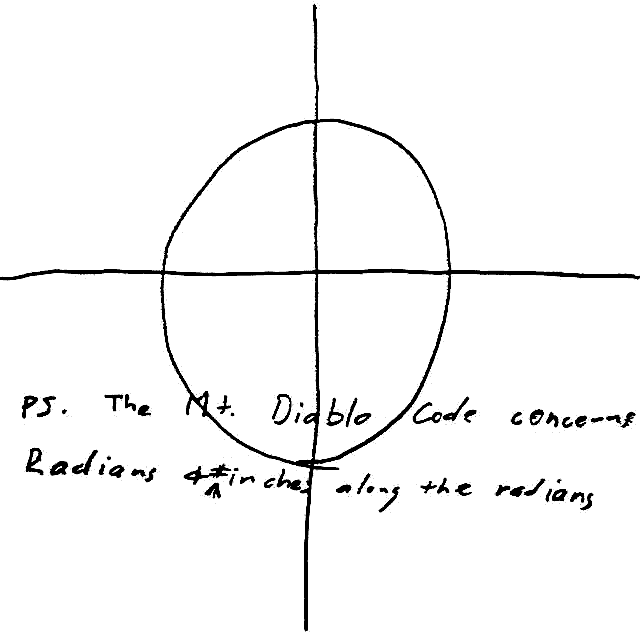 Cipher Facts
Only three shapes (the 'C'-shape, the 'O'-shape, and the hollow triangle shape) within the ciphertext appear twice: everything else appears exactly once. This seems to imply that we are looking at a homophonic cipher, the same cipher technique that the Zodiac Killer used in his Z408 cipher. As a result, it would be impossible to solve such a small homophonic ciphertext unambiguously without a large amount of extra information, or without knowing the cipher key.
Interestingly, because nearly all of the cipher shapes used in the (solved) Z408 cipher key reappear in this cipher, it seems possible that this might do the trick. Unfortunately, applying the Z408 homophonic cipher key to it yields nothing that makes any obvious sense:-
(C) I F E L N I O W H D A (Ω) N G O A
O E S N B X (shaded box) T (C) E T D I E I
Furthermore, solving this (slightly more language-like) cipher as if it were a newspaper cryptogram again seems to yield nonsense, e.g. "dsbelishourtwichthekingmadearses".
Geography Facts
The Phillips 66 California roadmap scale for "San Francisco And Vicinity" is 1 inch to about 6.4 miles: so the plaintext should presumably contain both a number (for the direction) and a number in inches (i.e. to be multiplied by 6.4 to give a physical distance in miles along that direction).
The reference to magnetic north seems to imply that the bearing was calculated not from the map, but by eye from the peak of Mount Diablo. (Here's a video panorama taken from the top platform area, and diagrammatic views facing North and facing South.)
People will always have different opinions on anything to do with the Zodiac Killer, but it seems most likely to me that at the top of Mount Diablo he turned his watch round (or rotated an external bezel) so that 12 o'clock faced magnetic North; and then read off the time (or bezel value) that would point to his bomb target of choice. Hence the plaintext part indicating 'direction' could easily be something like a time, though some people have concluded that it would be measured in radians.
In 1970, magnetic North for this area fell 15 degrees clockwise of true North: so for example San Francisco (at 256 degrees round from true North) would have been at about 241 degrees clockwise relative to magnetic North, i.e. extremely close to "eight o'clock". Similarly, San Mateo sits 227 degrees from true North, i.e. 212 degrees from magnetic North, i.e. extremely close to "seven o'clock".
Claimed Solutions
The most famous claimed solution to the Z32 cipher was by Gareth Penn, who was convinced that the word "radians" held the key, and that the locations of various killings (relative to Mt Diablo) were determined by some kind of mathematical or geometric scheme. However, it seems fairly unlikely that this was correct, and few now believe that the Zodiac Killer followed the precise scheme suggested by Penn.