What I have long tried to do with this blog is to genuinely advance our collective knowledge about unbroken historical ciphers, not by speculating loosely or wildly (as seems to be the norm these days) but instead by trying to reason under conditions of uncertainty. That is: I try to use each post as an opportunity to think logically about multiple types of historical evidence that often coincide or overlap yet are individually hard to work with – ciphers, cryptograms, drawings, treasure maps, stories, legends, claims, beliefs, mysteries.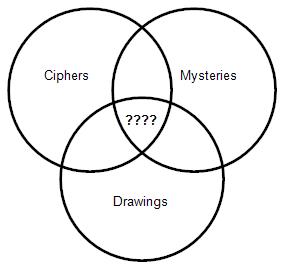 The world of cipher mysteries, then, is a world both of uncertain evidence and also of uncertain history built on top of that uncertain evidence – perpetually thin ice to be skating on, to be sure.
A skills void?
It is entirely true that all historical evidence is inherently uncertain: people lie, groups have agendas, listeners misunderstand, language misleads, copyists misread, propagandists appropriate, historians overselect, forgers fake, etc. All the same, seeing past/through the textual uncertainties these kinds of behaviours can leave embedded in evidence is the bread and butter of modern historians, who are now trained to be adept both in close reading and critical thinking.
However, what I am arguing here is that though History-as-text – i.e. history viewed as primarily an exercise in textual literature analysis – managed to win the historical high ground, it did so at the cost of supplanting almost all non-textual historical disciplines. To my eyes, the slow grinding deaths of codicology, palaeography and even dear old iconography (now more visible in Dan Brown film adaptations than in bibliographies) along with what I think is the increasing marginalization of Art History far from the historical mainstream have collectively left a huge gap at the heart of the subject.
This isn't merely a focus void, it's also centrally a skills void – the main missing skill being the ability to reason under conditions where the evidence's textual dimension is missing or sharply limited.
In short, I would argue that because historians are now trained to deal primarily with textual uncertainties, the ability to reason effectively with other less compliant types of evidence is a skill few now seem to have to any significant degree. In my opinion, this aspect of text-centrism is a key structural weakness of history as now taught.
In my experience, almost nothing exposes this weakness more than the writing done on the subject of historical cipher mysteries. There it is absolutely the norm to see otherwise clever people make fools of themselves, and moreover in thousands of different ways: surely in few other subject domains has so much ink have been spilled to so little effect. In Rene Zandbergen's opinion, probably the most difficult thing about Voynich research is avoiding big mistakes: sadly, few seem able to achieve this.
"The Journal of Uncertain History"
Yet a key problem I face is that when it comes to presenting or publishing, the kind of fascinating historical mysteries I research are plainly a bad fit for the current academic landscape. This is because what I'm trying to develop and exercise there is a kind of multi-disciplinary / cross-disciplinary analytical historical skill (specifically: historical reasoning under uncertainty) that has quite different aims and success criteria from mainstream historical reasoning.
On the one hand, this "Uncertain History" is very much like Intellectual History, in that it is a meta-historical approach that freely crosses domain boundaries while relying heavily on the careful application of logic in order to make progress. And yet I would argue that Intellectual History as currently practised is heavily reliant on the universality of text and classical logic to build its chains of reasoning. In that sense, Intellectual History is a close cousin to the text-walled world of MBA courses, where all statements in case studies are deemed to be both true and given in good faith.
By way of contrast, Uncertain History turns its face primarily to those historical conundrums and mysteries where text falls short, where good faith can very often be lacking, and where strict Aristotelian logic can prove more of a hindrance than a help (here I'm thinking specifically about the Law of the Excluded Middle).
And so I propose launching a new open-source historical journal (Creative Commons BY-NC Licence), with the provisional name of "The Journal of Uncertain History", and with the aim of providing a home for Uncertain History research of all types.
To be considered for the JoUH, papers should (also provisionally) be tackling research areas where:
* the historical evidence itself is problematic and/or uncertain;
* there is a problematic interplay between the types of evidence;
* to make genuine progress, non-trivial reasoning is required, not just for thinking but also for explanation;
* historical speculations made within the paper are both proposed and tested; and
* future tests (preferably empirical) and/or research leads are proposed.
I welcome all your comments, thoughts, and suggestions for possible submissions, authors, collaborators and/or editors; and especially reasons why existing journals X, Y and Z would all be better homes for this kind of research than the JoUH. 🙂