Cryptographically, the Voynich Manuscript (AKA 'the VMs') is a 234-page handwritten document filled with enciphered text in an unknown alphabet, threaded through by a large number of drawings of equally uncertain meaning – unrecognizable plants, circular diagrams, small naked women. It has inspired a surfeit (if not a plethora) of web-pages, articles, books, documentaries and even novels. Yada yada yada.
Yet the VMs is arguably just as great an historical mystery. Because its plausible provenance goes back only as far as 1608 or so (there is an erased signature on the first folio, using a person's title that was only granted then), the question of what happened before 1608 remains wide open…
1. Dating the Voynich Manuscript
Two pieces of evidence help us to date the VMs: firstly, the presence of parallel hatching in some of its drawings implies a likely earliest date of 1450 (the date when parallel hatching began to appear in Venetian drawings, or perhaps 1440 if in Florence), while the 15th century handwriting used for the quire numbers implies a likely latest date of 1500 (as first suggested by John Manly in 1931). According to Graham Flegg's "Numbers Through The Ages",
It is striking that the old forms of 4, 5, and 7 are retained into the fifteenth century, at least in Central Europe. Then around 1500 the new forms, which have hardly changed since, became established almost overnight. (p.122)
Furthermore, there is very persuasive codicological evidence that before the quire numbers were added, the VMs had already had the order of its pages scrambled and had been incorrectly rebound by someone who didn't understand its contents: this would arguably move the likely original date to earlier than 1500, say to 1480 or earlier.
So, unless there is strong evidence to the contrary, the codicological and palaeographical starting point for study of the VMs should be that it dates to between 1450 and 1500, probably favouring the earlier end of the range: and so the popular claim that it is some kind of late 16th century hoax therefore seems inconsistent with the basic art history (by roughly a century or so).
One researcher has an even more specific view: when Italian medieval herbal expert Sergio Toresella examined the VMs, he had the following to say (posted by Jim Reeds in 1995):- 
The VMS is, with certainty, authentic; not a fake.  It was manufactured
in the period 1450-1460.  It was in France for a while: the month names
on the zodiac diagrams are in French in a French handwriting.  The book
itself comes from Italy; the mysterious writing is done in a round 
humanistic style found only in Italy in the second half of the 1400's.
There are similarities between the organization of the VMS (including 
the balneological section!) and that of other Italian herbals of the 1400s.
[ http://www.geocities.com/ctesibos/voynich/precednt.html ]
Unfortunately, this is very much the point where mainstream historical research into the Voynich manuscript flounders, with many unknowns still in play. But perhaps some historical white knight will now ride to our collective rescue by taking a fresh look at its unusual quire numbers…
2. The Voynich Manuscript's Unusual Quire Numbers
Crucially, the VMs' quire numbers may yet give us an insight into its very early provenance. These are of a form that has yet to be matched in any other document, a curiously awkward hybrid of Roman and Arabic numbers: match these, and we suddenly stand a chance of determining one of the manuscript's early owners (perhaps even its earliest owner).
Even though the original quire number writer was thinking in Latin ordinals (primus, secundus, etc), what s/he was actually writing was an ugly mixture of Arabic numerals and late medieval -9 Latin abbreviations: pm9, 29, 39, 49, 5t9, 6t9, 7m9, 8u9, 9n9, 10m9, 11m9, [12 missing], 139, 149, 159, [16 missing], 179, [18 missing], 19, 20. Palaeographically, we can split these up into four hands: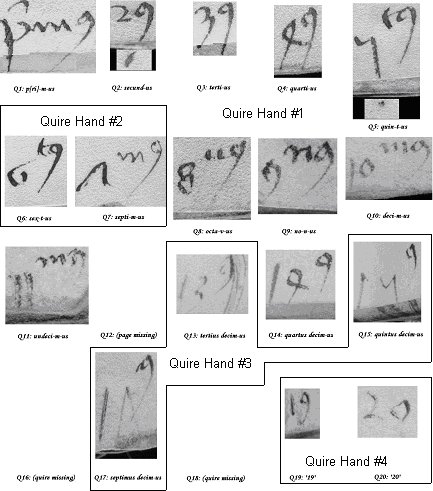 The four quire hands, from The Curse of the Voynich (2006) p.17
To my eyes, Quire Hand #2 looks (from the even ink flow across the 'm') to have been written with a fine metal nib by a later owner (aping the original numbering scheme and handwriting): while Quire Hand #4 also looks to have been added later (though by someone with no grasp of how the numbering scheme worked).
Were Quire Hands #1 and #3 added by the same person? Even though they are broadly similar 15th century hands, my best guess is that they were added by two different people – the "3" seems different, and Quire Hand #3 is generally scratchier and finer. All in all, my best guess is that Quire Hand #1 was the original quire numbering hand.
However, the big historical mystery is why no match to this unusual quire numbering style has been found in any other document. Can it really be that this cipher manuscript has had an entirely unique quire numbering style added to it, or might there actually be examples of similar numbering (perhaps not even used for quire numbering) in other documents, perhaps even by one or other of the same hands that appear here?
All suggestions welcomed (both for documents to examine and for sources to refer to)!