Though the Gentlemen's Cipher was discussed in a 1978 Cryptologia (Volume 3, page 294) "There and There" column by Brian J. Winkel, it only came to my notice a few days ago when it was discussed by German cipher skeptic Klaus Schmeh on his blog.
It's only a small cipher, taken from "the papers of a gentleman recently deceased", and printed in "The Gentlemen's Magazine" in April 1748 in the hope that one of its readers would be able to decrypt it. In fact, you can see it on page 149 of this scan of the 1748 editions (courtesy of Google Books):-
And a little closer…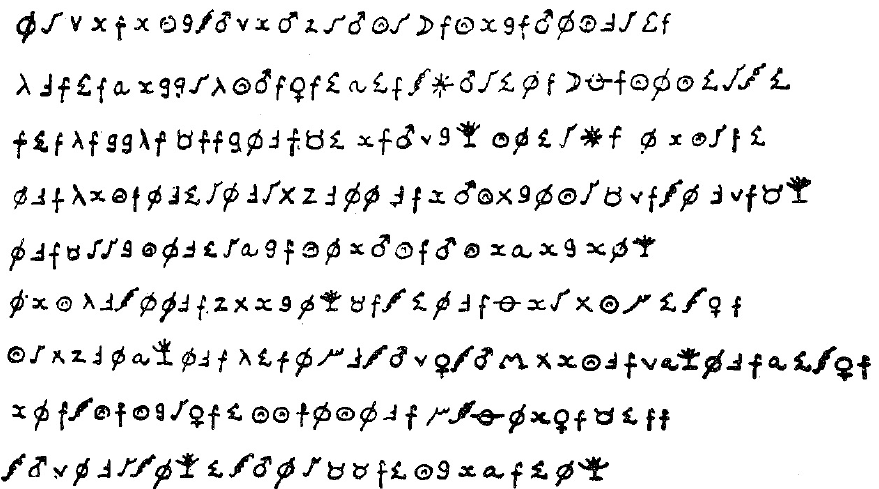 Now, I roughly transcribed this as…
abcdedfghicdijbifbmefdgeiafnboe
pneoeqdggbpfiereosoehtiboaemuefafobho
eoepeggpeveeganevodeicgwfaobteadfbeo
anepdfanobanbdjnaanedifdgafbvcehancevw
anevbbgfanobqgefadideifdqdgdaw
adfpnhaanejddgawvehoaneudbdfbohre
fbdjnaqwaepoeabnhicrhixddfnecqwaneqohre
daehfefgbreoffoafaneyhuadreuoee
hicanbhawohiabvveofgdqeoaw
Feeding this into WebDecrypto, it turns out to be some enciphered poetry on death from English poet Sir Samuel Garth (1661-1719) in his 1699 mock-heroic work "The Dispensary", Canto iii, Line 225 (p.44, or rather p.80 of the PDF scan):-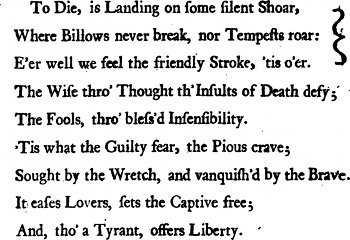 Note that the spelling isn't quite the same ("shore" vs "shoar", "Ere" vs "e'er", etc), but even so, each line of the ciphertext registers exactly with the corresponding line of the poem.
"To Die, is Landing on some silent Shore,
Where Billows never break, nor Tempests roar:
Ere well we feel the friendly Stroke, 't is o'er.
The Wife thro' Thought the Insults of Death defy
The Fools, thro' blest Insensibility.
'Tis what the Guilty fear, the Pious crave;
Sought by the Wretch and vanquish'd by the Brave.
It eases Lovers, sets the captive free;
And, tho' a Tyrant, offers Liberty.
Perhaps a little heavy-handed for our modern tastes, but there you go, it is what it is. Case closed! 🙂