Given that most Voynich furrows have been heavily overploughed over the last two decades, it has become rare for something novel to pop up on my Voynich radar. On those rare occasions such a thing does happen (e.g. the Sagittarius crossbowman, etc), I do try to use my posts to communicate a sense of enthusiasm and excitement.
And so here's something that might well prove to be interesting: an "Honors senior thesis presentation" courtesy of Adam Lewis at the University of Puget Sound in Tacoma in Washington, entitled "An Anatomy of Failure: Analysis Attempts to Decode the Voynich Manuscript" – 6pm-7pm on 21st February 2018, at UPS's Wyatt Hall, Room 109.
Incidentally, here's a picture of the University of Puget Sound's mascot "Grizz the Logger" in action: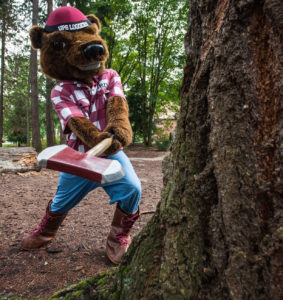 So… why is it that the floor around the VMs is littered with so many dead bodies, so many foolish theories, indeed so many grotesquely idiotic theories? What is it about the Voynich Manuscript that draws out the airiest and least tethered of speculations from people? It's certainly a topic I've thought a lot about over the years, and so I look forward to (eventually) reading Adam Lewis's senior thesis: it should be fun.
Incidentally, I don't believe I've ever talked with Adam, but I suspect this is his LinkedIn profile here.
On the down side, however, I should point out that the talk is marked as "Campus Only" on the website, so even if you do want to go along, you may not actually get in: hence I'd certainly advise phoning or emailing beforehand if you are considering this.
As a sidenote, fans of Alex Scarrow's books will probably remember that "Timeriders: The Doomsday Code" features a computer hacker called Alex Lewis, who finds his name hidden in the Voynich Manuscript. That's probably just coincidental (or possibly some time travelling geocache trickery), but I thought I'd mention it anyway. 😉