The third "le Butin" letter BN3 relates a rip-roaring story: of how a dying French sea-captain gave the letter-writer three documents describing the location of buried treasure, urging him – as a fellow Freemason – to use the money for patriotic ends. All of which undoubtedly sounds a bit "Aaarrrrgh, Jim Lad, take thee moy treasure maaaps afore I die" to our modern ears: but all the same, it is a story that has proven surprisingly difficult to prove or disprove since it first appeared roughly a century ago.
And in that time, there has been no obvious shortage of treasure hunters wanting to know more about the story, and reading it in pretty much whatever way they want: as evidenced by this news item that appeared in the Thursday 18 June 1925 Lancashire Evening Post:
"£30,000,000" MINE LOCATED
A Londoner with gold-detecting instruments is said to have located a gold mine in Mauritius which was discovered and worked by the crew of the French corsair Nageon more than a century ago. It is said to contain £30,000,000 worth of gold.
Anyway, I've recently been wondering – might this dying captain have been Captain Malroux of the Iphigénie?
Captain Malroux
The basic story appears in numerous sources, such as René Guillemin's lively (but far from reliable) (1982) "Corsaires de la République et de l'Empire".
Guillemin's chapter concerning Ripaud de Montaudevert relates .215-219] a well-known incident of 1799 concerning a French corsair corvette (the Iphigénie, 18 cannons) commanded by Captain Malroux ("un armateur influent de Port-Louis") with Ripaud as its second-in-command. Summarizing Guillemin's account of events:
* 25 August 1799: Iphigénie departed towards the Gulf of Ormuz, where it arrived and waited… and waited…
* 07 October 1799: they spot the Pearl (three-master, 16 cannons) leaving the Persian Gulf. They fight: the British captain and a Lascar die, and the Pearl surrenders. Sacks of gold and silver (4 million francs' worth), 5000 small copper ingots, and "diverses autres marchanises de mondre valeur" are transferred to the Iphigénie, but forty Arab horses were left on the Pearl (which Ripaud took command of).
* 10 October 1799: they encounter the corvette H.M.S. Trincomalee (40 cannons or smaller cannonades, but with a crew of 140 sharply reduced by illness down to just 70) and the schooner Comet.
* The sea battle ends in the middle of the night with the Trincomalee exploding and the Pearl sinking
* The Comet ran away, and the Iphigénie then picked up the survivors.
OK, it's not quite off the coast of India: but it's not far away at all and the timing is good. We also have several vivid eye-witness accounts, including letters by John Cramlington (on the Cipher Foundation website).
Citoyen Malroux
Interestingly, there's a report here – Gazette nationale, ou le moniteur universel, No 190 (page 1, top of column 3) – that quotes a report in JOURNAL DE TOULOUSE, L'OBSERVATEUR REPUBLICAIN; ou L'ANTI—ROYALISTE (page 2) verbatim:
Octidi 18e Germinal (99) L'an VIII de la République – 1800-04-08
Extrait d'une lettre de Brest, qui contient des particularités relatives à l'Isle-de-France.

Le citoyen Malroux, commandant un corsaire de 20 çanons, après avoir pris un navire anglais qui, indépendamment d'une cargaison très – riche, avait à bord 10 à 12 millions en pagodes d'or, a été rencontré par une frégate anglaise de 40 canons. Après un combat très vif, il l'a enlevée à l'abordage. Le capitaine anglais, désespéré d'être pris par des forces aussi inférieures, a fait sauter sa frégate au moment où on amenait le pavillon : le corsaire, se trouvant accroche à cette frégate, a coulé bas. La prise, qui est arrivée a bon port, est parvenue à sauver quelques personnes des deux équipages; mais le capitaine Malroux a péri. C'est une belle action bien maleureusement terminée, etc.
However, this was followed up by a slightly sniffy article in a later issue that downplayed almost everything about the incident:
Sextidi 26e. Germinal, (N°. 103.) L'an VIII de la Republique:
Un habitant de l'Isle-de-France, arrivé au Havre ces jours derniers, a confirmé, quant au fond, la nouvelle de la capture d'un riche bâtiment anglais par un corsaire français ; mais il en rectifie ainsi les détails:

» Le corsaire du capitaine Malroux n'avait que 14 canons, de 4; le bâtiment ennemi n'était pas une frégate de 40 canons, mais une corvette de 26.
» Malheureusement, lorsque le capitaine anglais fit sauter sa corvette , les grapins étaient encore à bord, et le corsaire a coulé bas.
» On a connu ces détails par la prise qui est arrivée à l'Isle-de-France , deux jours avant le départ de cet habitant.
» Elle n'est évaluée que 100 à 150,000 piastres, l'or ayant été embarqué à bord du corsaire, au moment de la capture.
There's a lot more to the history, but that's all I can fit in a blog post for the moment. 🙁
La Perle, Le Butin and… La Buse?
All in all, I think Malroux is a surprisingly good fit, and nothing in all the accounts of his death contradicts the BN3 story: but oddly, it seems that I'm far from the first person to consider this.
If we take another look at the second La Buse cryptogram…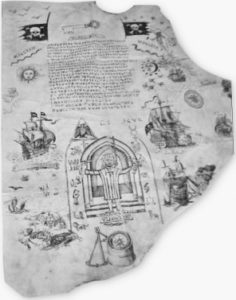 …it includes drawings of three large ships: "Le Victorieux" (32 cannons), "La Perle", and a third (unnamed) ship in the middle of exploding.
Now, I can't prove it, but – given that there already seems evidence that strongly suggests that the second La Buse cryptogram was faked no earlier than the start of the twentieth century – it seems highly likely to me that this was intended by the fakers to intimate a link between the (in reality probably entirely unconnected) La Buse cryptogram and the Le Butin letters.
Who would want to do such a thing? Someone with an interest in both cipher mysteries, for sure: and who had a better knowledge of Indian Ocean maritime history than most people, good enough to point a knowledgeable finger at Malroux.
I'm sorry to have to say it, but this seems likely to me to be the work of someone close to a well-known French treasure hunting group, either to gull them all or as part of the kind of treasure map theatre they seem to have engaged in to show off to each other.
Which is a shame, because I would have loved to have talked with the people behind it, because I'm sure they would have had some great stories to tell. But perhaps no-one will ever know now. Oh well!