A week or more ago, I started writing up a fairly hefty post on John of Sacrobosco's famous "De Sphaera" (which is one of the books Nicole Oresme translated into French, adding his commentary). I was particularly interested in the diagrams that appear in many of the manuscripts, and so began with Lynn Thorndike's account "The Sphere of Sacrobosco and Its Commentators", which describes the drawings found in three specific "De Sphaera" manuscripts:
* Oxford, Bodleian, Canon. Misc. 161, fols. 9r-19r
* Princeton University, Garrett MS 99, fols. 124ra-136vb ['a'/'b' means 1st/2nd column] [may have been sold to Garrett by Wilfrid Voynich!]
* Cambridge, University Library Ii.III.3, fols. 25r-35v
"Most excellent!", I thought (thankfully silently) to myself, and so went off to try to find copies of any of the three to illustrate the post. Which… proved impossible, despite trying quite hard. And so the help I'd really like is – if anyone can find such a thing, which I have singularly failed to do – a link to an online illustrated copy of John of Sacrobosco's "De Sphaera".
Note that because I'd like to specifically compare these diagrams with the (slightly different) diagrams that appear in Nicole Oresme's French translation (of which, oddly, I have a good number of illustrated copies), I'm focused on illustrations of the original Latin version that appear in the context of the text.
All That I Have
No prizes for guessing the subheading reference: but all that I have so far isn't a great deal.
Firstly, there's BNF MS Latin 7197 that Ellie Velinska kindly linked to a few days ago: this was (mostly) copied by 15th century Zurich physician Conrad Heingarter, and the De Sphaera is on ff.39-50, e.g. this from fol. 39r: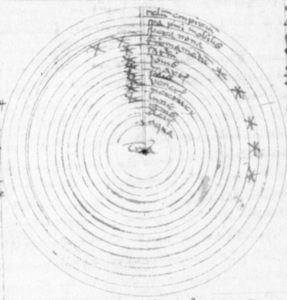 Unfortunately, Heingarter seems to have been copying from a largely unillustrated manuscript, because that was the only diagram there. 🙁
The other interesting set of De Sphaera illustrations is from the fascinating and beautiful Estense "De Sphaera" manuscript. However, the PDF of this available online only includes the drawings, not the drawings in their textual context. (Note: technical description here.)
Can anyone help? All tips and suggestions gratefully received! 🙂