It's an oldie, but a goodie: first published in 1979, Wilfrid Blunt and Sandra Raphael's "The Illustrated Herbal" (particularly the revised 1994 edition) is a must-buy first read for any Voynich Manuscript would-be herbal decipherer – if only to make plain by how much its herbal pages differ from other contemporary herbals.
Of course, Blunt has sneaked a few pictures from the VMs in there (pp. 88-91); and though he cites Alfred Werner's (1963) observation that one page in the water section is like "a plumber's dream", he quickly cautions that "…'Heath Robinson nightmare' might seem more appropriate" (which is fair enough). But as for commenting on the plants themselves, Blunt is content to pass them by at some speed, in much the same way that Eric Sams fled from the ciphertext. You'll just have to find your own answers, I guess.
What did I learn? A new way of looking at plants began to emerge from around 1380, which a handful of artists were plugged into – but which most plainly weren't. For example, even Giotto wasn't au fait with it (though he "painted birds and other animals with a tolerable naturalism, [he] still made trees like outsize herbs", p.57), but Leonardo (circa 1500) certainly was (and I would add Van Eyck too). As far as herbals go, if you look at Rinio's Liber de Simplicibus (1419) [which John Ruskin adored], or even Serapion the Younger's Herbolario volgare (better known as the Carrara herbal, MS Egerton 2020) (1390-1400), I think there's something 'graphic' about the rendering, that we might today recognise as a "draughtsman-like aesthetic". But far, far beneath the soaring flights of these stunning, draw-what-you-see masterpieces, the pedestrian copy-what-you-know world of medieval herbals stumbled on regardless.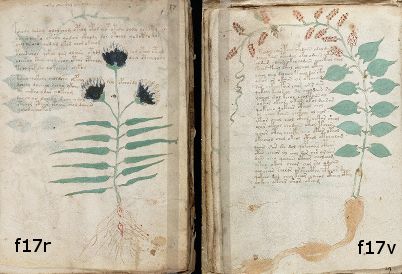 Medieval and modern, on the front and back of the same folio!
In the big scheme of things, I would say that what we see in the Voynich herbal pages is annoying because it fails to fit in either of these two easy pigeonholes – neither the high flyers nor the low achievers. And so the VMs actually has a chasm on each side: and because it contains occasional flashes of both medievalism and modernity, it – doubly annoyingly – lets people read either (or indeed both!) of those into what they see. Yet in order for those flashes of modernity to be present at all, it has to postdate 1380, and must have had an author who was at least aware of both levels: while its overall drawing style matches 15th century stylistic conventions far, far more closely than it does 16th century ones. But there you go.
Blunt and Raphael's work is built on two lifetimes' worth of herbal scholarship and reflection: and, nicely, is happy to adopt a light tone when it suits the needs of the passage. This seems to happen particularly when quoting Charles Singer from the 1920s, such as Singer's description of the Leiden manuscript as "a futile work, with its unrecognisable figures and incomprehensible vocabulary" (the VMs isn't completely alone, then).
At the end of reading "The Illustrated Herbal", I came away with my head buzzing with stuff, but none it about where the VMs' herbals came from – Blunt's Wittgensteinian "if you can't say anything useful, stay silent" position on the VMs' plants has a lot to commend it. No, what I was most inspired by was his discussion of the transmission of ideas about herbals during the 16th century: but I'll have to return to that in another post (shortly)…