Thanks to a top tip from the Cryptocollectors mailing list, here's what the Stwórzmy Enigma Museum in Poznań posted on Facebook today:
11 listopada w Poznaniu to nie tylko Dzień Niepodległości, ale tak także Imieniny Ulicy Święty Marcin. Parę lat temu na Paradzie Świętomarcińskiej wystawiliśmy żywą Enigmę na kółkach, w której "przyciskami" byli harcerze z 100 Poznańska Drużyna Harcerzy im. gen. St. Maczka. To była petarda!
As normal, my badly-laundered translation follows:
11th November in Poznań is not only Independence Day, but also St Martin's Day. A couple of years ago at the St Martin's Day Parade, we put a live Enigma on wheels, where the "buttons" were scouts from the 100 Poznań General Stanisław Maczek Group. It was da bomb!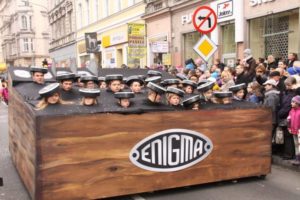 The scouts seem to be enjoying themselves, which is great: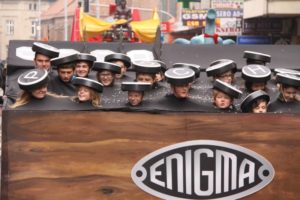 Here you can clearly see that it's a four-rotor Enigma. But no stecker board! 😉