Well, here's a thing. The Thirteenth Oxford Medieval Graduate Conference, to be held in a month's time at Merton College (31st March 2017 to 1st April 2017) on the theme of "Time : Aspects and Approaches", has a Voynich-themed paper in its Manuscripts and Archives session on the second day (11:30am to 1:00pm).
This is "Asphalt and Bitumen, Sodom and Gomorrah: Placing Yale's Voynich Manuscript on the Herbal Timeline", presented by Alexandra Marraccini of the University of Chicago. The description runs like this:
Yale Beinecke MS 408, colloquially known as the Voynich manuscript, is largely untouched by modern manuscript scholars. Written in an unreadable cipher or language, and of Italianate origin, but also dated to Rudolphine court circles, the manuscript is often treated as a scholarly pariah. This paper attempts to give the Voynich manuscript context for serious iconographic debate using a case study of Salernian and Pseudo- Apuleian herbals and their stemmae. Treating images of the flattened cities of Sodom and Gommorah from Vatican Chig. F VII 158, BL Sloane 4016, and several other exempla from the Bodleian and beyond, this essays situates the Voynich iconography, both in otherwise unidentified foldouts and in the manuscript's explicitly plant-based portion, within the tradition of Northern Italian herbals of the 14th-15th centuries, which also had strong alchemical and astrological ties. In anchoring the Voynich images to the dateable and traceable herbal manuscript timeline, this paper attempts to re-situate the manuscript as approachable in a truly scholarly context, and to re-characterise it, no longer as an ahistorical artefact, but as an object rooted in a pictorial tradition tied to a particular place and time.
BL Sloane 4016 is a similar-looking herbal that Voynich researchers know well. Most famously, Alan Touwaide wrote a 500-page scholarly commentary on it (as mentioned in Rene's summary of Touwaide's chapter in the recent Yale facsimile). It dates to the 1440s in Lombardy, and even has a frog ('rana') on folio 81: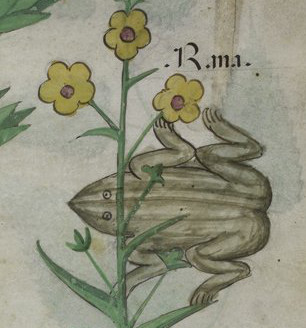 Marracini herself is an art historian who previously graduated from Yale, and who has an almost impossibly perfect set of research interests:
Her research focuses on Late Medieval and Early Modern scientific images, particularly alchemical and medical material, in England, Scotland, Germany, and the Netherlands. Her interests in the field also include book history and manuscript studies, Late Antique material culture, and the historiography of art, particularly in Warburgian contexts. Currently, she is writing on the history of Hermetic-scientific images and diagrams, and her work on Elias Ashmole's copies of the Ripley Scrolls is forthcoming in the journal Abraxas.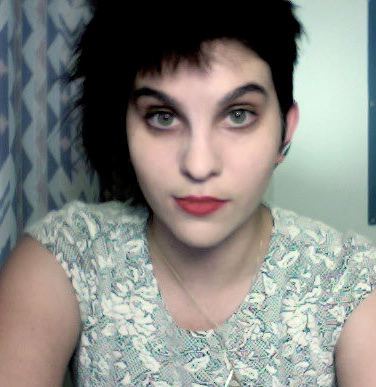 All of which looks almost too good to be true. It's just a shame her presentation falls on April Fool's Day, so we're bound to have people claiming that she doesn't really exist and it's all a conspiracy etc. 😉