As promised, here are some preliminary slides for my upcoming Villa Mondragone / Voynich 2012 presentation, though not yet with any pictures to illustrate them (boo! hiss!).
Essentially, I've wrapped together all my various codicological analyses from the last decade into a single mega-sequence: these explain the step-by-step transformations that I'm fairly certain the Voynich Manuscript underwent once people started adding extra layers (quire numbers, marginalia, folio numbers, etc) to it.
Download the slides here: Between Vellum and Prague.
There's also a mega-diagram handout to go with it: click on the following picture to expand it out into something you can navigate more effectively. The key graphic convention to note is that I've used underlines to denote where quire numbers were physically added (and on which individual digit!)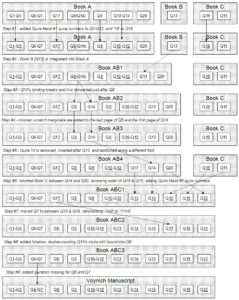 Ultimately, I think I've now managed to reach a level of codicological narrative that explains more or less everything that happened to the manuscript once it landed on the first quire numberer's desk (though a question mark remains hanging over 'Q6', Quire #6 *sigh*). Having said that, I'm perfectly happy for you all to try to shoot any part of it down in flames… I wouldn't present it to an international conference if I wasn't reasonably convinced it was basically bulletproof. 🙂
Further reading:
* For basic background, my introduction to the Voynich Manuscript's quire numbering
* For much, much more on the 'chicken scratch' marginalia (and on Q8 and Q14), take a look at these posts: 1, 2, 3, and 4.