Prolific (if occasionally prolix) Cipher Mysteries commenter bdid1dr has long wondered whether the Somerton Man was someone in her ex-husband's family. (She also suspects her ex-husband was the infamous Zodiac Killer, but let's leave that for another day.)
Even though it at first sounds like an outrageously long shot (and one that would perhaps necessitate a Warren Commission 'magic bullet'), it does in fact concord with many of the things we know about the Somerton Man, in perhaps surprising ways.
For a start, the aluminum comb, the packet of Juicy Fruit chewing gum found in the Somerton Man's American-stitched coat and indeed the coat itself have all been taken as suggesting that the Somerton Man was American (or had recently travelled from America).
More specifically, Derek Abbott launched his recent (but unsuccessful) crowdfunding campaign on the back of a fragmentary DNA match between one of the hairs found embedded in the plaster cast bust of the Somerton Man and Thomas Jefferson.
Yet it turns out that the Shackelfords are an old Virginian family… with links to Thomas Jefferson. OK, this is all still very far from proof, but we're not yet veering into anything like the canonical Lands Of Somerton Nonsense: so please bear with me just a little longer as we take a look at the Shackelfords…
Lee Erwin Shackelford
According to the Sydney Morning Herald, he was born on 12th April 1945 to Willian Shackelford and Normaleen (nee Park):
SHACKELFORD (nee Normaleen Park). April 12, King George V Hospital, Camperdown, semi-private, wife of T./Sgt. W. Shackelford, U.S. Air Corps – a son (both well)
And thanks to a little archival magic (big tips of the Cipher Mysteries hat to Eye and Aye for this), we have a photo of Lee Erwin Shackelford from the USS Ticonderoga circa 1964: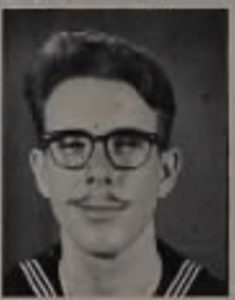 He was also bdid1dr's first husband: she says that he died in New York a few years ago.
He had a brother (Preston Park Shackelford) who was born 10th April 1948 in Vallejo CA: and another brother (Mark) who was born in New Mexico in 1952.
William Jesse Shackelford Jr
Eye and Aye came up trumps here as well, with William Jesse Shackelford Jr's US Armed Forces registration card (note: image behind a Fold3 paywall). According to this, he was born on 17th May 1922 in Norfolk VA: the "Name And Address Of Person Who Will Always Know Your Address" field is marked up as "Mrs A. B. Shackelford, 1631 Willoughby Ave, Norfolk, VA". (Willoughby Ave is close to Norfolk's Lyon Shipyard: #1631's plot was long since sacrificed to make way for the I-264.)
According to the Registrar's Report (note: image also behind a Fold3 paywall), William Shackelford Jr was white, 5′ 5″, 125 lbs, hazel eyes, brown hair, and with a ruddy complexion. He received his honourable discharge from the Army on the 30th August 1945 (ref: 13-062-516).
Unless he secretly had access to a Tardis, William Shackelford was not the Somerton Man: he was still very much alive in 1950, 1960, and even 1970.
On ancestry there is a record of a Normaleen May Shackelford travelling from Brisbane to San Francisco with her son Lee Ervin/Erwin. The name of the friend/relative she states she is visiting is William Shackelford, 835 Oaklette Avenue, Norfolk, Virginia. A 1940 census document shows two William J Shackelfords living on Oaklette. One is 39 and the other is 17. Father and son. Further research shows the son as having been in the US Airforce in WW II. He is William Jesse Shackelford. He married three times. First wife unknown but I suspect it may have been Normaleen. Second wife (married in 1957) Leila Barnes Stewart (who seems to have died), third wife Catherine Anne Garrett.
William Jesse Shackelford Sr
William Jesse Shackelford Sr's obituary (in the 7th December 1972 Virginia Beach Sun looked like this:

William Jesse Shackelford, 73, of 292 Stancil St., Princess Anne Plaza, an insurance agancy [sic] operator, died in a hospital November 28 after a long illness.
He was a native of Walter Valley, Tex., a son of William J. and Mrs Martha Farley Shackelford, and the husband of the late Mrs Josephine Taylor Shackelford.
He was the owner of William J. Shackelford Insurance Co. He was a member of Norfolk Elks Lodge 38, American Legion, and Commodore FOP Lodge 3.
He was a World War I veteran.
Surviving are two daughters, Mrs Bennie S. Jordan of McLean and Mrs Shirley S. Becker of Virginia Beach; a son, William Jesse Shackelford Jr of Alexandria; two sisters, Mrs Cordelia Willcox of Tuolumne, Calif., and Mrs Sylvia S. Snyde of Corpus Christi, Tex.; a brother, Feilx Shackelford of Odessa, Tex.; 11 grandchildren; and 11 great grandchildren.
Might there be a missing Shackelford…?
I hope it's not construed as unkind of me to note that bdi1d1dr's handed-down family stories don't quite add up. At this remove in both time and space, tales about her ex-husband's family's life in Australia (he moved to the US at a very young age) are bound to be fragmentary and incomplete.
What is either interesting or just plain Chinese Whispered here is that she was sure that there was also a Lee Irving Shackelford in Australia, who somehow disappeared: and quite how he fits into the whole picture nobody seems to know or remember.
And so my challenge to you fine people is to find out if there was a disappearing relative in William Jesse Shackelford (Jr or Sr)'s immediate family tree. Oh, and who was "Mrs A. B. Shackelford"?
Incidentally, one unusual (but possibly useful) resource here is the Shackelford Clan, a group that published a family history newsletter from May 1945 to April 1957 (scanned issues are listed online here) researching… the history of the Shackelford family. Good hunting! 🙂