A few days ago, Australian robotics hacker Marcel Varallo (whose gladiatorial hacks making Roombas fight each other amuse me greatly) very kindly posted up two new scans of the Somerton Man's Rubaiyat code (along with many megs of his collected Somerton Man stuff) on his blog.
I've put the three scans we now have on a Cipher Foundation Rubaiyat Code page, and strongly recommend that people use one of the new scans as a basis for doing any image processing work, rather than the one that has been on the Internet for years.
For example, if you put the three scans' "Q" shapes side by side and try doing image processing experiments on them…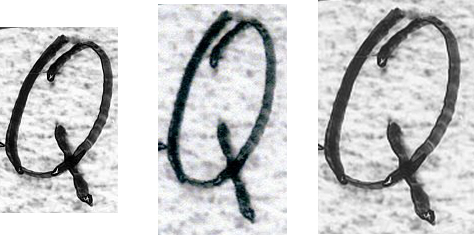 …what you find is that the so-called "microwriting" (found in the leftmost of the three images) was simply a quantizing artefact introduced when the original JPEG image had its brightness and contrast adjusted. With the new (slightly higher resolution, and generally much smoother) scan, all that nonsense disappears. There is no 'microwriting' there at all: The End.