A piece in the Adelaide 'Tiser a few days ago lays out retired policeman Gordon Cramer's sensational-sounding Somerton Man claims – that the mysterious cipher-like Rubaiyat note linked to the Somerton Man contains "Prosigns" (a set of abbreviations when using Morse Code); that it also contains microwriting; and that some of this microwriting in fact refers to a top secret post-war British plane – the de Havilland Venom.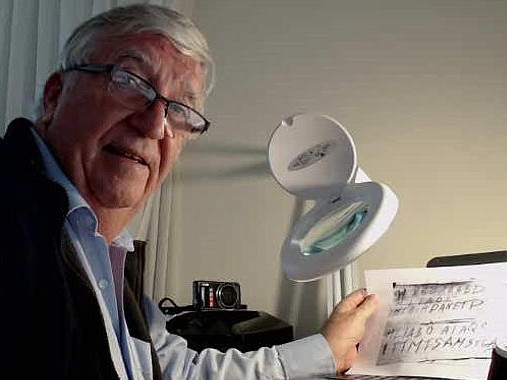 Gordon has been doggedly pursuing the Somerton Man's trail for several years now… so might his diligent nose have sniffed out a whole set of truffles that everyone else has been walking past in the rotting forest of evidence?
The immediate thing to note is that there are so very many cipher history / mystery elements in play here that it's going to take me more than a single blog post to cover them all. But I'll start briskly with what I think is the fundamental forensic question – What happened to the Rubaiyat note to leave it the way we see it in the scans? – because Gordon's take on this has both interesting similarities to and differences from my own.
A smooth writing surface?
First things first: Gordon and I agree (I think) that what we're looking at is quite different from the state the page was in when it was passed to the SA police. Looking close-up at the letters (as Gordon has spent so much time doing), it is very clear (I think) that there is a 'slide' to the way many of them were formed, as if they had been written on a shiny / smooth / glossy surface… and hence not on the roughly-textured post-war paper of the Rubaiyat.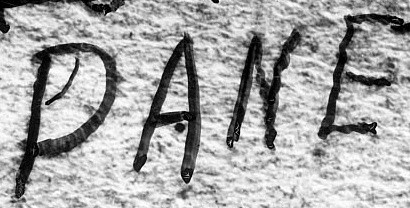 In particular, I think it is hard to see the "A" of the "PANETP" (above) as having been written on anything but a slippery surface: and if this holds true for the 'A', then it must also be true of all the other letters written in the same codicological 'layer'.
A laundry pen?
Secondly, he and I also agree (I think) that in 1949 these marks must almost certainly have been made by an early indelible marker pen, such as a laundry pen. I'm not a laundry pen historian (there can't be that many of them in the world, surely?), but I am reasonably sure that they would have had fairly stiff wicks / tips drawing ink from their ink reservoir. I also don't think they would have been much fun to write with: by way of contrast, the (later) felt tip pins had tips that were much more pliable.
I further suspect that we have enough evidence to make a reasonable estimate of the physical size of the pen's tip. Given that the size of the Whitcomb and Tombs Rubaiyat edition upon which the writing was found is 110mm x 140mm, (which Gordon describes (fairly reasonably) as a "pocket version") and that the width of the downstroke on the A is about 13 pixels on the 1802×1440 image, I believe we can infer a line width of between 0.75mm and 0.80mm. All of which is pretty much consistent with the pen being something similar to a laundry pen of the time (note that the first Sharpie was launched fifteen years later in 1964).

Furthermore, if you look at the 'feet' of many of the vertical lines (as above), you can – I think – see 'pooling' where the ink has collected at the end of a downstroke: so my suspicion here is that the ink would seem to have been made to a 'wetter' formulation than the kind used in modern marker pens.
The Jestyn 'R'?
Gordon has also recently pointed out a similarity between the (only) R in the Rubaiyat note and the first R in Jestyn's note in Alf Boxall's Rubaiyat.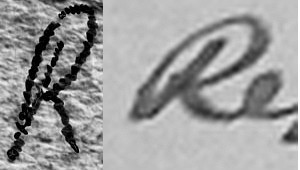 I agree that it's an intriguing suggestion, but I'd caution that Jestyn's overall 'hand' is slightly forward slanting and curved, while all the 'laundry pen letters' are distinctly upright and linear. All in all, if there is a match there, I'd say it's a pretty thin one… but I thought I ought to say.
The first letter.
So far, so good. But it is broadly at this point that our paths diverge, so I'll go on to consider a number of possible scenarios in the next post.
Yet there is another issue here: the "M" that is apparently visible beneath the first letter. (And yes, I know that the first letter is also an "M": I'm talking about something that looks like a pencil "M" beneath a laundry pen "M"). A picture is well worth a thousand words here:-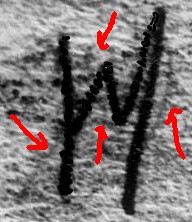 If you can't see what I'm talking about, here's another version with the M-like lines roughly highlighted in green:-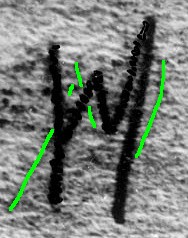 What was used to mark out this single under-letter? Not laundry pen, nor iodine vapour, nor even UV light: to my eye, it resembles faint pencil, or perhaps pencil marks that have been partially erased and then contrast enhanced in the photographer's dark room. Might it be that these faint lines were what all the text originally looked like, before having the marker pen layer added on top?
What I find most interesting is that this 'under-M' doesn't yet square well with anybody's ideas about this page (not even my own): and is therefore perhaps a sign that we're all misreading this in one or more significant ways. We don't yet know the real history of how this page was made – every account seems to be closer to hearsay than to evidence – so it's all up for grabs. Anyway, scenarios next…