Over the last couple of years, Australian researcher Gordon Cramer has been promoting (and indeed gaining a little media attention for) his various theories about the Somerton Man that he has patiently built up over the last four years: for example, that the dead man was a Cold War spy and that the Rubaiyat note contains microwriting.
Specifically, Gordon asserts that he can discern microwriting inside a number of the letters that were found on the back of the Rubaiyat, most notably the letter "Q".
As I understand it, his claim is that even though the contrasty writing in the image (looks like it) was written in a laundry pen on a shiny surface (say, a print of a photograph), that overwriting process still managed to preserve the fine detail of the original microwriting additively within it: and that by using a carefully chosen sequence of image enhancement steps, he thinks he has been able to reconstruct that original microwriting.
I was sceptical of this claim for many reasons. For instance, it seems hugely likely to me that we can see a small part of the original writing that (one would hope) lies beneath the laundry pen marks…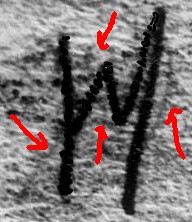 …yet as far as I can see, there is no sign there of any microwriting. And if microwriting isn't there, why should microwriting be anywhere else? But I digress. 🙂
More recently Gordon has, in response to questions from me, elucidated the experimental process he followed by which he believes he was able to make that microwriting visible. As a result, I have gone through the process of trying to understand and reproduce his results, and I'm posting here to explain what I found.
Here's the original Q, cropped and rotated counterclockwise by 90 degrees but otherwise completely unchanged from the original scans: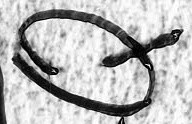 We can, without much difficulty, directly pick out the set of grey levels in the image that make up the curve of the Q (that Gordon claims contains the microwriting): and if we adjust the image's levels so that this range (12.5% to 50%) fills the entire 8-bit dynamic range, this is what we get: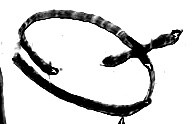 Let's now blur this (which is essentially what happens when you resize an image to be slightly smaller than 100%):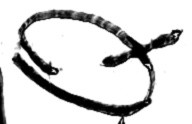 And then let's sharpen it up again to try to bring out the detail that Gordon thinks is there: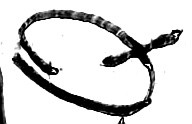 Amazingly, we can now apparently see the word "SEGA" starting to coalesce out of the digital mists. Of course, the video games company SEGA (which started out as "Service Games") only became known as "SEGA" in 1965 or so (it's the first two letters of each word), so the actual chances of the Somerton Man having been a secret Sonic The Hedgehog fan are basically zero. Possibly even less.
Yet a number of other image processing experiments I carried out on the Q produced different results. All in all, while I can see how Gordon extracted some kind of microwriting from inside the Q, I also believe that he could have extracted any number of different messages from the same source image (with only slightly different image enhancement sequences), and that he could very likely have extracted plausible-looking microwriting from any sufficiently noisy source image.
In the Voynich Manuscript world, we have an extraordinarily close precedent for this whole thing: in the 1920s, Professor William Romaine Newbold used large prints of rotograph images, strong lighting and large magnification to extract what he believed to be microwriting – specifically Latin shorthand strokes. The intense effort of doing this seems to have sent Newbold to an early grave, followed by posthumous debunking to the point that he is now often cited as the worst possible way of doing cipher research: which is not a good end to any historical story.
Here, though, we have something that Newbold didn't have: the possibility of better images. So rather than institute yet another dreary bout of back-and-forth comment tennis, why don't we just see if we can get a higher-resolution (and higher bit-depth) scan of the photograph in the newspaper archive and see if we can work with that instead? If there is microwriting there, it should come out clearly. If there isn't, it should vanish completely.