Archives New Zealand has made seven million historical passenger records available online through an arrangement with Utah-based familysearch.org . The transcriptions were made by network of generous volunteers (though I have to say that the quality of the transcriptions varies, where a fair few of the pages I looked at were only partially complete).
And so, following on from my previous post, I thought I'd see if any male Balts or Poles aged 40 to 60 travelled on the Wahine from New Zealand to Australia in 1947 or 1948. This turned out to be an extremely short list:
Poles on the Wahine
* 09May1947 - N Szuchmacher - 47 - Printer
* 21Nov1947 - M Zable...... - 41 - Engineer (travelled with wife + two sons)
* 05Dec1947 - M Wilniewezyb - 35 - Priest
* 18Dec1947 - N Naum....... - 52 - Manufacturer
* 31Dec1947 - S Bilgorri... - 50 - Tailor
I included Father Michal Wilniewczyc because I have a nice photograph of him on the 5th December 1947. This was the very day that the much-loved priest left the Pahiatua Polish Children's Camp in New Zealand, where 733 Polish orphans and half-orphans had been taken in 1944. Which is a story for another post entirely. 🙂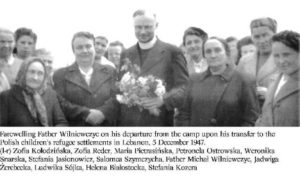 What of the others? N Szchumacher (spelt correctly) would seem to be the "Nojach Szuchmacher" referred to in a single document in the NAA from 1946, where he is a nominee for "RYBAJZEN Jozef [aka Aizen]", who had apparently applied for naturalization in 1943. This "Nojach Szuchmacher" was without any real doubt the Noah Schumacher who (according to the NAA) arrived at Sydney on the Wahine on 13th May 1947. If it is correct that Schumacher's file runs through to 1955 (as it appears to), we can probably rule him out as a candidate for the Somerton Man.
"N Naum" would appear to be Norman Naum (born 18th May 1895, died 12th May 1959, buried in Karori Cemetery in Nea Zealand), so I think we can rule him out too.
The Zable family – "Mrs H Zables" (Tailoress, 41), Master B. Zable (2), and Master A. Zable (8 months), both born in New Zealand – I traced through to their naturalization application in New Zealand: Zable, Myer (Zabludowski, Mejer); Zable (Zabludowski), Hodes Mrs. All of which (eventually) let me determine that Myer Zable was a poet and that he died on 31st July 1992 in Melbourne. So we can rule him out, too.
Finally: the tailor "S Bilgorri" would appear to be Solomon Bilgorri of 31 Fouberts Place, Regents St, London W1 (very close to Carnaby Street, naturally), who travelled from London to New Zealand on the Rangitata, departing 14th Feb 1947. Might Solomon Bilgorri have been the Somerton Man? The father of Harry 'Sonny' Bilgorri (the famous East End tailor popular among London gangsters) was also called Solomon Bilgorri (though he was born in 6th July 1893 and died on 14th June 1973, it says here), but I suspect these were two different people… though it's hard to be sure. ('Bilgorri' itself was simply the name of a town in Poland.)