The Somerton Man – found dead on Somerton Beach near Adelaide on 1st December 1948 – had, in his fob pocket, a small slip of paper on which was printed "Tamam Shud". It was subsequently determined that this slip had been torn out by hand from the last page of a Rubaiyat of Omar Khayyam: and that the specific edition of the Rubaiyat had been published by Whitcombe and Tomb's in New Zealand, as part of their "Courage And Friendship" series.
(Note: if we knew what other books in the "Courage And Friendship" series were listed on the inside front cover of the Somerton Man's Rubaiyat, we'd almost certainly be able to determine the precise year in which the book was printed).
The Tasman Sea
So: given that the Rubaiyat had started in New Zealand but ended up in Australia, it seemed highly likely to me that the book and its mysterious owner had travelled across the Tasman Sea from the former to the latter between 1st January 1945 and 1st December 1948. But… exactly how did they make that journey?
To try to answer that question, I bought a copy of Peter Plowman's (2009) Wanganella and the Australian Trans-Tasman Liners to find out. Plowman's book covers the history of all the major passenger ships that travelled the roughly 2000km across the Tasman Sea very well, and with admirable attention to detail (the page numbers in the following refer to Plowman's book).
It didn't take long to discover that we would appear to have only three ships to consider: the Katoomba (briefly), the Wanganella (also briefly), and the Wahine. Let's look at each of these three ships in turn…
Katoomba
As 1946 began, there was pressure on the Australian government to help get "the thousands of New Zealand residents who had been stranded in Australia for the duration of the war" back across the Tasman Sea (p.118).
However, this apparently simple-sounding objective proved very difficult to attain in practice. Of the ships that had seen Trans-Tasman service before the Second World War, the Awatea had been sunk en route to Gibraltar in 1942; the Monowai's intense war-time usage had left it needing an extensive refit; while the luxurious liner Wanganella similarly needed a year's refitting to turn it back from the hospital ship it had served as for many of the war years.
In the short term, this only really left "the veteran coastal liner Katoomba" (p.118), which had been converted to a troopship during the war: as a result, it was only able to take passengers across in what at the time was called "austerity" quarters. I found a nice picture of it here.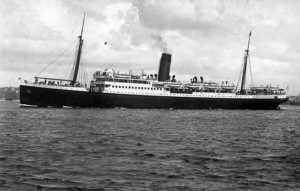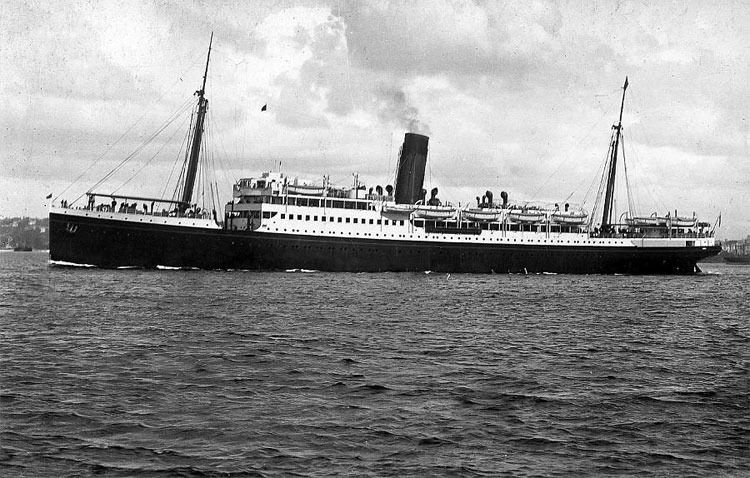 The Katoomba made only a single round trip, initially carrying 600 passengers and 2,000 tons of cargo out to Wellington: even so, its departure was plagued by industrial action that delayed its departure by a fortnight, before finally arriving on 6th February 1946. Its return journey terminated at Sydney on 23rd March 1946 (travelling via "Totokina and Rabaul"), (p.121), but the ship never made another journey on that route.
Wanganella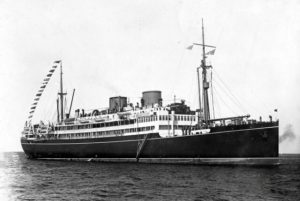 (Image from Reuben Goossens's excellent webpage)
The Wanganella had been a beautiful (and much-loved) liner before the war, but its post-war refit took until October 1946 to complete. And its first journey then was from Sydney to "Auckland, then on to Suva, Honolulu and Vancouver. Leaving Vancouver on 27 November, Wanganella returned to Sydney on Saturday, 28th December". (p.122).
However, its heavily anticipated (and fully-booked) second journey on 17th January 1947 fared much worse. As the gigantic ship entered Cook Strait in Wellington Harbour on the evening of 19th January 1947, it was accidentally steered onto Barrett Reef, where it remained stuck for seventeen days amidst remarkably mild weather (since then known locally as "Wanganella weather") (p.130). Unsurprisingly, it then needed extensive mending in the shipyards before it could take to the seas again.
So as things turned out, the Wanganella's next journey was to be 9th December 1948: and as a result, its part in our timeline comes to a close here also.
Wahine
Though the Wanganella's much-hoped-for fortnightly sailings had been booked out for months, after its accident in the harbour put it out of commission there were simply no suitable ships to replace it with. So the Wanganella's owners (Huddart Parker) decided to use the "veteran steamer Wahine" instead (p.136).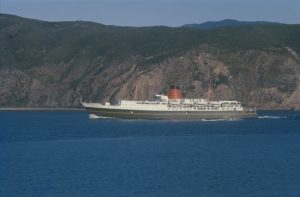 (Image taken from a website devoted entirely to the ship!)
It carried 300 passengers on its first journey from Wellington to Sydney on 14th February 1947: it left Sydney on the 21st February 1947. It then left Wellington on 28th February 1947, and continued a regular service for the next three months. However, the trips stopped for the (antipodean) winter on 3rd June 1947, restarting on 12th September 1947. "In all, Wahine made sixteen return trips across the Tasman Sea in 1947" (p.137).
In 1948, however, the Wahine made only ten round trips across the Tasman Sea, with its last departure being on 14th May 1948. "For the rest of 1948 there was no passenger service provided by Huddart Parker or the Union Line across the Tasman" (p.137).
And so…
It may not sound like much, but I harbour [*] a very strong suspicion that the Somerton Man travelled from New Zealand to Australia on one of these trips, with the little Whitcombe and Tomb's "Courage and Friendship" Rubaiyat stowed [**] in his pocket.
And, moreover, I further suspect that should we list all the male passengers aged (say) between 45 and 55 who travelled on the Wahine's twenty-six journeys during this period, we would see the Somerton Man's name.
How many names would that yield? Perhaps three hundred or so would be my finger-in-the-air guess: but we may be able to eliminate many of them very quickly. And we may may already have seen one or two of the names from other directions (I have one particular surname in mind… but that's a story for another day completely), which would be a highly intriguing development.
OK, so… shall we draw up a list, then?
[*] Sorry about that. 🙂
[**] And that. 😉