The Anthon Transcript was a document shown to Professor Charles Anthon by Martin Harris in New York in February 1828: Harris claimed that it was a copy of the "reformed Egyptian" letters used to write the Golden Plates. The story goes that these Plates had been hidden in a hill near where Mormon founder Joseph Smith lived; that the Angel Moroni first directed Smith to them in 1823 (though he only took them away in 1827); and that Smith claimed to have translated the Book of Mormon from these Plates.
It is normally reported that the Anthon Transcript is the same as the "Caractors" document widely shown on the Internet, and which was first supplied by David Whitmer…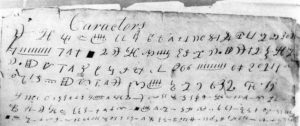 …but since reading an essay called The Anthon Affair by Jerome J. Knuijt, I'm really not so sure any more.
What is specifically odd is that, when later quizzed about the meetings he had with Martin Harris, Anthon wrote that the transcript "consisted of all kinds of crooked characters disposed in columns" (1834), "like the Chinese mode of writing" (1841). Moreover, "the whole ended in a rude delineation of a circle divided into various compartments;", and that this resembled "a rude representation of the Mexican zodiac", "evidently copied after the Mexican Calendar given by Humboldt".
Incidentally, the 24-ton Aztec Calendar Stone (to which Anthon was undoubtedly referring) had been rediscovered not long before (in 1790), and looks like this:-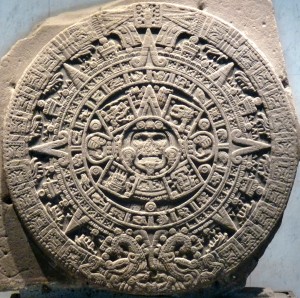 LDS writers typically downplay any connection with von Humboldt's writing, by (for example) saying that that Joseph Smith was but a "poorly educated farmboy", who could not possibly have amassed a "frontier library". It seems far more likely to me that von Humboldt's writings (e.g. about Indians writing in hieroglyphics etc) or similar ideas about Mesoamerican history instead made their way to Joseph Smith via the cracked mirror of newspaper summaries. But that's the kind of argument that can be (and indeed often is) batted back and forth ad nauseam: it really doesn't interest me.
So it turns out that the central mystery of the Anthon Transcript is not only why a document so intensely central to the claims of Mormonism is not only absent from the archives, but why it is also so clearly misrepresented as being the "Caractors" document. The latter may well also be a document connected to early Mormons (notes from a shorthand Bible? The 1823 Detroit Manuscript?), but it is now hard for me to see how the Caractors page could in any obvious way be the same one described so specifically by Charles Anthon.
Knuijt seems to have his doubts that David Whitmer – one of the Three Witnesses to the Golden Plates – was an altogether reliable source for the Caractors to have come from: and reading Whitmer's Wikipedia page (ha!), this scepticism seems to be reasonably justified. All I know is that until the actual Anthon Transcript or the actual Detroit Manuscript turns up (someone must surely have taken a copy of the latter, right?), this is probably a debate that cannot be settled anywhere apart from a pub car park. 🙂
* * * * * * *
Note: the two letters from Professor Charles Anthon (to Eber D. Howe, 17th Feb 1834; and to Reverend Coit, 3rd April 1841) can be found transcribed here.