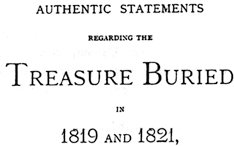 Long-time cipher-fan Catherine Darensbourg has recently been posting her decryption of Beale Cipher #1 under the name 'BlueCricket' to an online treasure-hunting forum called TreasureNet. She says that if you take Columns #1, #2, and part of #3 of Beale Cipher 1 (i.e. columnar transposition), you get:-
Column #1: 71, 975, 758, 401, 918, 436, 39, 18, 346, 872, 8, 102, 55, 275, 919, 81, 921, 14, 17, 121, 10, 540, 39, 230, 1300, 324, 428, 202
Column #2: 194, 14, 485, 370, 263 65, 88, 64,12, 36, 15, 120, 38, 131, 346, 861, 360, 1060, 23, 340, 67, 98, 232, 261, 460,1706, 403, 601, 35
Column #3: 38, 40, 604…
The idea is that you then take the last letter of each number as spelled in English, with the provisos:
(a) that "-Y" codes for "th"
(b) that you don't include "and"
(c) "siX" (i.e. -X) codes for "STOP" unless it's "60" (-Y)
(d) "0" (zero, i.e. -O) "is an option" (I'm not entirely sure what she means by this)
All of which kabbalistic longhand numeric trickery yields a raw text of:
"NEED YE NET-RDE YET RD Y(x)E ENTER(x)Y NOTE DOO YE ONE YE YE ER N-EYE-NE DR O YO DEED ED-ED ORR DY TO OO ED YRE RD-EH-YO (x) EY-T(x)E Y(x) NED YYTE DYEED Y(x) T DYEED YE D EDY YE ED ROY NE TODE O DYE RDY O D ND(x)…"
…which she reads as…
Need the net ready the Tr 500th(x)2Enter(x)Y note due the one 2 the ER 9 Dr O tho deed 2 Ed Orr 500th to 2 Ed Wire Radeo(x) 8th T(x)e-th(x) Ned Wyte died Y(x) T died the dedth the Ed Roth NE told O die ready o 500 ND(x)
Cat concludes that "There seems to be NO TREASURE in this part — just the movement of American Civil War Troops and report of their dead."
Weeeeellll…. I'm really sorry Cat, but I think the correct description of what we have here is "a boat that's not going to float". It reads more or less exactly like numerous failed Voynich and Dorabella decryptions I've seen, and with a methodology that is interpretistic in many of the ways you'd normally hope to avoid. 🙁
She followed this up with an analysis of misspellings in Beale Cipher 2 (which also failed to convince me – most of the artefacts in Cipher 2 are more obviously down to column or row slips by the encipherer), and with an alternative anagram-based non-transposition take on Cipher 1 (which… oh, you already know what I'm going to say, goshdarnit).
Look, it's like this. Civil War dating issues aside (1861-1865), there's the not-at-all-small matter of the Beale Cipher 1 paradox, which I also blogged about here. Basically, I have extremely little faith that any claimed decryption that explicitly tries to sidestep the statistically improbable properties (as famously discussed by Jim Gillogly) will lead to a valid solution.
Just as "qokedy qokedy dal qokedy qokedy" and "daiin daiin" are extraordinarily problematic to claimed Voynich descryptions, the Gillogly strings form a spanner that lurks ready to be thrust into the works of any Beale Cipher theory. Unless you can account for those odd properties even slightly, I'm 99% sure you've got it all wrong!