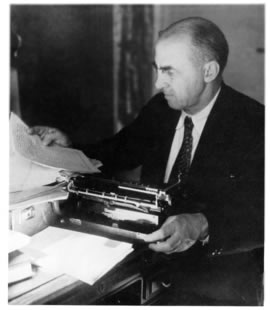 Lynn Thorndike (1882-1965)
In this postmodern, post-macho era, you're not supposed to have heroes – to the point that most modern kids' heroes are lame (Ash in Pokemon, Mickey Mouse, Mario, Ben 10, dare I say Harry Potter for most of the books?). Who now doesn't honestly prefer antiheroes like Team Rocket, Bugs Bunny, Wario, Kevin 11, Voldemort?
Well, I don't care much for trends: my #1 historian hero is Lynn Thorndike. Hence, as a Voynich manuscript researcher, I always wanted to know what he thought of this troublesome artefact: and while trawling through his (1929) "Science & Thought in the Fifteenth Century" in 2008 was delighted to discover that Thorndike thought Newbold's claimed decryption was, frankly, nonsense.
But now I can go one better: on the Roger Bacon wikipedia page, someone recently edited in a link to a 1929 review Thorndike wrote in American Historical Review Vol. 34, No. 2 (Jan., 1929), pp. 317-319 on JSTOR. Oooh, I tell ya, that Mr Thorndike didn't think that his late friend Professor Newbold would have wanted to see his notes published like that; and he wasn't at all impressed that it went out under the august auspices of the University of Pennsylvania.
You also get a sense of Thorndike's frustration at constantly being asked his opinion on "an anonymous manuscript of dubious value". If I had stepped out of the Tardis to ask him about the Voynich Manuscript circa 1929, he might very well have grouchily punched my lights out.
"I should like to be able to force every one who asks me my opinion of the Voynich manuscript to read [Newbold's] book from cover to cover. I think it will either kill or cure."
Even though Thorndike's review doesn't go so far as to offer his own opinion, he does ironically predict the whole sad demented future of Voynich research, for which we should perhaps be grateful:-
"I would offer the ironic suggestion that the illegible writing is only a blind, and the the pictures should be interpreted symbolically, were I not afraid that some self-constituted successor to Newbold would take the suggestion seriously."
Now ain't that the truth, brothers and sisters of the faith? Oh, well! *sigh*