I've just watched the National Geographic / Naked Science documentary on the Voynich Manuscript, courtesy of a Stateside friend (thanks!). Regular Cipher Mysteries readers will already know how my review of it is supposed to go – 'that, despite a few inaccuracies, it was great to see the Voynich Manuscript being brought to a popular audience'.
But actually, the whole thing made me utterly furious: it was like watching yourself being airbrushed out of a family photograph. Let me get this straight: I researched the history like crazy, reasoned my way to the mid-15th century, stuck my neck out by writing the first properly new book on the Voynich for 30 years, talked with the documentary producers, sent lists of Voynich details for them to look at, got asked to fly out to Austria (though they later withdrew that at the last minute without explanation), kept confidences when asked, etc.
And then, once the film-makers got the radiocarbon dating in their hands, my Milan/Venice Averlino/Filarete theory became the last man standing (Voynich theory-wise). So why did it not get even a passing mention, when just before the end, they thought to edit in a map of Northern Italy with swallowtail-merloned castles and the narrator starts (apropros of nothing) to wonder what will be found in the archives "between Milan and Venice". Perhaps I'm just being a bit shallow here, but that did feel particularly shabby on their part.
However pleased I am for Edith Sherwood that her Leonardo-made-the-Voynich-so-he-did nonsense merited both screentime and an angelic child actor pretending to be young Leonardo, the fact remains that it was guff before the radiocarbon dating (and arguably double guff afterwards): while much the same goes for all the Dee/Kelly hoax rubbish, which has accreted support more from its longstandingness than anything approaching evidence.
Perhaps the worst thing is that we're all now supposed to bow down to the radiocarbon dating and start trawling the archives for candidates in the 1404-1438 timeframe. Yet even Rene Zandbergen himself has supplied the evidence for a pretty convincing terminus post quem: MS Vat Gr 1291 was completely unknown in Italy before being bought by Bartolomeo Malipiero as Bishop of Brescia, and so its stylistics could not sensibly have influenced the Voynich before 1457. In fact, 1465 – when the manuscript was carried from Brescia to Rome and became much better known – might even be a more sensible TPQ. And that's without the cipher alphabet dating (post-1455 or so) and the parallel hatching dating (post-1440 if Florence, post-1450 if elsewhere in Italy).
And I'll leave you with another thought: a couple of seconds after hearing the Beinecke's Paula Zyats say "I don't see any corrections", the following image got edited in – a part of the f17r marginalia that looks to my eyes precisely like an emendation.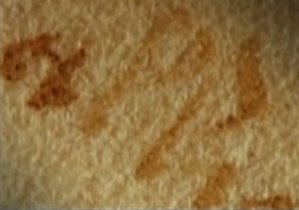 Really, what am I supposed to think? *sigh*