The debate concerning the authenticity of Beinecke MS 350A – AKA the Vinland Map – has raged for over half a century. Is it for real or is it early modern Maybelline?
Vinland Map Ink
Despite the numerous technical analyses that have been carried out on the Vinland Map, almost the only fact everyone agrees on is the physical age of its paper: it has been carbon dated to the first half of the 15th century, which is nicely consistent with its Briquet Tete de Boeuf (15056) watermark.
That's the support medium – but what about the rest? The major thing pointing towards inauthenticity elsewhere is (courtesy of Walter McCrone) the analytical demonstration that the ink used in the Vinland Map is not a conventional iron gall ink, but appears to contain a particular form of anatase (titanium oxide) that was first chemically synthesized only in the 1920s. And so, McCrone's base argument from 1974 runs, it doesn't matter how old the paper itself is, because the ink on top of it simply cannot be genuinely fifteenth century.
Even so, people continue to try to defend the Vinland Map's authenticity, by suggesting ingenious mechanisms by which the anatase might have been deposited in the 20th Century: Jim Enterline, for example, plausibly proposed in 2002 that anatase might somehow have been added to a genuinely old map as part of an attempt to clean it.
But when McCrone looked again at the map in 1991, he extended his claim somewhat further into the construction details. Specifically, he claimed that the lines that made up the map were – to make them more closely resemble old iron gall ink, but without actually being old iron gall ink – drawn in two distinct passes:
(1) a first yellow ink pass using a slightly wider nib
(2) a second dark ink pass in a narrower nib, immediately on top of (and steered down the middle of) the lines put down in the first pass.
If this is correct, the Vinland Map is not just a mere fake: rather, it is a painstakingly-executed two-pass modern simulacrum of an old manuscript.
The 'smokingest' smoking gun in all of this would seem to have been discovered by Kenneth M. Towe: when he examined the Vinland Map at the Beinecke, he noticed that the two lines diverged significantly in the English west coast.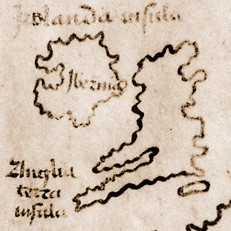 Now, I've personally never seen a colour close-up of this specific section to test out Towe's argument with my own eyes, but I'd really like to. Has anyone got a copy of this?
Whodunnit?
Even so, the twin issues of who it was that constructed such a thing and for what reason both remain resolutely unresolved. Kirsten Seaver's 2004 book "Maps, Myths, and Men" tried to pin the tail on a peculiarly unsatifying Jesuit cartomanic donkey, Father Josef Fischer. However, her account failed to convince me that Fischer would have wanted to create a fake Vinland Map of the kind we see for any reason, let alone for the reasons that Seaver speculatively proposes.
So even if the Vinland Map does prove to be a fake (and the presence of modern anatase and the apparent two-pass drawing when taken together do make it seem so), we still have no idea by whom it was made, or where, or indeed when (other than post-1920 or so).
Seaver is convinced she has got the right man; but her argument only really presents a possible candidate, and doesn't go as far as actually explaining much of what we see or what happened. Perhaps she will uncover something more substantial soon, at which point we'll all have to revise our views: we shall see.
A Surprise Entrant
In 2013, the modern history of the Vinland Map took an unexpected turn when an amateur Scottish historian called John Paul Floyd announced (courtesy of the Daily Mail, The Sunday Times and doubtless elsewhere) that he had uncovered – thanks to Google searches – an entirely new angle on it.
Floyd believes that the document the Vinland Map appears to have been bound with – The Tartar Relation – was put on display in Madrid in 1892 at an exhibition celebrating the 400th anniversary of Columbus' Atlantic crossing. And at that time there was no map bound with it (because the page count listed at the time would be wrong). He also found a reference to the same manuscript from 1926 when it was examined by Cristóbal Pérez Pastor (also no mention of a map at all).
Manuscripts for the 1892 exhibition were loaned from the collection of the Cathedral Church of Zaragoza, the contents of which were ransacked in the early 1950s and fenced through crooked book dealers such as Enzo Ferrajoli (who was convicted for this).
And Enzo Ferrajoli was the same rare book dealer who ultimately first sold the Vinland Map in 1957. Ouch!
It's a pretty compelling chain or reasoning, because for once it offers actual evidence of absence 🙂 rather than speculatory absence of evidence. Of course, it doesn't yet answer the question of who faked the map or why: but perhaps Floyd (who has been hard at work grinding out his book ever since) has found some additional evidence there too. We shall see, hopefully this year.
Nicely, I found a post on soc.history.medieval by David B that foregrounds Floyd's evidence:-
The 1892-3 Madrid Exhibition Catalogue
"Catalogo General" of the 1892-3 Exposición Historico-Europea.
Room X:
"53. – Vincentius bellvacensis. Speculum naturale, doctrinale, morale, historiale.
El presente volumen contiene, de esta célebre enciclopedia de Vicente de Beauvais, solamente los libros 21 á 24 de la tercera parte del Speculum historiale.
Al fin se ha añadido un tratadito intitulado Historia Tartarorum dedicado por el autor Fr. C. de Bridia, al R.P. Fr. Bogardio, ministro de los franciscanos en Boemia y Polonia.
Manuscrito, á dos columnas, letra del siglo xv, las cubiertas de cada cuaderno en vitela y lo demás en papel, los epigrafes en tinta roja, el lugar de las iniciales en blanco. Consta de 251 hojas.
La Historia Tartarorum, acaba de esta manera: actum ab incarnatione domini MCCXLVII, tertio kalendas augusti.
Folio, encuadernado en tabla forrada de cuero labrado."
About which David B comments:
Note that the above gives the number of leaves as 251, which would be almost the same as the total number of leaves with writing on in the two now-separated texts at Yale. It's one leaf too few if you include the Vinland Map in the current count, but one leaf too many if you exclude the Map, suggesting that the now-missing first written leaf of book 21 of the "Speculum" may have been present in 1892.
Cristóbal Pérez Pastor
"Noticias y Documentos relativos a la Historia y Literatura Espanolas recogidos por D. C. Perez Pastor":

"Speculum historiae (segunda y tercera parte). Historia tartarum.
Manuscrito, letra del siglo xv, a dos columnas, los epigrafes en tinta roja; cada cuaderno tiene la primera y última hojas en pergamino y las deniz en papel.
Al final lleva la fecha: "Actum ab incarnatione Domim M.CC.XL.VII. tertio Kalendas Augusti"; folio, encuadernado en tabla forrada de piel, con adornos de la época.
Del Speculum hist contiene los libros xxj a xxiv, que dan remate a la parte tercera de la obra.
El Codice comienza con el imperio de Teodosio el joven, y acaba en el segundo reinado de la Emperatriz Irene.
Sigue la Historia de los Tartaros, escrita por Fray C. de Bridia, fransiscano, y va dirigida a Fray Bogixdao, ministro de los franciscanos en Bohemia y Polonia, y se termina con la fecha del 30 de Julio de 1247."