Link of the month has to be this rather extraordinary handmade "Enigma wristwatch" from New Zealand.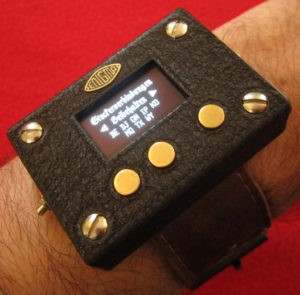 To be precise, it's a home-made wrist-mounted three-rotor Enigma simulator with a three-button user interface. But the fun of the thing lies not so much in any celebration of historical code-breaking as in the extraordinary (if occasionally obsessive) contortions the guy went through to make it. It's a "Joy Of Techs" thing, and unless you've ever fettled a pair of moving parts to get them to fit together 😉 it probably won't float your boat.
What I find particularly poignant is that this has emerged into the light at about the same time as the Apple Watch: and so within a matter of days, somebody will doubtless have built an interactive Enigma watch skin you can buy in the App Store for $0.99 or so.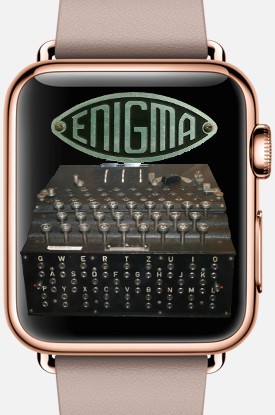 Incidentally, the same person who made the Enigma wristwatch also made his own John Steed puppet, deftly crossing original Avengers retro ("Would the winner come to the unsaddling enclosure?") with the Thunderbirds Supermarionation of Gerry Anderson, arguably the finest thing from Slough not made of chocolate and caramel.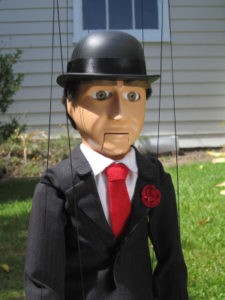 Again, the guy – following the plot of the Avengers episode "How To Succeed At Murder" – decided to build his own wristwatch controller to control the puppet. Which is really nice.
Here's what the original Avengers wristwatch controller looked like, back in 1966:-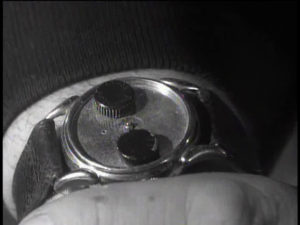 All of which brings me back sweetly to the future of smartwatches, as foreseen in a Slough warehouse 50 years ago (though note that Thunderbirds was set in 2065 rather than 2015):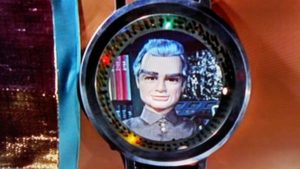 How far we've come, and yet in many ways not so far at all! 😉