Having gone away and read (most of) Millard Meiss's splendidly comprehensive "French Painting in the Time of Jean de Berry", and having also gone through Menut's 1966 bibliography of Oresme's works, I think I'm now in a slightly better position to make sense of things.
The Treatise of the Sphere
Even though Oresme made his translation of Aristotle's "De caelo" in 1377 (it was one of the last things he wrote), he noted in his commentary at the end of Livre II that his previous book "Traictie de l'espere" ("Treatise of the Sphere", which though ostensibly a translation from Latin into French of John of Sacrobosco's famous De Sphaera, also adds many of Oresme's thoughts) should be considered as a useful introduction to his translation of De caelo: and so suggested that the two books should be bound together.
This seems largely to have happened: for of the six known manuscript copies of "Du ciel et du monde", four have his Treatise of the Sphere bound with them. Though this list doesn't include BNF MS Franc. 1082 (the first of the six to be written), it does include BNF MS Franc. 565, which is the copy with the inverted T-O figure surrounded by the wolkenband: and the first of the inverted T-O figures is right at the start of the Treatise of the Sphere portion of the book (ff. 1-22).
Hence if we are looking for manuscripts containing the inverted T-O shape, I think we should look not only to the six copies of Du ciel et du monde (at least half of which are bound with the Treatise of the Sphere), but also to the other copies of the Treatise of the Sphere that (according to Menut, ARLIMA and JONAS) still exist:
* BNF MS Franc. 1350 (ff. 1r-38v) [formerly owned by Jean-Baptiste Colbert (1619-1683)]
* BNF MS Franc. 2240 (ff. 61r-95v) [ARLIMA description]
* BNF MS Franc. 7487 (though this ends with Chapter 17 out of the book's fifty short chapters)
* BNF nouv. acq. 10045 (ff. 1-39) [ARLIMA description]
* BORDEAUX, Bibliothèque municipale, MS 0531 ff. 90r-127r [1454-1458] (bound following a Medieval health manual)
* FIRENZE, Biblioteca Medicea Laurenziana, MS Ashburnham 1604 [end 14th century] (owned by Iohannes Le Begue 1368-1457)
* LEIDEN, Bibliotheek der Rijksuniversiteit, MS Vossius gall. f° 010, ff. 1r-31v [15th century]
* OXFORD, St. John's College, MS 164, ff. 1r-32r [around 1364-1373]
* VATICANO (CITTA DEL), Biblioteca apostolica Vaticana, MS Reg. lat. 1337, ff. 29r-44v [last quarter of the 15th century]
Images
MS 1350 starts in completely the wrong way, with a non-inverted T-O figure (though tiny, it's clear enough to make out its orientation):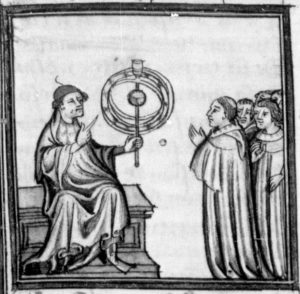 Alas, 2240 commences with an empty rectangle where the same kind of picture would be; I can't find BNF MS Franc. 7487 at all; ARLIMA doesn't think BNF nouv. acq. 10045 has yet been digitized; BAV MS Reg. lat. 1337 doesn't seem to have any kind of T-O figure, inverted or otherwise; and the rest I'm still working on.
Bibliography
I found a straightforward summary of the Treatise of the Sphere online: this says that Oxford, St. John's College, MS 164 is the earliest copy, and was without any doubt presented to Charles V:
Mackley, J. S. (2012) Nicole Oresme's treatises on cosmography and divination: a discussion of the Treatise of the Sphere. Paper presented to: Starcraft: Watching the Heavens in the Early Middle Ages, University College London, 30 June – 1 July 2012.
There's more discussion on Oxford, St. John's College, MS 164 in a 1990 paper by Edgar Laird:
LAIRD, Edgar: "Astrology in the Court of Charles V of France, as Reflected in Oxford, St. John's College, MS 164", Manuscripta 34 (1990): 167-76.
The JONAS page includes a single-entry bibliography:
LEJBOWICZ, 1988: "Nicole Oresme et les voyages circumterrestres ou le poème entre la science et la religion", in : Archives Histoire Doctrinale et Littéraire du Moyen Age, 55, 1988 : p. 99-142.
Though I haven't yet seen this article, I found that it was cited by (amongst others):
GRELLARD, Christophe: "Nicole Oresme et l'élaboration d'une science pour les laïcs, entre esbatement et contemplation", uploaded to academia.edu
…which, among other things, compares the two very different interpretations of Du Ciel Et Du Monde put forward in…
GRANT, Edward : Nicole Oresme, Aristotle's On the Heavens and the Court of Charles V., in : SYLLA, Edith/MCVAUGH, Michaël Rogers (éd.): Texts and Contexts in Ancient and Medieval Science. Studies on the Occasion of John E. Murdoch's Seventieth Birthday. Leiden: Brill 1997, 187–207
…and in…
CAROTI, Stefano : Nicole Oresme : dalla questio alla glose. La presenza del dibattito universitario nelle glosse di Le Livre du ciel et du monde, in: BRAY, Nadia/STURLESE, Loris : Filosofia in volgare nel medioevo. Atti del convegno della società italiana per lo studio del pensiero medievale, Lecce, 27–29 settembre 2002. FIDEM : Louvain‐la‐Neuve 2003, 155–190.