I've been trying to post about the cipher that was attached to Paul Emanuel Rubin's stomach for over a year now: so it's about time I pushed what I've found out onto the web, to see if anyone else has more luck.
The story starts with a pair of 35-minute videos of a 2013 talk on unsolved ciphers given by Craig Bauer, managing editor of Cryptologia. Part 1 covers the usual suspects (Voynich, Beale, Dorabella, Somerton Man, etc), while Part 2 moves on to largely American cipher mysteries (Zodiac, Kryptos, etc). The slides are also available here.
One American cipher that has long fascinated Bauer (right at the start of Part 2) is the case of Paul Emanuel Rubin, who on the morning of 20th January 1953 was found dead (from cyanide poisoning) with a cipher taped to his stomach. Bauer showed a picture of the cipher taken from the Philadelphia Evening Bulletin:-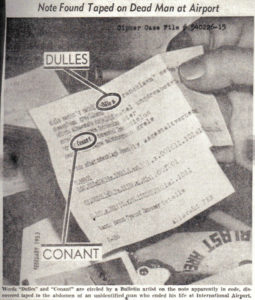 Newspaper Accounts
The best newspaper account I found was from the Schenectady Gazette, Friday 23rd January 1953:-
Dead Youth Sent Friends Coded Notes

The parents of a chemistry student who was found dead of cyanide poisoning with a coded letter taped to his stomach told police today that the youth had the curious habit of sending coded letters to friends.

One unidentified friend in Paul Rubin's Brooklyn neighborhood told police he might be able to decipher the typewritten note that has baffled the FBI. Two words in it were recognizable – "Dulles" and "Conant".

But these developments only heightened the puzzle for Coroner Joseph Ominsky. "I am keeping in my mind the opinion that this is no suicide," he said. Yesterday Ominsky said there was a possibility it was murder.

The body of the 18-year-old New York University student was sent home to Brooklyn today for an Orthodox Jewish burial while local and federal authorities tried to learn how he came to die Tuesday in a ditch at International airport.

Ominsky said the FBI should explore contacts the victim had in New York and here to determine if he had been a messenger for some unusual activity.

"Until this question is answered," the coroner said, "I cannot set a time for an inquest."

The FBI here, informed of Ominsky's statement, said it had "no comment".

A number of curious objects were found in Rubin's pockets and the appearance of the words "Dulles" and "Conant" on the coded message lent a cloak-and-dagger air of mystery to his death by cyanide poisoning. It was assumed the names referred to Secretary of State John Foster Dulles and James Bryant Conant, U.S. high commimissioner in West Germany.

The FBI here has sent the message to its cryptographers in Washington.

Neither the parents, who said Rubin left home last Monday morning ostensibly for classes, nor the friend, could see any motive for suicide.
Moreover, according to this report…
Ominisky [sic] said that if the cyanide was self-administered, the body would not have been in its orderly position, with the youth's thick lense [sic] glasses undisturbed. He pointed out that cyanide kills quickly, and no vial or other container was found at the scene.
However, the Shamokin News Dispatch reported the next day (23rd January 1953) that:-
Investigators disclosed today that a five-inch long test tube was found near the ditch where the body of a New York University chemistry student was discovered last Tuesday.

The vial was turned over to city toxicologists for tests to determine if it had contained the cyanide which killed 18-year-old Paul E. Rubin, of Brooklyn, N. Y., a sophomore at NYU.

Police said the test tube was found about five feet from the 12-foot deep embankment near the International Airport in which the body was spotted by a soldier en route to catch a plane.

A thorough search was made of the area, but nothing else was found, police reported.

[…]

Police reported that an unidentified friend of the victim said that he could probably decipher the message found on the body if he could find the proper code books, but it might take him a week.
"Curious Objects"
Bauer (who either has access to far more newspapers than me or has seen the Coroner's Report) noted that the "curious objects" included:
* "an image of an airplane with a Nazi swastika on its tail assembly" in a wallet: on the photo's rear was written "France Field, Panama".
* Another picture in the same wallet was of "The Thinker", Rodin's well-known sculpture.
* "a plastic cylinder containing a signal fuse" (a magic prop)
* "the casing of a spent .38 caliber bullet (found in a pocket of his topcoat)"
* "a fountain pen gun"
* "forty-seven cents" (though he had started the day with a rather more substantial $15)
* the February 1953 issue of "Galaxy Science Fiction"
Attempted Followups
To me, this is an unsatisfactory cipher mystery because we can't even see the cipher clearly. I asked the FBI if they would release a better quality scan of the cipher, but got no reply (which is a shame).
I also asked the Special Collections Research Center at Temple University (who have a large archive of the Philadelphia Evening Bulletin's photos, many of which won awards) about the photo. Unfortunately, the scan of it they very kindly sent me from their microfilm archives was slightly worse than the one we already had, so no luck there either.
Also, I should point out that William Friedman retired in 1956, and without any doubt would have been shown the cipher at the time: so perhaps there's a mention of it in Friedman's papers at the George C. Marshall Foundation. I've had no luck there (though the archive does have lots of great photographs, if that floats your boat), so feel free to pick up my Friedmanian dropped baton and carry it further yourself.
Any other suggestions?
So… What Do I Think?
Firstly, I have to say that I think anyone who types out a mysterious note and tapes it to their stomach to be found later must (a) be suffering from some complex mental illness and (b) be about to consciously embark on a pre-planned perilous action. I'm sure up-to-the-minute politically correct healthcare professionals have a whole wealth of ways of pussyfooting around the term, but to me this has plenty of features that suggest paranoid schizophrenia.
Secondly, looking at the cipher itself, it's clearly a mess: or rather, it doesn't appear to be the product of an ordered, controlled mind or even a single cryptographic system. There are fragments of binary 0s and 1s (interpersed with dots and x'es), German, made-up words, an odd-looking signature, all kinds of stuff.
As a result, my overall opinion is that what we are looking at here is probably a product of delusion and steganography in equal measures: and so it is probably a kind of unhappy cryptogram rather than a tricky ciphertext per se. Hence my conclusion: that even though I would very much like to see the note in its entirety, I don't currently believe that we will ever solve it.
Some things are just lost to the world.