Here's a very accessible 1940 article by über-codebreaker William Friedman that I'm sure you'll like: an appreciation of the cryptography of Jules Verne.
William Friedman – "Jules Verne as Cryptographer" – The Signal Corps Bulletin, April-June 1940 pp.70-107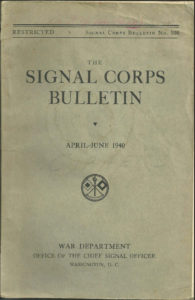 In the article, Friedman discusses three stories Verne wrote that each hinged on a cryptogram that had to be broken:
* A Journey To The Centre of the Earth (1864)
* The Giant Raft or 800 Leagues On The Amazon (1881)
* Mathias Sandorf (1885).
In two cases it was a transposition cipher, while in the other it was a Vigenère cipher. Of course, it was Friedman himself who invented the whole Index of Coincidence approach for tackling Vigs in a systematic way, and what is nice here is that he reconstructs Verne's attack on the Vig ciphertext in an easy-to-understand way (short version: Verne got it largely right, but not anywhere near 100%).
Naturally, many will point to Poe's "The Gold Bug" as the ultimate cipher story: but actually, that used only a simple (monoalphabetic) substitution cipher, so Verne's work was – cryptographically speaking – much more challenging. I hope you enjoy Friedman's take on the three ciphers!
Incidentally, the article was recently found, scanned and posted by cryptocollector Brooke Clarke in the book section of his webpage of crypto-related stuff – thanks, Brooke, much appreciated! 🙂