Researchers and commenters have been asking me lots of questions about the Somerton Man over the past few weeks, so I thought I'd round up a load of stray threads in a single post. Hence the following may be a bit bitty, but it is what it is, I hope it's helpful!
1. Pakies
I asked Derek Abbott why he included the only-sporadically used Pakies guest book in his Somerton Man primary source material page. Was it simply the presence of the Nosovs and Hellmuth Hendon? His reply:-
[Hellmuth] Hendon is there who was linked to [Joseph Saul Haim] Marshall. Also Xavier Herbert is there who is linked to [Alf] Boxall. Also a Russian ballet troupe is there. […] Of course, there is zero hard evidence that [Jestyn] was connected to Marshall….but it seems plausible. […] The bottom line is [that] the Pakies guestbook could be useful for drawing up an interconnectivity map.
2. Jestyn Handwriting
Derek Abbott has closely compared the Jestyn handwriting and signature on Alf Boxall's book with Jessie Thomson's handwriting and signature and says "it is a definite match. No doubt about that." He has also shown me a 1940s autograph book where Jessie Harkness copied (most of) a stanza from Omar Khayyam ("[…]Fill the cup that clears / today of past regrets and future fears / Tomorrow? Why tomorrow I may be / Myself with yesterday's sev'n thousand years."). It looks to be the same hand (though slightly more free-flowing than in Boxall's copy).
3. The Jestyn "E"
I asked Derek Abbott about the "E". He replied:-
You will notice the signature is in a fountain pen and the ink of the E is darker. This says to me that she was trying to write an 'e', but the ink splodged at bit, so she reworked it into an 'E' to make it clearer. […] And she does do her capital E's in a way that would make it read JEstyn.
I also asked Gerry Feltus what he thought had happened with the "E":-
I noticed the lighter writing on the name JEstyn just after I first saw it and I was going to refer to it in my book. I tried to find a suitable explanation and I thought maybe she had previously written the poem in the book and handed it to Alf. Alf then may have asked/suggested she sign it and it was done with a different pen. Maybe! It was too confusing so I left it out.
Was the "E" original? Yes, according to Derek Abbott:-
As for Boxall adding the E himself later, I don't think so: 1. He didn't know how she wrote her capital E's and 2. The fountain pen ink matches (I've seen the original).
3. The Jestyn Drawing
I asked Gerry Feltus about the drawing at the front of Alf Boxall's Rubaiyat: he was sure it was printed, not drawn. But I've looked at a few other Rubaiyat editions, and none seems to have anything quite like that. So, Gerry is sure it's part of the book, but I'm still somewhat unsure quite what to make of it. Here's the top part of it from near the end of the ABC documentary:-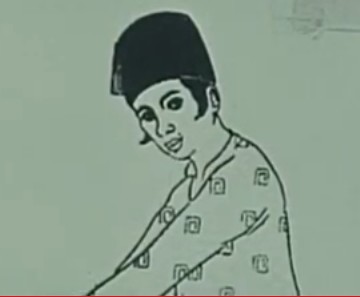 4. The Jestyn Pronunciation
The 1978 ABC documentary voice-over pronounced "Jestyn" to rhyme with "Test In", which is how John Ruffles (who heard Alf Boxall pronounce it, according to Derek Abbott), Gerry Feltus, and indeed online commenter "daughter of Jestyn" all say it was pronounced. Right now, my suspicion remains that Jessie – for whatever reason – may well have first introduced herself to Alf Boxall as "Jess Styn", which he heard as a single word. Maybe that's right, maybe it isn't (don't shoot me, that's how hypotheses work): hopefully we will find out one way or the other before very long…
5. NAA
The Willen Styn WW1 document I mentioned the other day has now been scanned and posted to me by the NAA. It's apparently quite small: we'll have to wait for the mail pixies to wing it halfway around the world, see what it says…
6. Adam Yulch's Laundry Mark Index
This wandering librarian blogger wondered (in 2011) whether someone had tried comparing the Somerton Man's laundry tag to Adam Yulch's index of 100,000 American laundry marks. Haven't followed this up myself, but it might be interesting, thought you'd like to know. 🙂
7. Ronald Francis' Copy In The Car
According to Gerry Feltus, "Ronald Francis" and his wife specifically requested that his real name not be published. He is a very elderly gentleman, and may even have passed away by now.