A quick update on Part One: I note in the Taman Shud Case Wikipedia page that:
Initially, the clothes were traced to a local sailor, Tom Keane. As Keane could not be located, some of his shipmates viewed the body at the morgue, and stated categorically that the corpse was not that of Keane, nor did the clothes belong to the missing sailor.
This does make me wonder if Tom Keane the sailor had given some older clothes away to a Mission to Seafarer's branch. Did anyone ever try to follow up Tom Keane? An interesting thought…
Anyway, before I carry on discussing the Unknown Man's life, death, and cipher, I need to post about the timeline for 'Jestyn', the unnamed nurse whose phone number was in the back of the 2nd Rubaiyat (i.e. not Alf Boxall's copy) found thrown in a car in Glenelg's Jetty Road, and from a page of which the words "Taman Shud" had been torn and put in one of the Unknown Man's pockets.
The diagram below summarizes pretty much all the top-level details of the nurse's timeline, but with one addition from me. Gerry Feltus quotes [p.111] Adelaide's "The News" of 28th July 1949 as saying that the nurse had "told police that about three years ago she had given the man, Lieut. Alfred Boxall, a copy of Omar Khayyam's 'Rubaiyat' when he was in hospital". Except, of course, Boxall never was in hospital: they met at the Clifton Gardens Hotel (which was demolished in 1966, just in case you accidentally try to go looking for it).
Was this just lazy journalism [Gerry Feltus says "possibly"], or a slip of the tongue from the nurse? I suspect the latter, for this would tie together many elements very neatly: and will continue discussing this in Part Three…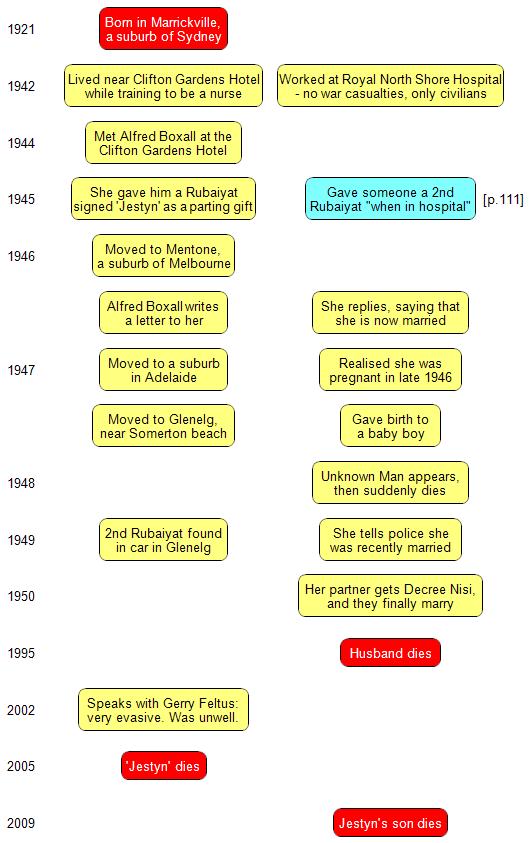 More to come… 🙂