If you know a bit about the history of cryptography, then you'll probably know that the first well-known modern story about ciphers was Edgar Allan Poe's (1843) "The Gold-Bug". Poe explicitly built his narrative around the legend of Captain Kidd's treasure, so in many ways it forms a kind of literary bridge between the worlds of buried treasure and ciphers. Of course, he was writing some 80 years before the Kidd-Palmer treasure maps and La Buse cryptograms surfaced (and long before "Treasure Island", which appeared in 1881), so his story is unaffected by any of these.
Just so you know, the (simple substitution) cipher he devised looks a lot like this:-
53‡‡†305))6*;4826)4‡.)4‡);806*;48†8
¶60))85;1‡(;:‡*8†83(88)5*†;46(;88*96
*?;8)*‡(;485);5*†2:*‡(;4956*2(5*—4)8
¶8*;4069285);)6†8)4‡‡;1(‡9;48081;8:8‡
1;48†85;4)485†528806*81(‡9;48;(88;4
(‡?34;48)4‡;161;:188;‡?;
Previously (in 1840), Poe had challenged readers of "Alexander's Weekly Messenger" to send in simple substitution ciphers for him to crack in print, and so had for some time been aware of a widespread public interest in cryptography. "The Gold-Bug", then, was written to capitalize on this interest: and won a $100 prize. Later, many readers were inspired by "The Gold Bug" to develop an interest in codebreaking, most notably a young William Friedman of whom you may have heard…
However, when reading about "The Gold-Bug" the other day, my eye was drawn to one aspect to the whole affair that I found intriguing. At the time, newspaper editor John Du Solle made the suggestion (though one he quickly retracted) that Poe may have drawn inspiration from the 1839 "Imogine; or the Pirate's Treasure", written by 13-year-old girl George Ann Humphreys Sherburne.
It's true that the two tales do share key elements: but as is so often the case, those ideas were without doubt very much 'in the air' at the time. Rather, the two stories seem related in the same way that Robert Louis Stevenson's "Treasure Island" drew ideas from numerous earlier books, but had an entirely new style of presenting them that made it feel fresh and appealing. Basically, in both cases I'm quite sure that Poe or Stevenson weren't (literary) pirates, but simply well-read writers with a zingy contemporary geometry to add shape and style to the narrative building blocks that they found around them.
But ever since Du Solle's speedily retracted comparison, it seemed to me that hardly anybody had actually bothered to read Sherburne's story (mainly because almost everyone mis-spells its protagonist's name, *sigh*). I did, though: and I found something a little unexpected…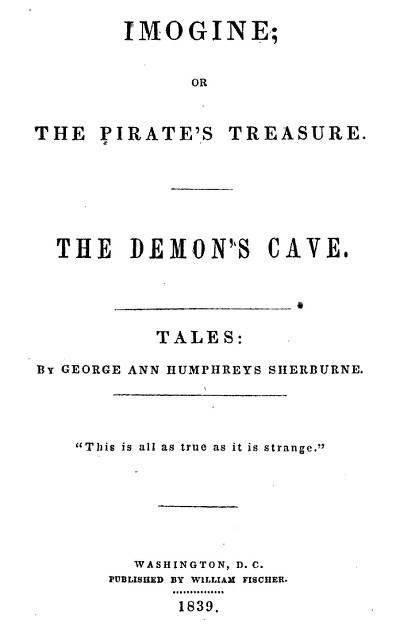 Having trawled past all the girlish swooning chapters and then the unexpected (but unconvincing) chapter with a death, in Chapter VIII the reader finally gets to the climax of the piece where (to almost nobody's great surprise) the pirate treasure is finally found along with a skeleton…
"Yes", said Imogine, "and just as you came up, I was about turning over that piece of old iron near the bones."

"Ah! I see it," replied her father, "and it looks to me like the top of a ship's iron pot;" and turning it over with his cane, saw under it white sea sand, [in] which, on stirring about, gold and silver pieces were seen sparkling, which caused an exclamation from all.

"What a great discovery is this!" said Mr Belmont, turning and looking with surprise at Imogine and Cornelia;

[…]

After placing the skeleton in a box, and interring it, they removed the treasure, and in doing so, discovered another similar pot to the first under it, but more valuable, which was all moved safely to the house."
What's so unusual about this? Well… according to near-legendary metal-detectorist Charles Garrett, it has often been the case that a large treasure cache is buried immediately below a small treasure cache. Garrett post-rationalizes / explains this as a kind of 'trap' for treasure hunters, i.e. for them to be satisfied with robbing out the (small) topmost treasure, while leaving the (big) treasure underneath intact for the original owner. (Though personally, I suspect it's just as likely that they couldn't be bothered to dig a bigger hole.)
The big question, then, is this: how would a 13-year-old girl writing in 1839 know to describe such an arrangement… except if she had been party to the ins and outs of an actual treasure dig? I'm not suggesting that recovered pirate treasure is the true secret of the Astor family fortune (mainly because that particular joke's already been done to death)… but maybe there's a touch more truth in Sherburne's story than might at first be thought.
Perhaps the real giveaway in the whole thing is the curious tag-line on "Imogine"'s cover: "This is all as true as it is strange". What do you think?
PS: another mystery to ponder is who "George Ann Humphreys Sherburne" was? Apart from her presumed birth in 1825, there appears to be no other information on her anywhere at all. Unless you happen to know better, of course… please leave a comment if you do! 🙂