The treasure-hunting newsosphere is currently awash (sorry) with reports of Barry Clifford's discovery of a 50lb 55kg silver bar near Sainte Marie, that he claims was from Captain William Kidd's ship "Adventure Galley".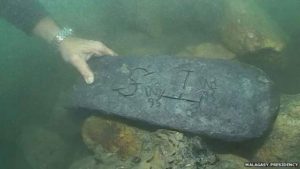 On the premise that there is surely no parade a well-prepared historical mystery blogger cannot rain upon, I have to say that this strikes me as stupendously unlikely: or if correct, then only accidentally so, and against all good research and common sense. 😉
Chapter 8 of Cabell, Thomas and Richards' (2010) Captain Kidd: The Hunt for the Truth (£0.01 + postage for a used copy of the hardback) covers Kidd's time on Sainte Marie in pretty good detail. There we find out that Kidd claimed that both the Adventure Galley (Kidd's original ship) and the Adventure Prize (the Quedagh Merchant) were stripped bare by deserters over "the space of four or five days": they…
"…carried away great guns [cannons], powder, shot [cannonballs and smallbore balls for hand weapons], small arms [muskets and swords], sails, anchors, cables, surgeons' chests [including medicinal alcohol and medicines], and what else they pleased."
Alternatively, Joseph Palmer claimed that Kidd had "ordered the goods to be hoisted out" (Kidd denied this): while the ship's surgeon Robert Bradinham asserted that the "Captain divided out the shares" (which he also denied). Your view of what happened there depends on whether you believe Kidd or the others: and in fact I'd suggest there's a pretty good chance all of the above were lying about one thing or another.
However, what nobody seems to be in any doubt about was that the Adventure Galley had been in great difficulty for a long time: specifically, it had been leaking in a distinctly sieve-like manner and so had had to be continually pumped out. But that pumping stopped once it reached Sainte Marie (because almost all its crew deserted or left, yet again depending on whom you believe), leaving the ship's days numbered.
And in a final act of salvage, the Adventure Galley "was pushed up on the beach and burned so that the iron fittings could be recovered" (William Jenkins, CSPCS America and West Indies, vol.17 s. XI), which was pretty standard practice back then. If correct, then there would be basically nothing of the ship there to be found.
Of course, it's possible that the historical evidence is utterly and completely wrong. But for a silver bar owned by Captain Kidd to have been found in the waters there, it would surely have had to have been dropped there by the sinking of a ship that was entirely different from the Adventure Galley, and hence a ship that was entirely unconnected to William Kidd. (Kidd sailed onwards from Sainte Marie in the Quedagh Merchant / Adventure Prize, so that too can't be the source of the shipwreck that Barry Clifford seems to have found).
It's a great underwater find, sure, but is it from the Adventure Galley? It would be nice if it were, but to my eyes it seems highly likely that it was not. Sorry 'bout that. 🙁