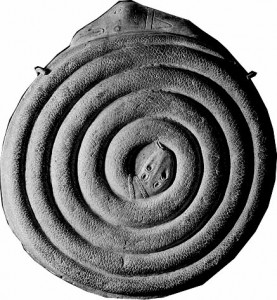 In a recent Cipher Mysteries post, I mentioned Peter Aleff's theory that the Phaistos Disk was based on Senet, an Ancient Egyptian board game. All very fascinating… but something about it all triggered an old memory, one I couldn't quite put my finger on. However, when yesterday I did finally manage to find what I had been reminded of – Mehen – it set a much larger train of thought in motion, that might point to a new Phaistos Disk board game theory. I'll try to explain…
Five thousands years ago, board games started as Pharaonic courtly pursuits, only becoming accessible to a wider audience three thousand (!) years later when the idea of abstract gaming spread through the Roman upper middle class. With that basic framework in mind, Aleff theorizes that the Ancient Egyptian game Senet (a rectangular race game with pawns and various hazard squares) morphed – millennia later, and by routes entirely unknown – into the relatively modern Game of the Goose (a spiral race game with pawns and various hazard squares): Aleff proposes ingenious ways in which the spiral structure of the Phaistos Disk somehow fits into that mysteriously missing multi-millennia lineage. All the same, just about the only fragment of supporting near-evidence of the modern game's ancient parentage comes from a throwaway line in Molière's (1668) "The Miser":-
La Flèche: Item: a trou-madame table, a draught-board, with the game of mother goose, restored from the Greeks, very agreeable to pass the time when one has nothing else to do.
Well… that's one theory, with a lot of speculation to back-fill an inevitably enormous historical gap. But what I don't really like about it is the lack of any cultural mechanism by which ideas were carried down the centuries. We have plenty of evidence of various Roman versions of Senet, such as Duodecim Scripta and Felix Sex (Lucky Sixes), which developed into a game called Tabula, which then developed (eventually) into modern Backgammon. The problem? These all use rectangular boards, very much like Senet and very much unlike the spiral Phaistos Disk. If you believe – wearing your Anthony Grafton-like Intellectual Historian hat – that ideas flow through time, it's hard not to conclude that these particular ideas aren't really flowing past the Phaistos Disk.
Yet as every X-Files-ophile knows, for every thesis, there's an equal and opposite antithesis (let's not talk about 'syntheses', they do complicate things so): so here's my own theory. Of course, I doubt it's new, and I'm entirely aware that there's more than a whiff of Gavin Menzies to its intuitive leapery, but I'm generally pretty comfortable with it, feel free to disagree all you like. 🙂
While I think that Aleff's basic idea – that the Phaistos Disk is probably a courtly board game for the Minoan palace set – is sound, I suspect the braided historical strand of games he's trying to tie it into is the wrong one. In my opinion, if the Disk is the board for a race game such as Senet, it is far more likely to have derived from a quite different Ancient Egyptian race game, a spiral race game called Mehen (Mehen = "coiled one", a serpent god who protected Ra at night).
Fascinatingly, there are numerous spiral Mehen game boards still extant: this illustrated list on the Jocari site is an exceptional resource. Aleff would be right to point out that these contain many more sections than the Phaistos Disk: but for me, the big question is: what happened next? Did Mehen – a game which seems to have flourished 3000BC to 2300BC during the Old Kingdom – just disappear, or might it, like Senet, have then morphed into other spiral race games on an equally winding passage through the centuries?
Fast forward to the present, and we can see a quite different race game based around snakes and hazard squares: yes, I really am referring to Snakes and Ladders. This has a direct Indian parentage going back to at least the 16th century under the names Moksha Patamu, Gyanbazi, etc: the V&A Museum has a nice game board here. According to this site, Harish Johari's book "The Yoga of Snakes and Arrows" claims:
The origins of this game appear to be found in 2nd century BC documents from India. Some historians point out that the game may be a variation of the ancient game of dasapada played on a 10×10 grid.
Dasapada (10×10) and ashtapada (8×8) were both race games which it is reputed that Gautama Buddha would not play in the 5th century BC. Apparently, Ashtapada was played on a square board with crosses on certain squares: though intriguingly, the game's race did not – according to famous board-game historian H. J. R. Murray – proceed in the kind of boustrophedon (alternate rows go forward and backwards) order we now associate with Snakes and Ladders, but in a spiral pattern, moving clockwise to enter/capture a castle and then anticlockwise to return. (Though here's a link to a dissenting opinion on this that doubts Murray's certainty.)
Of course, you've already worked out where all this is, errrm, racing towards: that the Phaistos Disk probably fits not into the whole Senet…Backgammon game development line, but into an entirely different line moving from [spiral snake race] Mehen to [spiral race] Ashtapada/Dasapada to [boustrophedon race] Moksha Patamu to [boustrophedon race] Snakes & Ladders.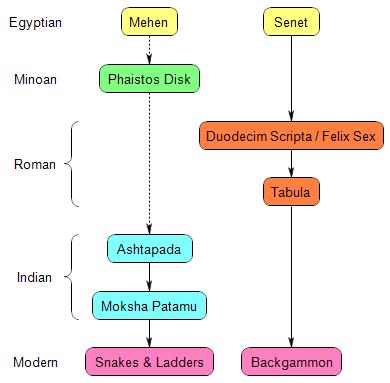 Perhaps the "snake" in the modern game was some kind of long-standing memory of (or some long-lost cultural reference to) to the Egyptian snake god Mehen, or perhaps just the snake-like Mehen game board: I don't know, but wouldn't it be nice if it were true?
Ultimately, however, I can't prove a single thing of this whole tenuous chain (you know that, and I'm not going to pretend otherwise). And there's the the awkward issue of the awkward gap between Phaistos and India to fill: how did idea in place A travel to place B?
The Menzies-like lateral 'bridging' step is the observation that it's entirely possible that the Minoans were trading with India circa 1500 BC. For instance, chapter 17 of Gavin Menzies' Bronze Age speculatiathon "The Lost Empire of Atlantis" (called "Indian Ocean Trade in the Bronze Age") wonders whether the ancient Indus civilization's port of Lothal (built around 2400BC) was connected with the Minoans (hint: Menzies concludes 'yes'). However, my suggestion is rather more modest in scope than Menzies: it's merely the story of a single idea, travelling with the flow of Bronze Age trade traffic.
Ultimately, for the Minoan palace elite, was the Phaistos Disk the ultimate board game, insofar as (like Mehen) might it have been a way of improving your odds in the afterlife? And if we now play Snakes & Ladders, are we not merely recapitulating 16th century Jain morality but also travelling in time on the back of a serpent to the Old Kingdom of Ancient Egypt? When our counter lands on a snake, is it Mehen we're landing on? Just a thought!
A Happy Cipher Mysteries Christmas to you all! 🙂