In older writings, it should probably be no surprise that secret recipes and secret writing often go hand in hand.
Today I was looking through Trinity College Library MS. 1351 (shelfmark O.7.23), a late 15th century manuscript "in an ugly hand". I was led there by Daniel V. Thompson's (1935) "Trial index To some unpublished sources for the history of mediaeval craftsmanship" (in Speculum), which contains a long list of unpublished manuscripts, most of which have some "receipts" (recipes) for making colour.
Two nice things about this manuscript are (a) that Trinity College have digitized it and placed it entirely online; and (b) that the manuscript is (the catalogue notes) "likely MS. 34 in the Catalogue of Dr Dee's library. Experimentorum diversorum liber. De vernisio quo utuntur scriptores. Secreta philosophorum. De usu virgae visoriae et huiusmodi secreta multa: papyro 8vo."
As a result, it links all the usual suspects in an interesting way: which was well worth a blog post, if you ask me. 🙂
Anyway, here's a simple cipher I found on fol. 10r that I thought you might all particularly appreciate. Even though seeing its basic key is very easy, I think you'll find it still takes more than a little effort to decrypt it all:
Today's Simple Cipher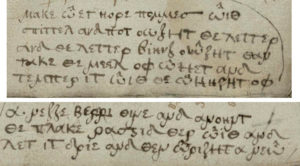 (Click on the above if you want a slightly higher resolution image to work from.)
Rather than just giving you the key, I thought it would be more fun to leave it to you all to see how you get on, I hope you don't mind. Anyway, it's much more fun than the GCHQ Christmas puzzle (which I actually thought was a bit tiresome).
Shall I give you a clue? Well… I wasn't planning to, but seeing as you pulled that face… perhaps a small clue, then. Which is: you don't actually need to be a cryptologist or code-breaker to break this cipher. Enjoy! 🙂