Peter Marshall's (2006) "The Mercurial Emperor: The Magic Circle of Rudolf II in Renaissance Prague" takes a sideways look at everyone's favourite mad Holy Roman Emperor, by using those around him as a kind of slightly wonky mirror. The choice of who makes the cut is a bit arbitrary in places: John Dee (who never came close to gaining Rudolf's favour) gets rather more coverage than I think justified, however much some Voynicheros happen to like him. 😉
By using the Imperial court to cast light on the man in the middle, it is reminiscent (and perhaps consciously so?) of John Christanson's "On Tycho's Island", which does much the same thing for Tycho Brahe (who features here too, of course).
Even though Marshall does sometimes feel compelled to thicken up his text with Wikipedificatory asides, overall you can't help but enjoy the ride – it's a basically good book. What you end up with is a feeling for Rudolf's overall character arc, from his ultra-stiff Spanish upbringing, through the alchemical / astronomical / allegorical golden years, to the slow-motion showdown with his bluff soldier brother Matthias (which Rudolf lost, if you didn't already know).
For me, the biggest takeaway I got from the book came from the raking light it cast onto Rudolf's relationship with art. His collection of paintings was not, as Warburgian historians formerly liked to believe, imbued with Neoplatonist symbolic power, their artists digging deep into the cultural psyche to tease out deeper archetypes from myth and legend, which only heroic modern 'symbologists' (*ack* *spit*) could ever decode. Oh, no: it's far worse than that; and perhaps worse even than Charles Hope's art historical cynicism would put it. I think Rudolf's all-star proto-Mannerist painters spent their time constructing his Imperial Internet pr0n browser: the vision that is conjured up for me is of them feverishly thumbing through their emblem books (etc) finding stories that prominently featured young women, and then 'artfully' arranging them on the canvas for maximum fleshly exposure. Shame on me for even thinking it, but ultimately Rudolf's gallery reeks more of "Beavis and Butthead Win The Lotto" than anything else. Uh huh, huh. *sigh*
But I digress. 🙂
Marshall's book did have one complete laugh-out-loud moment for me, which made my wife chuckle too (no mean feat). The engraving on p.151 depicts Nostradamus in a magic circle, conjuring up a procession of future kings of France for Catherine de Medicis in a "magic mirror" (not much to do with Rudolf II, but a fun picture all the same). I looked at it and thought – that's not a mirror, that's a bloody big plasma TV he's got there. But perhaps you disagree?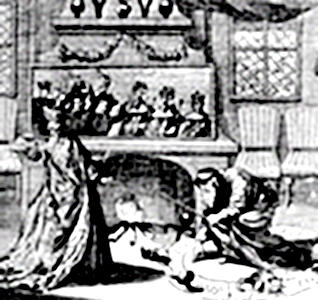 Enjoy! 😉