Tim Rayhel – better known to historical codebreakers as "Glen Claston" – died a few days ago (July 2014) in Albuquerque. He was 56.
He was always very private, and once told me that blogs "expose too much of the underbelly to the carnivores, and that I don't want to do".
Even so, because the Internet is almost completely silent about his life and work, this page is my attempt to tell his story, to remember my old friend Tim properly.
Timothy Rayhel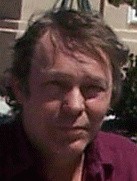 Joining the US Army young, he found a natural home in the Army Security Agency which was where his life-long interest in ciphers began.
"Post military I served in the private armies that were the forerunners of BlackWater, etc., in Nicaragua and other points south. My old boss Ollie North took a fall and I retired from that work, having seen a bit too much of what real American policy is all about. I suffered an attack of conscience, became a fundamentalist minister [in the Church of Christ], found that too extreme, and finally directed my efforts toward staying below the radar."
Tim then became interested in the (alleged) cryptographic writings of Francis Bacon and their possible links to Shakespeare's works. Yet despite building up a huge regard for Bacon, he ultimately ended up disappointed, certain that most Baconian researchers' claims were "false and misleading".
"There was a time several years ago when Mr. Rayhel drank a lot and said some embarassing things, even if he was right. It's much simpler to be a reformed person with a new name, and it keeps the crackpot mail down a bit as well."
Glen Claston
He also started researching the Voynich Manuscript from 1986, posting online under his 'Glen Claston' ('GC') pseudonym from 1994 onwards. He subsequently became convinced that Leonell Strong's mid-century attempts at decryption were essentially correct. Over a period of several years, he built his own detailed transcription of Voynichese ("Voynich-101") and released this openly, which many researchers now use.
But his interests were very much wider, covering a whole range of historical ciphers, the early works of John Dee (particularly the Monas Hieroglyphica) and numerous Renaissance books on cryptography, some of which he worked with others on transcribing: but none of these has (as yet) been published.
In 2000, Tim believed that he had cracked the Beale Ciphers (B1 and B3), and that he had even identified the likeliest location of where the treasure had been hidden. A TV production house took out an option to make a documentary on the subject, but this never got made. (By 2004, though, he had changed his mind, concluding instead that the cipher was nothing more than a strange 19th century cipher hoax.)
He is also well known for his research into the Zodiac Killer Ciphers: for years he was intrigued by the numerous apparent connections between Gareth Penn and the Zodiac Killer, but was never ultimately able to find a way into the unbroken Z340 cipher.
He struggled with various health issues, including a heart attack: while severe back pain problems throughout 2012 were later diagnosed as "peripheral neuropathy that may be related to MS". His cause of death is as yet unknown. He leaves behind a daughter.
My Friend Tim
That's all the facts. But what to say about my good friend Tim, who I had first encountered in 2001?
In truth, he was like a twin brother to me (and I told him so), equal parts inspiring and infuriating: he would gleefully pick a fight with me over anything inaccurate I wrote or any logical shortcut I inadvertently tried to take.
But I never minded this from him, because here was someone who had walked a thousand crypto miles before I had walked even one – someone whose fiercely-held opinions were guaranteed to be built on obsessive observation skills, sustained hard graft, and a highly analytical brain. How many people can you genuinely say that of?
Having Tim as my friend taught me this: that sincerely disagreeing with someone – and having the strength of will and mind to fight them in the spirit of mutual learning – is the greatest gift you can give. I learnt more from him than from anyone else.
Without him in it, my world seems unchallenged, empty, even (dare I say it) easy. And I can't begin to tell you what a dreadful loss that is to me.
---
In memoriam Timothy Rayhel ('Glen Claston') 1957-2014