Without any further ado, here's The History Channel's "The Hunt for the Zodiac Killer" season #1 finale, wherein Craig Bauer, having immersed himself almost completely in Zodiac Killer arcana, conjures up a new solution of the Z340, whereupon everyone else falls (or seems to fall) in line:
Well… OK, I guess. I suspect what most people would agree on about this 'solution' are:
* it's primarily intuitive, and not really 'cryptological' in any useful sense of the word
* it's either really brilliant or really foolish, and almost certainly nowhere inbetween
Craig's Crack
Because the starting point for Craig Bauer's decryption attempt was the idea that some letters might actually encipher themselves (to make the answer hide in plain sight), I've added a green background to those letters (or simply transformed letters) where the ciphertext and his decrypted text coincide, e.g. "HER……KI.L…." on the topmost line. You should be able to see 23 green-backgrounded letters.
However, for the sake of balance, I've also added a red background to those letters (or simply transformed letters) where the two do not coincide, e.g. "…PLVVP….TB.D" on the topmost line. You should be able to see 61 red-backgrounded letters (I think).
To make the following diagram, I used Dave Oranchak's funky online Cipher Explorer tool: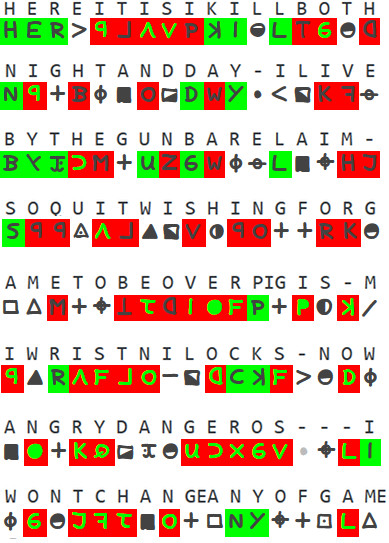 It should be immediately obvious that a very high degree of selectivity is going on here: furthermore, seven letters are left out (on lines 2, 3, 5, 6 and 7), while three extra letters are inserted (lines 5 and 8). Finally, there is no consistent mapping of other shapes to plaintext letters as per the claimed decrypt, which is why I think it is safe to say that this is not a 'cryptological' decryption in any useful sense of the word.
The notion that a given historical ciphertext uses a handful of actual letters as themselves while the rest are somehow illusory or made up is an illusionary amateur cipher-breaking trope I have seen many dozens of times. In every case, it is a Pyrrhic victory of intense hopefulness over good sense, and achieves nothing bar wasting my time. If anyone can point my attention to anything about this particular decryption that varies from this rather self-defeating and useless template, I'd be fascinated to see it: but so far, this is just about as bad as it gets.
The motif of this antipattern is the codebreaker dreaming themselves an intense imaginary journey into the world of the codemaker, and bringing back as their prize a sampling of their vision, one that is every bit as hard to read as a book in a dream. All they have is the enduring conviction that they have solved it, a conviction that gets strengthened the brainier they are (and hence the more ingenious their post-rationalizing retro-fitting gets).
Total Immersion Delusion
If I were to give this kind of behaviour a "Pattern" name, I'd probably choose "Total Immersion Delusion". Only someone who feels they have totally immersed themselves in their imagined world of the cipher maker would propose such a thing, and in almost every single case it is – sadly – a delusion that gets conjured up.
Here, you can see the seeds of the dream forming in the first line's "HER…" and "KI.L" word-fragment patterns: but as the dream progressively fades away, the ability of the dreamer to fit the shape to the overselected letters reduces and reduces, until they're left with only the sketchiest outlines of hope (a single green letter on lines 4, 5 and 7 demonstrates the degree to which it has triumphed over rationality here).
Sorry, but from what I can see, this Z340 'solution' isn't even close to being close: nobody's going to come out of this particular dungheap smelling of roses, no matter how hard you hold your nose. Not huge, not a game-changer, sorry.