A little while back, I became aware that "The Unknown Man" – which I consider to be the #1 factual account of the Somerton Man cold case / Tamam Shud mystery – was about to be republished in ebook format, and so I asked Gerry Feltus for some more details to share with you. What I thought Cipher Mysteries readers would be particularly interested in was whether he had made any changes to the original print version (which came out way back in 2010).
Incidentally, here's a nice photo of Gerry in action, taken from this family website: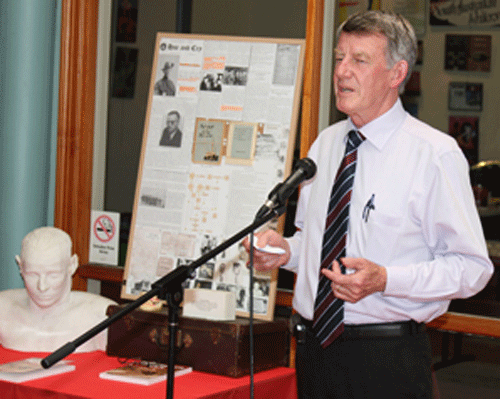 Gerry kindly emailed me back a few days ago, saying:
I didn't make any great changes apart from identifying and providing details relative to the nurse and her husband. I am aware that their identities were continuously produced on web sites, but people who purchased my book don't all follow web sites so it is only fair that they also have access to the details.
There's a little more detail on his News page.
Simply The Best
Since "The Unknown Man" first appeared in print back in 2010, I have continuously recommended it to prospective Somerton Man researchers as their very best first port of call. The only possible objection international researchers could have was the (still shockingly high) cost of postage from Australia, a pox to which ebooks are thankfully immune. So the ridiculous situation where people write articles, posts or even papers about the Somerton Man that fail to cite "The Unknown Man" should now hopefully be a thing of the past: it remains the core of any good Somerton Man bibliography.
For me, what is so good about Gerry's book is that he sensibly restricts it to the pure factuality of the case, for it should be obvious that reporting all the facts in a clear and well-structured way is an amply hard enough challenge on its own. Having said that, even though this approach leaves plenty of room for other books to explore the various hypotheses in more detail, these sadly remain unwritten. Maybe one day, who knows?
Frustratingly, there are still a few details of the case hidden under pseudonyms in "The Unknown Man" which have yet to become public, most notably the real identity of "Ronald Francis" (in the back of whose car the Rubaiyat with the torn-out "Tamam Shud" was found in late 1948) and even the real make of Francis's car. But perhaps these will emerge into the light before too long… here's hoping, anyway. 😉
PS: if you haven't already read "The Unknown Man", go away and read it now!