In August 2016, I spent a day at the British Library trawling through many of its palaeography books (as I described here). What I was specifically in search of was examples of handwriting that matched the handwriting in the Voynich Manuscript, along with its marginalia.
As mentioned before, the document I found was Basel University Library A X 132: it's a Sammelband (anthology or collection), with sections copied from a number of different medieval authors. The section I was most interested in (dated 1465) was fol. 83r through to fol. 101r.
With a little help from Stefan Mathys (thanks, Stefan!), I ordered some pages, along with some from the start and end of other sections, just in case the same scribal hand reappeared and included a little biographical information about that scribe. I've just begun writing this up as a paper (heaven knows that so little of any authority has been written about the Voynich, so I want to do this properly): but as I was going through, I noticed something interesting that I thought I'd share separately.
One of the extra sections I asked for began on f202r: and I must admit to being surprised to see an oddly familiar piece of marginalia there. Recalling the tiny marginalia at the top of the Voynich Manuscript's page f17r…

…now look at the tiny marginalia at the top of A X 132's fol. 202r, a "vocabularij hebreicus et grecus" (according to this):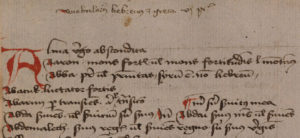 The listing remarks that f202r is covered in "Stegmüller, Rep.bibl.6,93 Nr.8665", i.e. Friedrich Stegmüller, Repertorium biblicum medii aevi, 11 vols. (I don't believe that volume 6 is online, but please let me know if you manage to find a copy.)
Have you found any better matches than this?