A tip of my monkey's uncle's Susquehanna hat to Derek Abbott for today's cipher history link: a new Voynich theory by Nicholas Gibbs in the Times Literary Supplement. Gibbs explains the circumstances that brought him to the Voynich Manuscript:
I am also a muralist and war artist with an understanding of the workings of picture narration, an advantage I was able to capitalize on for my research. A chance remark just over three years ago brought me a com­mission from a television production company to analyse the illustrations of the Voynich manuscript and examine the commentators' theories.
however… all the descriptive part of his solution seems to have been culled from those parts of commentators' reading lists that caught his eye, but then vaguely linked together into a sort of fairly unconvincing-sounding narrative. The only linguistically technical part of his "solution" in the TLS is given in tiny letters in the following image, which you can make out if you click on it and squint: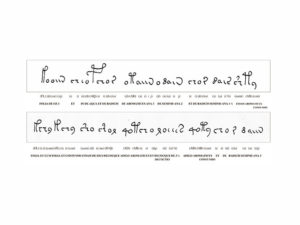 Note that the image is marked "p16_Gibbs1.jpg": which seems to imply we have a book to (sort of) look forward to. Errrm… hooray.
I could list a whole load of things that are wrong with this, but I'd be typing all night on a TL;DR post and nobody would care. *sigh*