The appearance of Nicholas Gibbs' Voynich theory in the current Times Literary Supplement "Autumn Fiction Special" issue (and what deliciously outrageous irony that placement is) has caused all manner of mayhem behind the scenes here at Cipher Mysteries mansion.
Not only has my (frankly rather tired and uninterested) blog response to it been unexpectedly heavily Tweeted, his theory has also "inspired" a number of Wikipedia editors to enthusiastically bodge references to Gibbs into the Wikipedia Voynich Manuscript page. Which is, as just about everyone here would be happy to point out, close to a crime against common sense.
But it's not really their fault: it turns out that there's a much bigger problem at play here.
Whackamoleipedia
As a responsible (though far from regular) Wikipedia editor, I thought I ought to try to offer some kind of balance to the worst excesses of this sudden wave of pro-Gibbs enthusiasm: for example, by removing a reference to Gibbs that had been added to the very first paragraph. *sigh*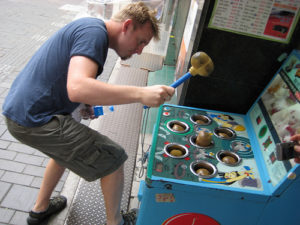 But then yet more Wikieditors kept popping up, not unlike Gremlinized versions of Whack-a-Moles or Lernaean Hydra heads, continually inserting yet more references to Gibbs from Smart-Ars Technica or whichever other secondary media source they happened to have just surfed their way to.
Annoying as that is, they're just the surface symptoms of something that cuts far deeper. The issue here is that in very many ways they are absolutely right to add it in: the piece in the TLS does indeed – by Wikipedia's very exact standards – make Gibbs' theory notable. And this causes it to transcend from the mundane world of self-published "OR" (Original Research) into published (and hence notable) work. And anything notable is fair game for inclusion in Wikipedia: indeed, if it is relevant and "notable", there is arguably a stronger case for inclusion than exclusion.
So it turns out that these Whack-a-Mole editors are indeed actually doing their best to pursue the whole Wikipedia 'Project' precisely as it was intended. Can you therefore blame them for doing something that seems quite nonsensical to researchers? Well… no, not really, mad as it seems.
The First Problem With Wikipedia
Perhaps the above should make it clear one of the things that is going wrong here: that the entire Wikipedia project is nothing more than a parasitic encyclopaedia, relying on the world's knowledge being recycled into it via fact-checked external media, such as (in this case) the Times Literary Supplement. Without the fact-checking stage being done by the media, Wikipedia would be worse than useless: this is because it has no intrinsic quality control, only enforcing measures of notability which themselves depend completely on someone else (normally in the media) paying for the fact-checking stage. Wikipedia does not check facts, it checks published sources: its editors (largely) do not know things, they know how to verify the notability of sources.
So: what happens – as seems to have happened here – when a story goes to press without even the faintest semblance of fact checking? As should be obvious, the Wikipedia editors turn the page content into a credulous extension of the idiot media that put the story out in the first place. It's "notable" and publicly visible, so what is their alternative?
Hence one big problem with Wikipedia is that where the media omits to do fact checking, Wikipedia can quickly end up looking really, really stupid. But have you not noticed that media fact checking is these days going the way of phrenology and phlogistons?
The wider-angle picture here is that the future of the media – increasingly under pressure from online newsfeeds – is only going to get dumber and 'dumberer': its dequality ratchet leads only in a downwards direction. And so the less fact-checking that happens, the worse Wikipedia will get. The case of Nicholas Gibbs' theory should make this completely clear, albeit in an edge-case kind of way.
The Second Problem With Wikipedia
Arguably, though, the second problem with Wikipedia is much worse: which is that Wikipedia is only successful when it tries to map the known. In cases such as the Voynich Manuscript where the majority of the topic is to do with the unknown, there is no sensible way Wikieditors can decide what should be included or what should be left out. And without any way of deciding the topic boundaries, a kind of thermodynamic page decay sets in: the page just accumulates stuff indefinitely. Honestly, what kind of sad sack would read the current Wikipedia Voynich page from start to finish, as anything apart from a cautionary tale of how not to structure information?
In case you're wondering, deep domain experts are rarely welcome as Wikipedia editors: and this cuts to the core of what's going on here. As currently defined and steered, Wikipedia cannot offer a useful guide to the unknown. It is not about original research, or really about any research at all: it's about mapping the cultural inflow of knowledge mediated via the shabby and slow mirror of media reporting.
If all of that strikes you as a horrible, (small-c) conservative, and superficial epistemology to be building such a large knowledge-based enterprise on, I can assure you that you're really not alone.
The Third Problem With Wikipedia
Finally: in the case of subjects where there are an almost unimaginably large number of parallel (and only vaguely overlapping) theories, Wikipedia's neutral point of view pretty much demands that all them should be visible. I've suggested numerous times that everything speculative or theory-based about the Voynich Manuscript should be broken out into one or more completely separate page(s), but this too kind of defeats the Wikipedia mindset, which is more about balance-through-primary-inclusivity than trying to evaluate or manage out rubbish theories. It turns out that even forcing a division between theory and non-theory is too fundamentally judgmental for the Wikipedia project to countenance.
And so the issue here is that where you are dealing with uncertain topics, theory inclusivity almost inevitably devolves into theory shopping lists, where the most glib and flippant YouTube theory can end up being listed alongside the most comprehensive and in-depth historical hypothesis. Wikipedia editors aren't there to judge, they're there to avoid having to judge: and the more theories that get proposed, the bigger the hole that not-judging digs those pages into.
And yes, there are now hundreds of Voynich theories.
What's the "Birth" bit, Nick?
People sometimes conclude that I'm cross with Wikipedia, but that's not really true at all. Rather, I'm cross with myself and the entire research community for not offering an alternative to Wikipedia. The work we do and the communities we form are served badly (if at all) by Wikipedia, because the two worldviews are almost entirely complementary – researchers try to create knowledge out of uncertainty, while Wikipedia recycles knowledge that the media try to pass off as certainty.
The last few days have made me so angry at my own inaction that I now want to go away and do something really drastic: to build something that empowers people working with the vast worlds of uncertain knowledge that Wikipedia has no business trying to deal with.
And so this is where I am. I don't want to blog as a primary activity (though I may well, and I'm not planning to get rid of Cipher Mysteries any time soon): rather, I want to build something better than Wikipedia – something that helps people map and deal with difficult and emerging knowledge, rather than forcing them to pretend that neutral-sounding montages of crappy media accounts are good enough beyond a sketchy first approximation.
I want to build a whole way of thinking about and mapping difficult knowledge that doesn't pretend that real knowledge is easy or certain: it is disingenuous and fake to think that it is.
I want to build knowledge-creating communities that can work together in richer, more interesting ways than antagonistic forums that treat theories as spinning Beyblades in toytown arenas.
I want to help people find ways to tease out difficult knowledge in all manner of subjects and topics, not just historical mysteries: I want to provide a place where a research worldview isn't alien, but a key to a giant door of opportunity.
I want to treat research as the intellectual, cultural and economic powerhouse it exactly is, and to support it in ways that make what we currently do look like cavemen banging rocks together.
I want to build things that will make every kid on the planet want to be a researcher, to grasp that what we don't know infinitely exceeds what we do know, and that knowledge doesn't have to be passive, recycled, sham knowledge – basically, that the future is waiting for us to do better.
Right now, geekiness is cool but research is uncool: I think our culture has this arrangment back to front. Really, research is something everyone should do: research should be how we habitually deal with uncertain and difficult topics in our lives, not just in academia.
More than anything, I wish I could be in a situation where I can write down the above – all of which I consider to be a fundamental set of values – without it sounding like a manifesto. Because as of today, it really feels like I'm the only person who thinks the above in anything like a joined-up way: and more than anything I want that to change.