Following the Volkskalender and Cisiojanus logical train of thought to its next station along, the question comes whether there might be any other information we have about the Voynich zodiac nymphs that could give us a second angle to drive down, to form a kind of pincer attack.
Alert Cipher Mysteries readers might swiftly point out here that there is indeed one particular zodiac nymph that might be of interest. This is the crowned nymph on the Leo page, which I first discussed here back in 2015.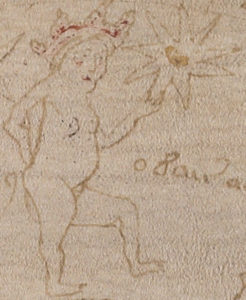 (Note that the Voynich Manuscript has two other crowned zodiac nymphs, one in Cancer and the other in Libra: but in both of these cases, the crown seems to have been added as a separate codicological layer.)
If (as I'm currently wondering) the zodiac section is ultimately some kind of embellished Volkskalender month tables, then it might well prove to be that case that this crowned Leo nymph is flagging a saint's day or a feast day that had particular significance to the Voynich Manuscript's composer / author / compiler.
And given that the fifteenth century Volkskalender tradition normally placed the Leo zodiac roundel on the page for July, a reasonable starting point would surely be examining Saint's days (memorials) or feast days in July during the fifteenth century.
Saint's Days in July
So what feast days are there in July? Sadly, the scribe of the Volkskalender I was looking at before got bored of copying the Cisiojanus syllables by the time he got to July, so we'll instead start with the version from the German Cisiojanus Wikipedia page:
júl proces údal oc wíl ¦ kili frá bene márgar apóst al
árnolfús prax mág ¦ ap chríst jacobíque sim ábdon
The (1430) Kalendarium in Ms. GkS 79 2° in Copenhagen's Royal Library has a nice clear Cisiojanus July list, transcribed here by Erik Drigsdahl as:
1. Iul – (Jul(i))
2. **** pro – Processio Marie
3. ces
4. o – (Odalrici ep.cf.)
5. dal
6. oc – (Octava apostolorum)
7. et – @@@@
8. ki – (Kiliani m.)
9. li
10. fra – (Septem fratrum)
11. be – (Benedicti abb.)
12. ne
13. **** mar – Margarete v.
14. gar
15. **** ap – Divisio apostolorum
16. pos-
17. tol – @@@@
18. Ar – (Arnulphi ep.)
19. nol-
20. phus
21. prax – (Praxedis v.)
22. **** Mag – Maria Magdalene
23. ap – (Apollinaris ep.)
24. cris – (Cristine v.)
25. **** ia – Jacobi ap.
26. co-
27. bi
28. pan – (Pantaleonis m.) – @@@@
29. **** oll – (Ollego) – @@@@
30. ab – Abdon (et Sennen mr.)
31. don.
For the sake of clarity, lines with @@@@ are slightly different from the Wikipedia Cisiojanus, while lines starting **** and marked here in bold were originally marked in red ("rubricated") in the 1430 Kalendarium to indicate that they were feast days:
* 2nd July – The Visitation of The Blessed Virgin Mary
* 13th July – St Margaret of Antioch (I believe "v." is short here for 'virginis et martyris')
* 15th July – The Dispersion of the Apostles
* 22nd July – St Mary Magdalene
* 25th July – St James the Greater (the Apostle)
* 29th July – St Ollego (a saint local to the Hainaut region, according to this analysis of Ms. GkS 79 2°, but given that the Cisiojanus mnemonics were copied and adapted all across Europe, I'd point out that it's difficult to know whether this was added here or copied as-is from a previous document's Cisiojanus mnemonic)
The Candidates
2nd July: The Visitation of The Blessed Virgin Mary is always going to be a likely feast to link a crowned nymph to: but there are other Marian feasts throughout the year, and why don't they too have a similar crown?
13th July: this is the Greek feast day of St Margaret of Antioch (known there as St Marina, but normally celebrated in the West on 20th July). St Margaret was one of the saints who spoke (posthumously) to Joan of Arc. "Her remains were […] divided between shrines in Montefiascone and Venice": many cults grew up around her, Exeter also claiming to have her skull, for example.
According to this site:
She prayed at her death that women in childbirth would, upon calling on her, be safely delivered of their child as she had been delivered from the belly of the dragon. She is also known as the patron saint of women, nurses, and peasants. She also intercedes for those who call on her from their deathbed.
15th July: The Dispersion of the Apostles doesn't strike me as a particularly crownable feast: but perhaps some may think otherwise. It is what it is.
22nd July: oddly, even though in the modern Catholic Church this is a feast day (St Mary Magdalene), this was only made so by Pope Francis: before 2013, it was only a memorial day. Yet from the above, it would seem that it was (locally) considered to be a feast day.
"Da Vinci Code" and "Holy Blood Holy Grail" (etc) aside, there would seem to be moderately good reason to consider that what we are looking at here might be specifically to do with Mary Magdalene. She was, according to this Catholic site:
Patron of contemplative life, converts, glove makers, hairdressers, penitent sinners, people ridiculed for their piety, perfumeries, pharmacists, sexual temptation, tanners, women.
25th July: St James the Greater. He was "the patron saint of veterinarians and pharmacists". So it would seem as though late medieval pharmacists were spoilt for choice as to which Saint to place their trust in. But was he crownable? I'm not sure.
29th July: St Ollego (presumably Oleg, perhaps a Polish saint?) I don't know anything about.
And So My Candidate Cribs Are…
Putting all the above together, the most likely crib for the crowned Leo nymph's label would seem to be one of:
* "pro" (for "Processio Marie"), [though I suspect this may be the weakest of the three]
* "mar" (for St Margaret of Antioch), or
* "mag" (for St Mary Magdalene)
This may not sound like much at first, but when you combine these possibilities with the labels that appear for adjacent nymphs, it may well yield surprisingly fruitful results. Hopefully we shall see… 🙂