After my last post proposing a possible link between the Silk Dress Cipher and Orphan Trains, I widened my search a little to take in 19th Century Baltimore orphanages. What kind of archival sources might still exist, in a town where 1,500 buildings were destroyed by fire in 1904?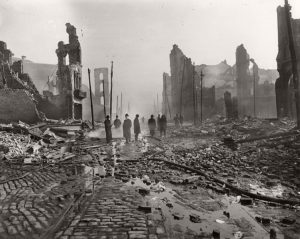 But rather than look directly, I decided to instead first try to find any books or studies on 19th century Baltimore orphanages. And it turns out that (unless you know otherwise) there are only really two of those to consider…
Baltimore orphanages #1 – Marcy Kay Wilson
The first is "Dear Little Living Arguments": Orphans and Other Poor Children, Their Families and Orphanages, Baltimore and Liverpool, 1840-1910, a freely downloadable 2009 dissertation by Marcy Kay Wilson at the University of Maryland:
The two Baltimore orphanages that I examine are the Home of the Friendless of Baltimore City (HOF), which was established in 1854, and the Baltimore Orphan Asylum (BOA). The latter was known as the Female Humane Association Charity School (FHACS) at the time of its incorporation in 1801. Six years later (1807), it was reincorporated as the Orphaline Charity School (OCS). It was renamed the Baltimore Female Orphan Asylum (BFOA) in 1826, and finally became known as the BOA in 1849. [pp.10-11]
Her primary sources for the Baltimore Orphan Asylum (in the Woodbourne Collection of the Maryland State Archives) include:
* Board Minutes (1881-1897, 1905-1921)
* Monthly Reports (1893-1917)
* Annual Reports (1860-1930)
For the Home of the Friendless of Baltimore City, the same Woodbourne Collection holds:
* Annual Reports (1854-1914)
* Constitution and By-Laws, 1859.
* Charter and By-Laws, revised 1904.
* Board Minutes (1901-1913)
Also (even though I'm not initially looking at Catholic orphanages):
The female-religious order known as the Oblate Sisters of Providence (OSP) granted me access to its records, which are housed at Our Lady of Mount Providence Convent in Baltimore. The OSP has the distinction of being the oldest Catholic religious order for African-American women in the United States, and was created in 1829. [p.13]
I've started to patiently work my way through its 402 pages, but I'll be a little while. It turns out that orphanages sprung up all over America during the 19th century, initially triggered by the family-destroying ravages of cholera epidemics… so best not hold your breath, then. 🙂
Baltimore orphanages #2 – Nurith Zmora
Marcy Kay Wilson refers early on to Nurith Zmora's Orphanages Reconsidered: Child Care Institutions in Progressive Era Baltimore (Philadelphia: Temple University Press, 1994).
Zmora used the records of the Samuel Ready School for Orphan Girls (which opened in 1887, and whose archives are in the special collections of the Langsdale Library at the University of Baltimore), the Hebrew Orphan Asylum (whose records are now held by the Maryland Jewish Historical Society), and the Dolan Children's Aid Society (whose records are in the Children's Bureau archive of the Associated Catholic Charities of Baltimore).
Though Wilson and (the far more revisionist, it has to be said) Zmora both offer fascinating insights into the social and political dynamics underpinning Baltimore's orphanages, it's hard not to conclude that their efforts sit somewhat at right-angles to our present angle: and it also has to be said that there is not a hint of the whole Orphan Trains narrative emerging from the various archives so far. But… perhaps this is all just the tip of an evidential iceberg. 😉
Other sources
There were a number of other books that kept coming up during my literature trawl, that I thought I ought to mention:
Second Home: Orphan Asylums and Poor Families in America by Timothy A. Hacsi (Harvard University Press).
Clement, Priscilla Ferguson, "Growing Pains: Children in the Industrial Age, 1850-1890", New York: Twayne Publishers, 1997. [Wilson points to p.200]
Holt, Marilyn. "The Orphan Trains: Placing Out in America. Lincoln: University of Nebraska Press, 1992. [Wilson points to pp.80-117]
O'Connor, Stephen. "Orphan Trains: The Story of Charles Loring Brace and the Children He Saved and Failed". New York: Houghton Mifflin Company, 2001.
Crooks, James B. "Politics and Progress; The Rise of Progressivism in Baltimore, 1895 to 1911". Baton Rouge: Louisiana State University Press, 1968.