For far too long, Voynich researchers have (in my opinion) tried to use statistical analysis as a thousand-ton wrecking ball, i.e. to knock down the whole Voynich edifice in a single giant swing. Find the perfect statistical experiment, runs the train of thought, and all Voynichese's skittles will clatter down. Strrrrike!
But… even a tiny amount of reflection should be enough to show that this isn't going to work: the intricacies and contingencies of Voynichese shout out loud that there will be no single key to unlock this door. Right now, the tests that get run give results that are – at best – like peering through multiple layers of net curtains. We do see vague silhouettes, but nothing genuinely useful appears.
Whether you think Voynichese is a language, a cipher system, or even a generated text doesn't really matter. We all face the same initial problem: how to make Voynichese tractable, by which I mean how to flatten it (i.e. regularize it) to the point where the kind of tests people run do stand a good chance of returning results that are genuinely revealing.
A staging point model
How instead, then, should we approach Voynichese?
The answer is perhaps embarrassingly obvious and straightforward: we should collectively design and implement statistical experiments that help us move towards a series of staging posts.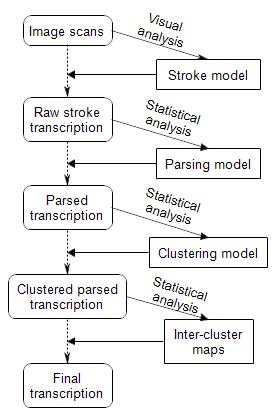 Each of the models on the right (parsing model, clustering model, and inter-cluster maps) should be driven by clear-headed statistical analysis, and would help us iterate towards the staging points on the left (parsed transcription, clustered parsed transcription, final transcription).
What I'm specifically asserting here is that researchers who perform statistical experiments on the raw stroke transcription in the mistaken belief that this is as good as a final transcription are simply wasting their time: there are too many confounding curtains in the way to ever see clearly.
The Curse, statistically
A decade ago, I first talked about "The Curse of the Voynich": my book's title was a way of expressing the idea that there was something about the way the Voynich Manuscript was constructed that makes fools of people who try to solve it.
Interestingly, it might well be that the diagram above explains what the Curse actually is: that all the while people treat the raw (unparsed, unclustered, unnormalized) transcription as if it were the final (parsed, clustered, normalized) transcription, their statistical experiments will continue to be confounded in multiple ways, and will show them nothing useful.