What is the difference between theories and metatheories? Given that the former can sensibly range from hand-wavy general theories ("the Voynich Manuscript was written by a mad alchemist") to specific theories ("the Voynich Manuscript was written by a young Leonardo da Vinci, using his right hand"), the debate is more whether we can usefully differentiate between metatheories and general theories.
For me, however, the key attribute that distinguishes Voynich metatheories is that they have a certain 'turn' to them, a kind of pivoting self-referentiality that their proponents use to explain away just about everything difficult. For example, hoax theorists (such as Gordon Rugg) respond to almost any attempted historical objections (e.g. those surrounding the apparent paradox of using a 16th century mechanism to create an apparently 15th century manuscript) by saying that "well, obviously the hoaxer was so clever that he/she deliberately made those apparently discordant details look that way".
They then often go on to point out that the more discordant details the hoaxer had to fake, the more obviously brilliant the hoax: and therefore the more we should admire the brilliance both of the hoax and of the man (yes, it's normally a man) who was clever enough to notice such a brilliant hoax. And so a Voynich metatheory is a thing that arguably focuses more on explaining away that which doesn't fit than positively accounting for anything it does sort of fit.
Omphalos
It shouldn't require particularly deep contemplation before you notice more than a flicker of similarity between the structure of this argument and Omphalos creationism, courtesy of the naturalist Philip Henry Gosse in his 1857 book Omphalos.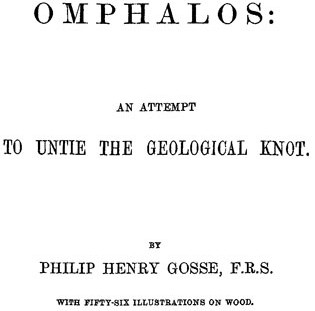 "Omphalos" is the Greek word for navel: at the time of Gosse's book, it was widely believed that Adam (in the Garden of Eden) had a navel despite not having come from a mother's womb. The conclusion that Gosse famously drew from that is that when God made Adam, He made him complete with a navel: an argument that Gosse then triumphantly upscales to all the geological and fossil evidence that superficially seems to argue against the clearly well-proven Biblical History that showed that the Earth was created in 4004 B.C.
God, then, was something like the ultimate hoaxer: for rather than merely hoaxing some 'ugly duckling' unreadable book, He actually hoaxed the entirety of time and space to make it look as though the Earth was older than its 'actual' age (6021 years or so). As hoaxes go, you'd have to admit that this is top drawer stuff.
Of course, modern creationists have (ironically enough) evolved far more sophisticated arguments than Gosse ever did: but, frankly, I have to say that I'm not wildly interested in either Gosse or them. All that's important for us here is that Creationism is, similarly, designed far more to explain away that which doesn't fit the Bible than to explain that which does.
And what holds for Voynich hoax theories broadly goes for other Voynich metatheories focused on explaining all the difficult stuff away: for example, that the Voynich is glossolalia, or channelled, or some kind of otherwise inspired gibberish, or even a shipwrecked alien's diary (I kid you not, *sigh*). Or even, with more than a half-nod in Stephen Bax's direction, that Voynichese is composed of the scattered polyglot fragments of so many different languages that we can only recognise a tiny handful of words here and there: all of which anti-linguistic turn is also a metatheory, because it seeks not to explain the few words it grabs but to explain away the 99.9% or more of the other words it fails to account for. Foolishness.
There is, of course, already a large literature on a large field of constructivist mental endeavouring very similar to these metatheories: it is, by another name, pseudoscience. There, the whole point of pseudoscience isn't to produce theories that can be tested (and possibly disproven), but instead to produce metatheories that are logically impervious to criticism – i.e. that use their central 'turn' to invalidate counterarguments.
This also has the effect of making those metatheories impervious to testing, and to refining, and to improving: and thus leaves them far more akin to something handed down in a Very Important Book Indeed. But you knew that already.
In the end, the only thing that separates Voynich metatheories from pseudoscience is that the people putting forward Voynich metatheories tend to be more interested in the postmodernist self-amusement of their 'turn' (a kind of awesome wonder that nobody else seems to have noticed how much their metatheory explains away) than in actually engaging with proof or disproof.
And if that's a good thing, I'm a monkey's uncle. Or he's mine. 🙂