Inspired by Julian Bunn's just-released "Puzzles of the Voynich Manuscript" ebook (review to follow), I decided to post a list of a hundred Voynich problems – that is, issues that researchers repeatedly bump into when trying to make sense of the Voynich Manuscript, and yet which nobody seems to have definitively resolved in the last century.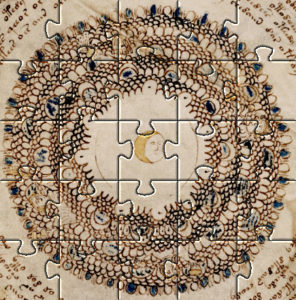 Unlike Julian's ebook, this list is targeted squarely at existing Voynich researchers. If you are genuinely trying to make sense of the Voynich Manuscript and yet aren't aware of pretty much all these problems, it could well be that you are not seeing the bigger picture.
Needless to say, good solutions will aim to resolve many (if not all) of these "Voynich problems": while poor solutions (of which I've already seen far too many) tend to target only a few – in fact, I've seen a fair few alleged 'solutions' that don't even attempt to resolve any of them.
Realistically, though, given that even the most basic Voynich problems – such as the existence of one or more 'heavy painters' – continue to be disputed, I don't expect this list to dramatically shorten any time soon. But who can tell what the next twelve months will bring? 😉
Bifolio nesting / grouping problems
Herbal quires – were these originally split into A and B pages? [Probably, but we don't know]
Herbal quires – what was their original layout?
What is the relationship between herbal pages and pharma pages? [Here's one surprising thing Rene highlighted back in 2010]
Was Q9 originally bound in the way John Grove suggested (i.e. along a different fold) – or not?
Was Q13 originally a single quire, or was it (as Glen Claston proposed) in two Q13A / Q13B parts?
Was Q20 originally a single quire, or was it (as I proposed?) in two Q20A / Q20B parts?
Why are there apparently so many different quire number hands?
What was the relationship between Q8 and Q9?
Where did the nine rosette page originally sit?
Are the two pharma sections reversed relative to their original order?
Are pharma sections explicitly linked to herbal pages? [i.e. by handwriting or textual content]
Were there any intermediate bindings, and can we reconstruct them?
Can we reconstruct the original [possibly unbound] page order?
Ink / Paint Problems
Was there a heavy painter?
Were there multiple heavy painters?
Was the heavy paint added before or after the folio numbers? [Rene: there's green paint over the "42" folio number]
What kind of paint is the heavy blue paint?
Can we use Raman imaging to separate codicological layers? [Particularly on f116v, but in many other places too]
Were the original paints all organic washes derived from plants etc?
Marginalia Problems
Why are the f17r marginalia unreadable?
Why are the f66r marginalia unreadable?
Why are the f116v marginalia unreadable?
What language were the Zodiac month names written in?
Were the "chicken scratch" marginalia originally grouped together?
Does the f57v marginalia read 'ij'(with a bar across the top)?
Page Layout Problems
Why is the first letter of each page so often a gallows character?
Why is the first letter of each paragraph so often a gallows character?
What meaning do long gallows have?
Whay meaning do ornate gallows have?
What is the purpose or function of Horizontal Neal keys?
What is the purpose or function of vertical Neal keys?
Why do lines of text so often end with the EVA letter m?
Why should position on the page affect anything to do with the text?
John Grove called stray sections of text right-justified at the end of paragraphs "titles" – what are these for?
Are there any buried (concealed) titles in the Voynich Manuscript?
Are there any 15th century non-syllabic transposition ciphertexts extant?
Voynichese letter-shape problems
Why are the four gallows shaped in the specific way that they are?
Is the presence of '4o' in 15th century Northern Italian ciphers telling or coincidental?
Is the similarity between 'aiiv' / 'aiir' and medieval page references telling or coincidental?
Was the 'v' (EVA 'n') shape written in one pass or two? [There are instances where the ink on the final stroke looks to have been added in a different ink]
Should c-gallows-h be read as one, two, or three glyphs?
Does any known 15th century cipher include steganographic tricks for hiding Roman numbers?
Or indeed for Arabic numerals?
Voynichese word structure problems
In a text of this size there must be numbers somewhere – so where are they?
Do we even know how to parse Voynichese?
Why are words ending in -9 (EVA "-y") so common?
Might -9 be a token indicating truncation?
Why are words ending in -89 (EVA "-dy") so common?
What could cause sequences such as "ororor" to appear in the text?
Might 'or' be ciphering 'M' 'C' or 'X' or 'I'? (i.e. Roman numbers that appear repeated)
Why do A section words and B section words have such different average lengths?
Might this be (as Mark Perakh suggested) because of variable-length abbreviation?
Where are all the vowels?
Why is the ratio (number of unique words : number of words) so large compared to normal languages?
Where are all the short words?
Given that the alphabet is so small, could one or more of the letters really be nulls?
"Dain dain dain", really?
"Qokedy qokedy", really?
Is 4o- (EVA "qo-") a freestanding word?
Why is there so little information in a typical Voynichese word?
Why are so many words so similar?
Language/dialect problems
What is driving the differences between Currier A and Currier B?
Can we definitively say that A pages came before B pages?
Can we definitively say that the B system evolved out of the A system?
Can we map A words / letters onto B words / letters?
Can we create an evolutionary order in which the system evolved?
Where does labelese fit into the A/B model?
Are localised vocabulary differences content-driven or system-driven?
Can we determine any unique words or phrases that map between A and B pages?
Is there an inbuilt error rate? (e.g. qo- -> qa-, or aiin -> oiin)
When low-frequence words cluster, is this because of the system, because of semantic reference or because of auto-copying?
Drawing problems
What are the four direction characters in the magic circle page?
What are the four direction characters in the hidden magic circle page?
What are the four direction characters in f57v?
Why is there a mix of real plants and imaginary plants?
Are similar diagrammatic balneo nymphs found in any other 15th century manuscript?
Were the zodiac nymphs inspired by the zodiac nymphs in Vat Gr 1291, or is that just coincidence?
Is the little dragon similarity to the little dragon in a Paris MS telling or coincidental?
Is the cluster of stars the Pleiades, or something else entirely?
Nine rosette page – what's going on there?
Will we ever identify the freestanding castle in the nine rosette foldout page?
If we reorganize Q9 as per John Grove's suggestion, a 7-page sequence of 'planets' appears – is this telling or merely coincidental?
What was the source of the Zodiac roundels?
Are there multiple drawing layers on the nine rosette page?
Were all the sunflower pages grouped together originally?
Is there any tangible relationship to other Quattrocento herbals?
More generally, why is there such a sustained absence of reference to existing manuscripts?
Dating / history problems
Given the links to Rudolf II's court, why is there no Rudolfine documentation? Might we have been looking in the wrong places?
What might the supposed connection to Roger Bacon signify? Monastic ownership, perhaps?
Why has the radiocarbon dating range not been explicitly supported by even a single piece of art history?
Why, despite the large number of people who have looked at the Voynich Manuscript in great detail, is there no mainstream art history narrative for it?
Other Voynich problems
Currier thought that a number of different hands contributed to the Voynich Manuscript's writing – was he correct?
What is the significance of the 17 x 4 ring sequence on f57v? Might it have been an 18 x 4 sequence (e.g. 5 degree steps) but where one pair of letter-shapes has been 'fused' to form a fake gallows-like character?
Why did the manuscript's maker forcibly rub a hole through the vellum? [Not as easy as it sounds, because vellum is strong stuff]
Why use vellum at all?
Why were the two sides of the vellum so heavily equalized?
On f112, is the gap on the outside edge a vellum flaw, or a faithful copy of a vellum flaw in the original document from which it was copied?
Are the main marginalia (e.g. michitonese) by one of the Currier hands?
What are the "weirdos" on f1r all about?
PS: I may not have ended up with exactly 100 Voynich problems, but it's pretty close to a hundred… and I may add some more along the way. :-p