If you're a dyed-in-the-wool Voynich hoax muppet advocate, stop reading this right now, otherwise you'll only get yourself all cross and bothered, and you'll forget to take your medication or something else just as bad.
The rest of you, particularly those who have looked at Voynichese with a bit of care and close attention, should already understand that there are lots of patterns present there, all at the same time and on many different levels: and that any sensible explanation for the internal structure would need to give a reasonable account of these numerous simultaneous patterns. In short, it's not enough to say 'a clever table could generate them': there's far more going on than just that.
At the same time, it's well known that there are very few apparent corrections within the Voynichese text itself; while I've also presented a fair bit of evidence in the past that indicates that the text was copied onto the page (say, by one or more scribes copying from wax tablets), rather than composed on the page per se. What kind of account could tie all these diverse observations together?
Today's proposed explanation is that Voynichese may well be even more heavily structured than we tend to accept, and that copying errors (of which I think there will prove to be plenty) were simply left intact on the page rather than corrected. As opposed to the Tamam Shud cipher (which appears to have an entire line crossed out!), I suspect that here the principle will turn out to be far closer to Omar Khayyám's well-known:
"…The Moving Finger writes; and, having writ,
Moves on: nor all your Piety nor Wit
Shall lure it back to cancel half a Line,
Nor all your Tears wash out a Word of it…"
Literary aside over, let's look at the first paragraph of a typical Voynich page (I was looking at f111r the other day following an email by Torsten T, but more or less any would do just as well) and where I'm reasonably sure the copying errors are to be found on it:-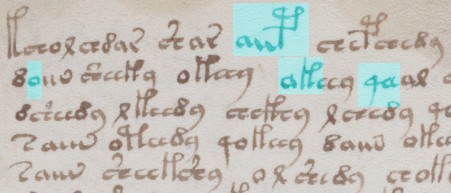 In Takahashi's transcription:-
kcholchdar. shar. aiip. chepchedy. […]
doiin. sheeky. okeey. okeey. qeeal. […]
dsheedy. lkeedy. chckhy. lchedy. qo[…]
saiin. oteedy. qokeey. daiin. oke[…]
saiin. sheekshy. ol. shedy. chok[…]
Error #1: I don't believe that "aiip" is correct. Rather, what I think happened here was that the downstroke of the "p" gallows overlapped the terminal upstroke of an "n", probably on the wax tablet. Hence, I suspect this should read "aiinp". Philip Neal has long pointed out that words ending in gallows characters are unusual and tend to be found on the top line of pages and paragraphs: I suspect that this is a typical example of that phenomenon.
Error #2: I don't believe that "oiin" would ever be correct Voynichese, i.e. it's just a miscopied "aiin" (of which there are many examples to be found on just about every page), hence this should probably read "daiin". Curiously, though, the instance stats of aiin-family groups change between A pages and B pages: aiin appears 5x more often than ain in A pages, but only 1.6x more often in B pages.
Error #3: "akeey" (as it appears on the page, though Takahashi-san has autocorrected it to the more plausible "okeey") should almost certainly be "okeey". Basically, the (ok:ak) and (ot:at) instance ratios are both about 100:1, which brings copying errors to my mind rather than rare linguistic features.
Error #4: "qeeal" just looks wrong (it's the only instance in the whole VMs). But then again, there are only 4 "qoal"s and there are no "qochal"s or "qoshal"s at all (which surprised me a little bit, but hand-building Markov models of Currier A and Currier B is a job I've been putting off for too long). There are plenty of "qokal"s (228) and "qotal"s (72), as well as a few "qopal"s (3), "qokeal"s (5), and "qoteal"s (2). Again, these last two look like potential copying errors (i.e. qokeal -> qokal, qoteal -> qotal)
Anyway, that points to (I think) a likely four copying errors out of 56 words (or 338 characters), i.e. an average of roughly one every 14 words (or, alternatively, one per line), which – I think – is probably a pretty good figure for a scribe copying a ciphertext. At some point, I ought to repeat the exercise on a bigger sample, see if the error rate holds true (and for both Hand 1 and Hand 2, etc).