Hillary Raimo has something big to smile about: a few weeks ago she got to spend some time with the Voynich Manuscript (assuming those Beinecke curators didn't cheekily swap it for Klaus Schmeh's prop version), taking 600 photos in preparation for writing an article to be published in a French magazine in 2014:-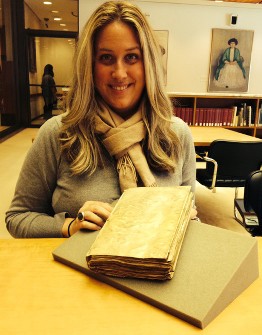 She has also been adding Voynich-related articles to her blog The Yin Factor, including a new one that explains her idea of how the Voynich Manuscript is tied in with the Dogon tribe's 'Nommo' gods. In case you don't know, the Nommo are hermaphrodite amphibians from the binary star Sirius, giving them "the best of both worlds" in just about every permutation of the phrase.
She starts her piece with a long quote from Jason King's "The Cannabible III" (summarizing the whole Dogon / Sirius mythology thing popularized in Robert Temple's (1976) The Sirius Mystery). However, her view goes much further: that the manuscript "traces the star map of human origins. Through the plants harvested from them." Essentially, she thinks that naturally occurring DMT (Dimethyltryptamine) in cannabis was brought here from Sirius (along with the human race), and that the Voynich Manuscript is one of the documents that can magnificently reconnect us to the raw ancestral (and interstellar) reality we moderns are so divorced from.
Raimo is also fascinated by the apparent occurrence of the Pleiades in the Voynich Manuscript (on f68r3), a featurette that has already inspired several generations of Voynich theorists (perhaps most notably Robert Teague, P. Han, etc), though this doesn't seem to be anything to do with Sirius. (Incidentally, the Voynich-Pleiades connection also has a modern fan-base in the form of Wayne Herschel, Michelle L. Hanks, etc.)
Of course, there may be some problems here both with Raimo's evidence and with her conclusions.
If I were a rich junkie burning my way through an inheritance and I really, really wanted to know where to find a type of cannabis that had a natural lychee and guava aftertaste, The Cannabible series of books is probably the first place I'd go. However, as a source of historical information it seems decidedly unsatisfactory, particularly where it credulously quotes Robert Temple's work on the Dogon tribe.
Moreover, my own opinion on Temple's book on the Dogon is that it is an historical crock, based as it is upon Marcel Griaule's ethnologically crocked research. And if you want a good summary of why that was crocked, I suggest you read Michael Heiser's long-ish 2011 web-page on the subject.
Do I therefore think that there is the remotest possibility that there is a star map of the Nommo-esque origins of the human race / cannabis hidden in the Voynich Manuscript? Errrm… no, not really, sorry. But please feel free to form your own opinion.