Online webcomic "What Don't You Understand" by Hong Jac Ga ("A pretty strange story about a hitman, a hermit writer, and a boy who loses his memory", translated by Rachel Ahn) has recently put up a nice Voynich-inspired episode (#24 here).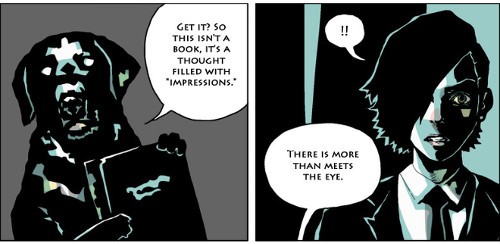 It's not often you have a story with a talking cat and dog trying to train a somewhat unwilling young dark magician: for the purposes of the narrative, the Voynich Manuscript is a kind of repository of impressions, able only to be 'read' (or rather 'sensed') by someone able to tune in to the original magician's wavelength.
And I can affirm that there are plenty of people in the real world who truly believe that they can read the Voynich Manuscript in precisely this way, i.e. purely by affinity and/or sense. So perhaps the modern world is just as magical / irrational as it ever was, lurking beneath what is no more than a thin veneer of 21st century logico-positivist supposed hyper-rationality.
Then again, maybe dogs and cats will indeed converse enigmatically long before anyone has cracked the Voynich Manuscript in this kind of way. 😉