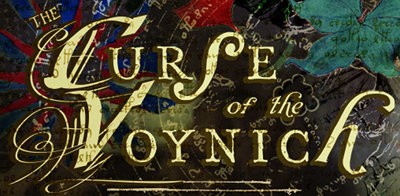 Just a quick note to let you know that a freshly printed boxful of my book "The Curse of the Voynich" arrived here today, and with shinier covers than ever. 🙂 It is, of course, a perfect last-minute cipher-mystery-related Christmas present (for others or indeed for yourself), so feel free to order a copy (click on the appropriate PayPal-linked Buy Now button at the top there, and off you go).
If you don't know about my take on the Voynich Manuscript, I've posted a 1000-word summary of the book here, part of which was covered in the National Geographic Ancient X-Files half-episode you may have seen (and which YouTube has now taken down). What I like best about "Curse" is that for all the potshots people have tried to take at it, it's all basically still standing, which – considering that this is a highly-contested field where a typical Voynich theory has a shelf-life of a few days at most – is pretty good going, I think. 🙂
As always, I sign all copies bought direct from the Compelling Press site, and offer the option of adding an anagrammatic dedication at the front: so if your name was (for example) "Leonardo da Vinci", you could have your copy dedicated to "Vindaloo and Rice" (which remains one of the best anagrams ever, however much you happen to like "Invalided Racoon").
Incidentally, of all the other books on the Voynich Manuscript out there, I'd strongly recommend Mary D'Imperio's classic (1976) "An Elegant Enigma", which is now freely downloadable from the NSA as a PDF. Anyone with an interest in the Voynich Manuscript should read this – even if it is a little bit dated in places, D'Imperio does cover a lot of ground.