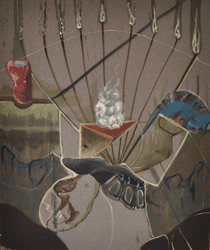 OK, let me try a Cipher Mysteries-themed mind-reading trick on you…
Perhaps you feel in the mood for a mooch around an art exhibition where all the pictures are inspired by the Voynich Manuscript, but you'd prefer to stay at home than catch a plane all the way to Ireland?
Well, if my mind-reading skills are on the mark, I can surely do no better than suggest the one-man show by Damien Flood called "The Theatre of the World" currently on display at Ormston House in Limerick, running until 27th October 2012. The blurb runs:-
"Through researching the Voynich Manuscript, Flood became interested in how people throughout the ages have created their own worlds in order to understand the one around them. The artist similarly uses paint to create a new place to situate the viewer and to give them a feeling of journeying through a new or parallel world that mixes micro and macro, the botanical and the astrological, and inner and outer consciousness. The paintings in Theatre of the World ask to be studied, for the viewer to take their time and allow each individual mystery to unfurl.

This body of work was developed for the the Italian-inspired architecture of Ormston House and with the building's illustrious history of functions and uses in mind: a 'cabinet of curiosities' to question technological acceleration and our insatiable appetite for data consumption. These modern landscapes are not cryptic messages however, the ideas are explicitly present on the canvas and the implications beyond the frame highlight a loosening grip on our understanding of the physical world and our rejection of intuitive perception in favour of dubious scientific absolutism. The paintings are conversations (figurative and abstract) on the dichotomy between our understanding of the civilised world versus our understanding of nature, between fact and fiction and the slippages in-between."
But wait! The neat bit is that there's a four-minute video on YouTube taken walking around Flood's exhibition. Hence the part about not catching a plane. Enjoy (virtually)!